To My Twenties
21 OCT 2020 7:00 PM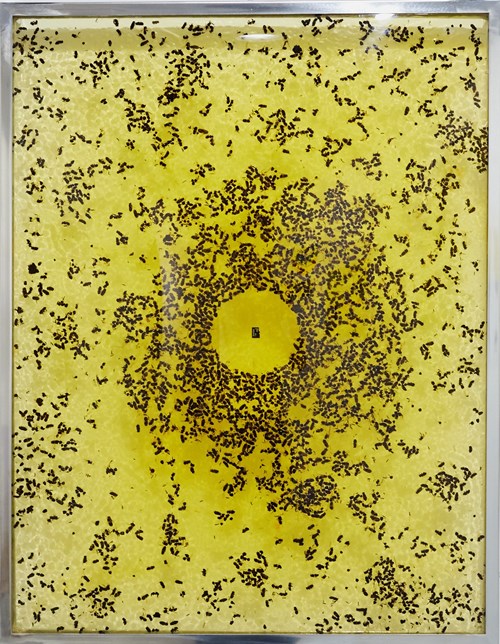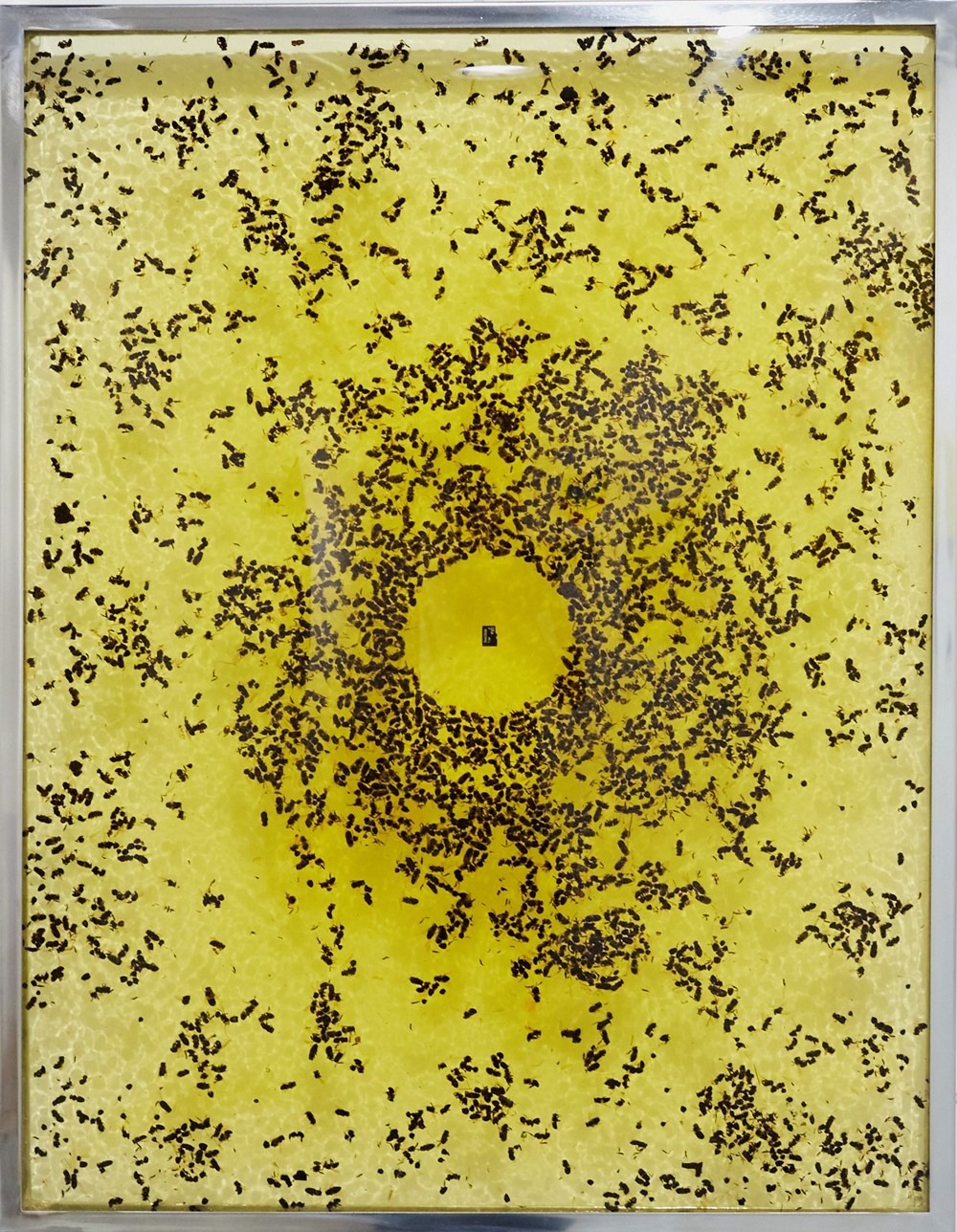 12. Jesu Moratiel
A Mole in the Sun
Dead bees, methacrylate, pigment and stainless steel
100 x 61.8 x 4 cm.
Created in 2018
This work is unique
ESTIMATE
£5,000 - 8,000
View shipping estimates
Notes
Jesu Moratiel was born in A coruña in 1993, he graduated in Fine Arts from the Complutense University, with honors in his Final Degree project. He currently works and resides in Madrid. His work moves in multidiscipline and ranges from installation and sculpture to photocollage, painting and 3D animation. His eclecticism delves into the intrinsic characteristics of the materials and media in which he works: from the conservationist and insulating character of the resin, as capsules of time, contrasting its transparency and brightness with its relic character, as well as the chromatic density of detergents and everyday products based on their volume and liquidity. As for the digital work, it is interested in its fully artificial character, generally ephemeral in that it is lost in the archeology of the network, and in the flatness of the pixel and the LED screen.
The main theme of his work revolves around four fundamental pillars: life (and as a consequence, death), sex as the original phenomenon of life, the influence of science and technology in contemporary society, as well as the configuration of social relations. Moratiel drinks from the artistic and anthropological record of universal cultures, their myths and beliefs, to configure a reflective network of allegories to the origins of human concerns. All of them, proposals from a very personal point of view, marked by traumatic experiences in an easy childhood, such as the double separation of his parents and the premature death of his then girlfriend Carlota.
Accolades
BA. Fine Art, Universidad Complutense, Madrid, 2016.
Arts and its Markets Course, Sotheby's institute, London, 2014.
Fine Arts Summer Course, Saint Martin's College. Londres, 2012.
Solo Exhibitions: Lo pequeño, Espacio Amén, Madrid 2017. Gunderkammer project, Galería Sonámbula, Madrid 2017. Seis estudios sobre el nacimiento de Venus, Valle Quintana, Madrid 2016. La Naturaleza es caprichosa, Valle Quintana, Madrid 2015. SPAM, Casa de las Atochas, A Coruña 2014.
Recent Group Exhibitions: Strange Times, Curated by Stepan Ryabchenko in collaboration with the National Center "Ukrainian House", Online 2020. #BUSYARTHOME, Programa Taide, Madrid 2020. ArtGate Opening, Curated by Artgate VR, Montreal 2020. Nobody, Galerie Manqué, New York 2020. 10 segundos / 20 artistas, Organizado por Fart, Madrid 2020. BEAT MOVEMENT, Suicide Circus, Berlín 2019. Replicants, Factoría del Arte y el Desarrollo, Madrid 2019. LOSSLESS BODIES, The Wrong biennal, Bienal de arte digital online y Offline, 2019. "Todo es falso... salvo alguna cosa". Fundación, Fundación Fernando Villalón, Morón de la Frontera 2019. Sobredosis_2018, Quinta del sordo, Madrid 2018. Dos partículas elementales, An Wei y Jesu Moratiel, Cerquone Project Gallery, Madrid 2018. Convocatoria Navelart 2018, Navel Art, Madrid 2018.
Recommended for You