Contemporary artist Sophie Mason has an unwavering passion for the environment that extends into the creative processes behind her artwork. 
Her current body of work involves creating mesmerising abstract canvases using the natural pigments of our surrounding countryside.
A leading figure in sustainable art practice, we caught up with her to hear more about her work.
Sophie Mason, thank you so much for stepping away from your canvases to speak with us. To start us off, can you tell us a little more about the idea and process behind your current body of work?
Thanks for having me! It's a huge pleasure to be involved with The Auction Collective. My most recent body of work involves using unstretched, unprimed canvas as a kind of functional blanket which becomes an intermediary for performative actions within nature over many months and years.
First dyeing it with local plants I will then start to use it out and about, for example washing it in the sea, burying it in sand and soil, tying it to trees, rubbing herbs, ash and coal into it and so on. I am interested in using materials from my immediate surroundings to dictate the patina of the canvas.
The build up of stains that occur through these actions creates a map of the land and my physical body on the blanket. I am fascinated by how deterioration or the lingering build up of marks on an object through time, use and affection often signifies accumulated meaning. How a well loved and well-used object takes on a particular life of its own.
In these works I hope to exhibit the residue of care and experience amassed during months of actions between myself and the environment.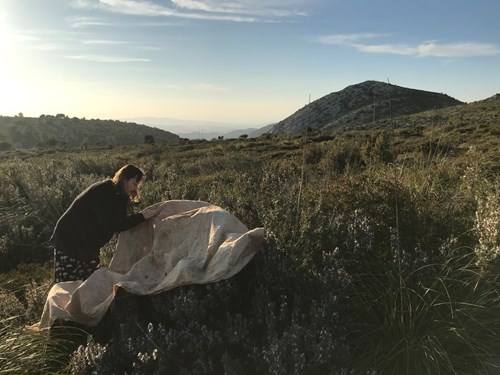 Where are your favourite places to create and what makes them so special?
I try to make things wherever I am. A central theme to my work is the importance of looking at the natural world on our door steps, what we can learn from our local ecosystems and how those things can teach us about home, the environment and who we are within the greater web of the world.
I grew up in the middle of the countryside but after living in London for many years I learned that there is as much potential for environmental, social and personal change in a weed coming through the pavement as in our ancient woodlands.
Recently I have been living in Barcelona which actually has a lot less urban nature than London, there was always something to root out though and they also have that sea!
Who are your inspirations?
Oh, too many to count! It changes all the time but I am really enjoying artists Sam Gilliam, Vivian Suter and Agnes Pelton; I like to reread parts of Robin Wall Kimmerer's Braiding Sweetgrass and David Abram's Becoming Animal; podcasts I am listening to a lot of the episodes on 'for the wild' and some fairly obscure herbalist's podcasts.
Other inspirations, I was very in love with four parrots that would fly over and greet me every day in my roof garden studio, they reminded me daily of the importance of playfulness.
How do you know when your artwork is complete?
That's one of those weird, unspeakable things that I just feel. Whenever I don't listen to that feeling I overwork the piece and ruin it.
What is the biggest challenge facing artists today in terms of sustainability?
I will speak for myself here since, aside from moving towards using sustainable media in one's work, this is actually a very personal question. As an artist I have the good fortune of being able to research whatever it is that interests me which I can then try to share through my chosen medium, visual art.
For a long time my central interest has been how do we bring humanity back into the fold of our ecosystems, with greater balance and with deeper respect for the wider world and its myriad, diverse inhabitants.
The more urgent I feel this question becomes the more I feel confronted by trying to understand where arts place is within all of this and more specifically my own work.
I have actually got to a pretty straight forward place with it, that making art, for me, is an act of gratitude towards the natural world and a celebration of what I love.
This strengthens me in trying to move myself into a more regenerative way of living in every area of my life and gives me the knowledge to talk about environmental issues with a certain amount of confidence.
This particular aspect of making is just one area of my work though, I run collaborative, participatory projects exploring socio-environmental issues through food gardens and I have also developed a series of workshops that support groups in building resilience to think and act around climate breakdown. These are challenging in whole other ways which will be too long to go into here!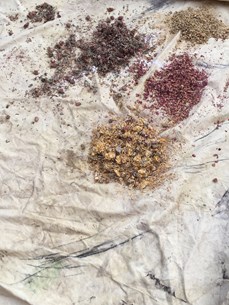 What does the future hold for your work?
We have just moved back to the uk and we are living in the countryside for the first time so I am excited to start a new body of work exploring the land around here. For instance did you know that you can make a potent yellow dye from daffodils? I am not sure how light fast it is yet though.
What is next for you, how can people follow what you are up to?
I am working on a few exciting projects at the moment including a mind bending collaboration with the inimitable writer Annabel Howard annabelhoward.com exploring land use and sacred traditions in a post-colonial world. You can follow me on Instagram @sophiemasonart or on my website sophiemason.co.
And finally, with the environmental emphasis on The Spring Auction 2020 which artwork has caught your eye?
Tamsin Nagel's August British Agapanthus caught my eye. Its theme and sensitivity reminded me of Michael Landy's weed etchings, an all time favourite of mine. Flora Wallace's An exploration into ink making from botanical waste' is also interesting. The two actually go really well together!
Sophie Mason thank you very much!
Sophie Mason is including Route III, Barcelona Winter and Barcelona Winter and Summer in The Spring Auction 2020.