Eleonora thank you for taking part in PAPER | SCISSORS | STONE auction on 8 November and congratulations on your graduation! Tell us a little bit about your experiences of studying at Central Saint Martins, what were the highlights of studying at such a prestigious art school?
Thank you! It's been an incredible two years. The teaching and facilities at CSM really are next to none; the school completely lived up to its reputation. But it was the Masters programme I was on, MA Art and Science, that proved most valuable to me. It offered an open yet structured opportunity to question and investigate the interesting overlap between artistic practice and scientific research. Investigating both the contemporary and historical context of the fields and embracing the full spectrum of inquiry through creative endeavour. It encouraged me to move past binary positions, and see things in a more flexible manner.
Interestingly, I've been noticing more and more design studios, think tanks and other institutions venturing in multidisciplinary practice that combines both "art" and "science". With an increasingly complex world, it makes sense that we should think bigger, and more flexibly, to envision multiple possible futures and solutions to some of our biggest problems.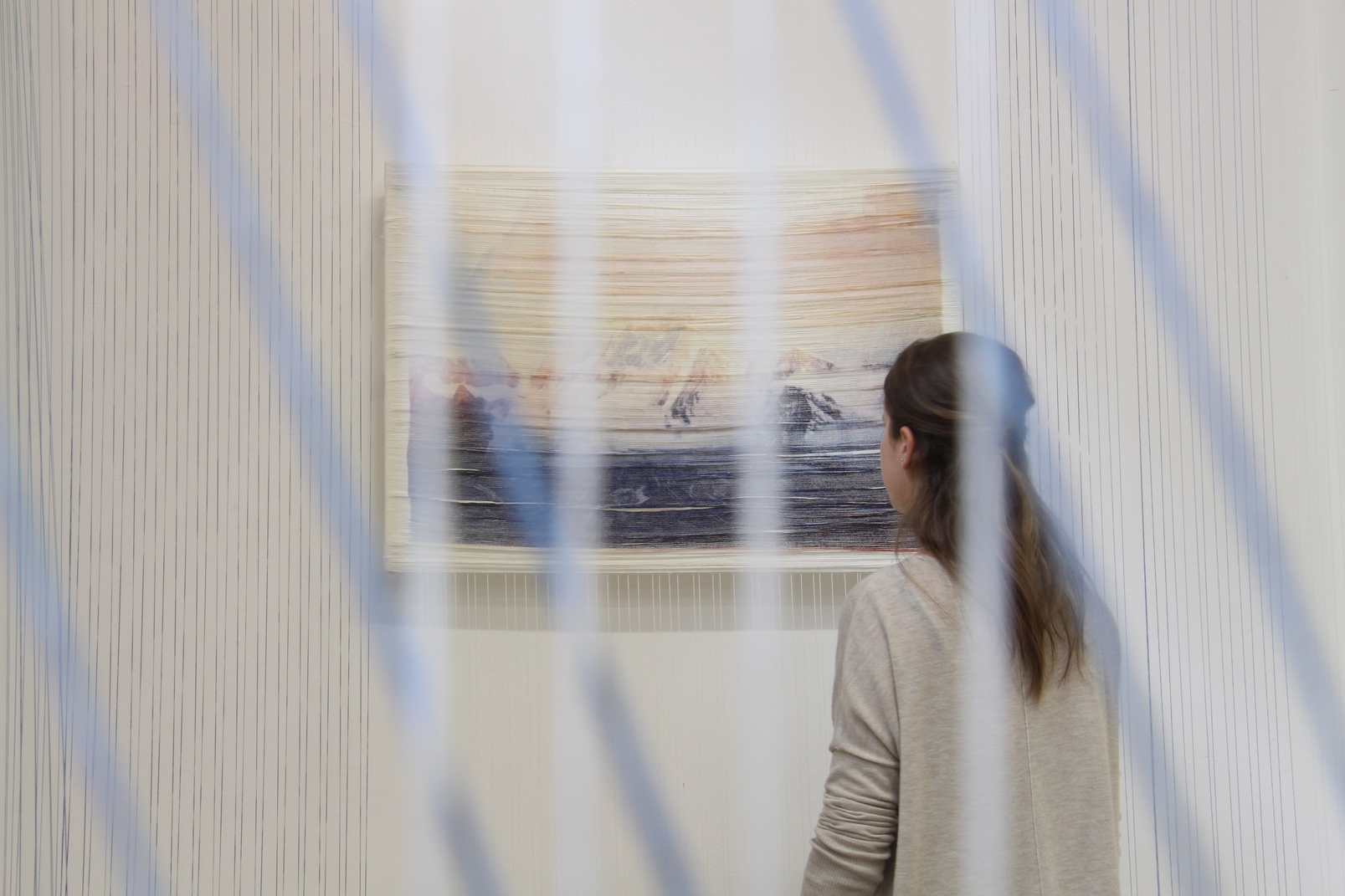 For the readers that didn't make it to your graduation show, can you describe it to them and your final piece?
The show was a fantastic opportunity to see all the incredible work CSM students across different programmes worked so hard for. It wasn't always easy, with plenty of sleepless nights, but it was an unforgettable experience.
My project explored the relationship between human attachment to landscape and our sense of identity — essentially how, as humans, we find identity in place. I was interested in how landscape, and the memory of place, forms who we are both individually and collectively. How landscapes are the nucleus of our intangible values. Exploring the parallels of the landscape, as the embodied mind and memory, and landscape as a physical place.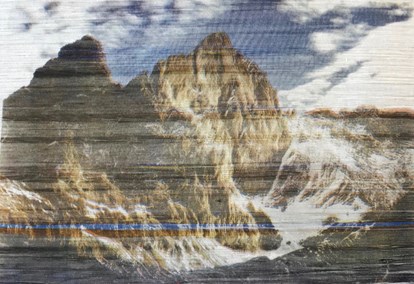 My final piece was a screen print of a specific place in the Dolomites, that in many subtle ways made me who I am. I decided to print directly on individual threads — which was technically very challenging — as an expression of how fragments of memories make up a whole. The effect of printing on thread gave it an ethereal quality, which was an unexpected contrast to the very hard physical subject. Of course, it's impossible to shake off the historic link between textile and femininity; adding an important, and often not talked about, dimension to the piece.
Another important event during the degree show was the MA Art and Science symposium day. I was part of a panel discussing the subjective experience in art and science; how the sciences that deal with subjective human experiences such as psychology, anthropology and sociology are often associated with art in terms of their expressive or therapeutic aspects. Questioning how they sit within the Art and Science umbrella which is usually the domain of the 'hard' sciences of biology, physics, chemistry and maths.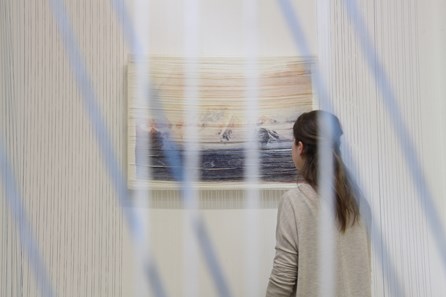 How did you begin experimentation with this process of creating work and what have been your influences?
I've been working with textile as a medium since a very young age and I've always enjoyed struggling with and taming it's physical properties. As the term began, and I began my research into memories, I found myself playing with a ball of yarn — using it to map my findings.
Following a really interesting lecture by Professor Rubenstein on what constitutes an "image", I began experimenting with different ways to combine yarn with my photography. There are strong parallels between images and memories, and I wanted to explore it in an interactive installation for our WIP show (Glitch Memories (2017), GIFs). As these things often go, one thing lead to another.
I draw inspiration from many different places — other artists using different media, scientific research papers, nature and the countless interesting people I meet thanks to my jobs working for Propela (a self-proclaimed Rebel Agency, representing unique speakers across all fields, and organising special events on future technologies and society) and 3dpbm (a media and marketing agency specialising in advanced manufacturing technologies).
It is clear a lot of time has gone into each work - can you describe the process and how long it takes?
Whilst the time-frame and amount of work varies vastly depending on the print, I can give you a sense of the process. I start by playing around with my photographs — picking the right subject matter, then exploring how different compositions, light quality, and other elements affect the overall quality of the image. Of course, always keeping in mind that different images work better than others for printing on thread, as the material likes to shift around a lot. After this I do some test prints on paper before moving on to some small-scale tests on thread.
Lately I've been working with 4 colour layer separation for each print, which requires that I work through each layer with a pin to separate each individual thread until it's dry and ready for the next layer. I would compare the process to analogue film development, where you don't quite know what will come out each time. I've lost count of the number of failed prints, although occasionally there are really interesting effects that happen by mistake. I embrace glitches.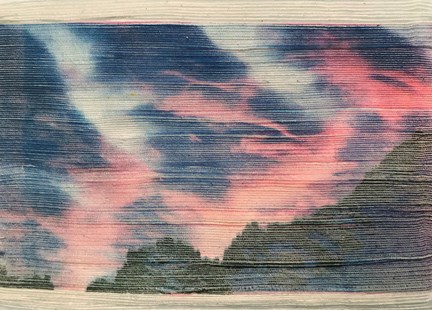 Using photographs of your previous homes (Italy and Hawaii) as source images, nostalgia and identity play an important role in your works, what experiences have led to this?
I think my fascination with memory, identity, nostalgia and these sorts of themes stems from my childhood. I was born in Italy but all before I was the age of 5 we had lived in Hawaii and the UK. I grew up never really feeling Italian nor British; I found myself in cultural limbo. I think since then, I've been drawn to what it means to be who we are.
Before studying at CSM I worked as a specialist teacher at a school for children with autism. My experience here, working with children who have difficulties in communicating through standard processes, also made me interested in how we communicate who we are and how being unable to communicate with others may affect our sense of identity.
How do you see your work developing in the coming years?
This is a difficult question. There are certain values and goals I will maintain in my practice but I am open to my work developing naturally with no constrictions. You never know what event or person will influence your next piece of work, so I will keep open-minded.
With your recent graduation exciting times are ahead. What is next for you and how can The Auction Collective readers follow what you are up to?
In October I am participating in an art residency in Iceland for the month. Here I'm experimenting with new projects and collecting material for a new series. After graduating I'm excited to have the time and opportunities to play around with new ideas, and having the studio space to develop these into full installation projects. I'm also really excited to continue working in my other jobs and to establish more collaborations with interesting professionals across art, science and tech.
If your readers would like to follow me or reach out for collaborations they can find me at:
[email protected], www.eleonorasher.com, Instagram: @e.sher and Twitter: @elliesher
Eleonora Sher, thank you very much!