The concentration of carbon dioxide in the atmosphere has increased by 46% since 1750 - the start of the Industrial Revolution. Sea levels are rising at the fastest rate in 3,000 years.
Average wildlife populations have dropped by 60 per cent in just over 40 years. And two-thirds of extreme weather events in the last 20 years were influenced by humans - the number of floods and heavy rains has quadrupled since 1980 and doubled since 2004.*
Concerns around climate change and the impact of humans on this planet have been dominating conversations in the art world. Striving to put forward the latest voices in contemporary art, we brought together seven artists whose work and changing practices reflect the worries and actions within the creativity community.
Curated within this section are artworks that capture the last days of the ice caps, paintings made from vibrant plant-based pigments, and detailed representations that highlight daily waste. 
 -
DAVID MULLEN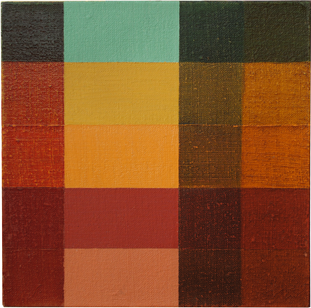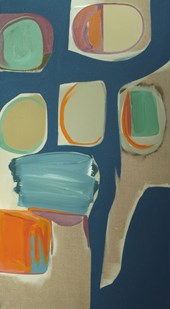 Lot 41. (left)
Eco-Geo 1
Estimate: £150 - 250
More details 
Lot 50. (right)
Terres Vertes
Estimate: £600 - 900
More details
"My ambition is to create oil paintings that could be biodegradable and non-toxic."
Eco-Geo 1 is the first in an ongoing series of geometric abstractions based on the colour interactions of naturally occurring pigments.
This work specifically explores how plant-based glazes can colour natural earth pigments. Four different iron oxide pigments (a burnt sienna, Indian red and two yellow ochres) and a terre verte have each been glazed with yellow from weld, blue from indigo and red from madder. The title is a play on the term Neo-Geo and alludes to the importance of reshaping abstract painting as an ecologically sustainable artform. 
Terres Vertes is an exploration of the materiality of paint and the colour interactions of these naturally occurring pigments.
David Mullen uses a variety of different 'terres vertes' or 'green earth' pigments for the starting point for this painting. Green earth pigments can be found in many different European countries and are a mixture of ferrous silicates in aluminium and magnesium clays.
The resulting colours can range from brownish greens to bright almost turquoise greens. Along with iron oxide pigments such as ochres and siennas they are the most readily available naturally occurring inorganic pigments for painters today. The slight sandy texture in the indigo is due to the paint being handmade by the artist himself.
First used by the ancient Romans, terres vertes has been identified on wall paintings at Pompeii. In the Middle Ages one of its best-known uses was in the underpainting of flesh tones.
David Mullen is an artist who deals with the relevance of contemporary painting and abstraction. A desire to reduce the waste created as a by-product of his paintings has led to a radical shift to make his practice more ecologically sustainable.
His ambition is to create oil paintings that, if unsuccessful, could safely be put onto a compost heap rather than into landfill. The paintings must therefore be biodegradable and non-toxic. This has allowed him to cultivate his long-standing interest in colour and the materiality of paint, by forcing him to use natural earth pigments and organic pigments synthesised from plants, such as woad, weld and madder.
The ultimate goal is to make paintings using pigments synthesised from plants grown in compost containing previous paintings.
Accolades
BA Painting, Camberwell College of Arts.
MFA Fine Art, Goldsmiths.
Awards: Shortlisted for the 2019 HIX award.
-
BECKY ALLEN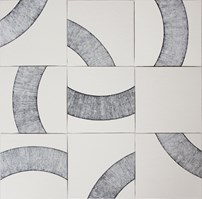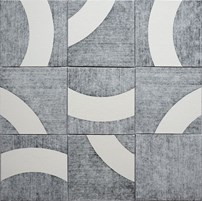 Lot 42. (left)
Full Circle (Light)
Estimate: £700 - 1,100
More details
Lot 52. (right)
Full Circle (Dark)
Estimate: £700 - 1,100
More details 
Becky Allen's choice of handmade, natural paper is an integral component of her meticulously inscribed, meditative works.  
Full Circle (Light) and Full Circle (Dark) are made from Quianlong Bamboo paper. This very special paper, made by hand in China by Mr Chen in Sechuan Province, is known for its soft and absorbent quality. The furnish (the water-suspended mixture of paper pulp from which paper is made) is Ci Bamboo with Dragon Beard Grass. Mr Chen recently passed away leaving the paper in limited supply since his methods of making have not been passed on to the next generation. 
The process of repeating drawn lines reflects ancient Eastern philosophies on the cyclical nature of time, with each end a new beginning. The concepts of Samsara, wandering and circuitous change and Yantra, a geometrical symbol used in rituals and meditation, inform the drawing's boundless cyclicality.
Becky Allen's output is deeply connected with the natural world; it both reflects and embodies it. The organic topography created by wavering texture between the reverberation of paper and ink, embodies both transient and perennial natural forms, be it an undulating sea, ancient rock formation or light falling between leaves.
"Through a ritualistic practice, I explore drawing as a form of meditative catharsis in which rhythmical works channel the movement and energy of repetitive mark making. My artworks are contemplative, profound statements on the passage of time and physical manifestations of a personal journey."
Becky's practice, and projects completed in communities around the world, involve extensive work in developing natural dyeing processes, often using source materials indigenous to her surroundings and recycling her own drawings to produce new works.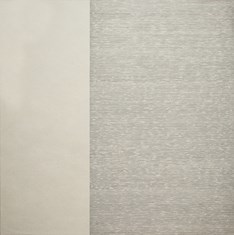 ​Lot 47. 
Lux
Estimate: £1,200 - 1,800
More details
Reflecting Taoism, widely understood as 'the way' or ' a journey with no end', Lux suggests the observation of landscape through an architectural space.
Lux is part of Becky Allen's ongoing View series which references both physical and cognitive wandering.
Accolades
MA Visual Communication, Royal College of Art, 2011 - 13 
BA (Hons) Graphic Design, Camberwell College of Arts (UAL), 2008-11

Awards and residencies: Developing Your Creative Practice Grant 2019 - 2020, Arts Council England. Trinity Buoy Wharf Drawing Prize Shortlist, 2018. Jerwood Drawing Prize, Shortlisted, 2017. Thirty for Thirty, BURO, 2014. 4 Emerging Artist Award, 2014. Winner of Augustus Martyn Printmaking Prize, Royal College of Art,  2013. 
-
HILDE LAMBRECHTS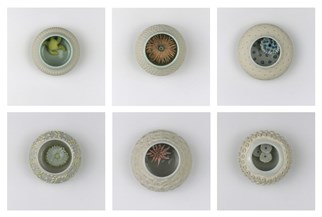 Lot 43. 
ICUs (Intensive Care Units)
Estimate: £600 - 900
More details​
Canadian artist, Hilde Lambrechts, created ICUs (Intensive Care Units) as an empathetic gesture towards one of the most beautiful and threatened ecosystems on the planet, the coral reefs.
"When I read about coral farming, a method to raise coral in protected nurseries in order to repopulate a degrading reef, I envisioned rows of intensive care units, wherein a fragile reef creature could be nurtured."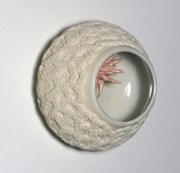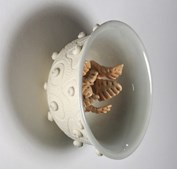 CUs are about the much needed protection of coral reefs, which host 25% of all marine life. These wall-hanging pieces are largely unglazed on the outside mimicking bleached coral, to which new life can attach. The glazed micro-environment on the inside holds a coloured creature, a sparkle of life. The re-growth of corals in environmentally controlled capsules is a method that is tried today in an attempt to repopulate dead reefs.
All pots are turned on the potters wheel, meticulously embellished by hand using instruments such as needles and are fired to maturity at cone 6. They were all made, glazed and fired in Hilde's Ottawan studio, Canada.
Former biologist Hilde's work is concerned with climate change and the human footprint on our environment. She is influenced by her scientific background, researching her subject in depth before communicating her ideas in a visual manifestation. "Through beauty I lure the viewer to open their mind to the serious environmental and socio-economic issues that mankind is facing today and aim to increase their empathy for life in all its forms, and their willingness to act."
"I often feel helpless about the destruction of our ecosystems. I protest through my art."
Accolades 
PhD in Biology, University of Utrecht, The Netherlands, 1993.
Figure Drawing and Painting and Ceramic Sculpture, Ottawa School of Art.
Awards: Purchase award from the International Orton Cone Box Collection. Finalist of the RBC/CAO emerging artist award, 2012. Secretary of Ottawa Guild of Potters, 2016 - 2018 and Outdoor installations: Populace 2017, in celebration of Canada's 150th birthday at The Canadian Museum of Nature, and Compass 2018 at the Royal Canadian Geographical Society in Ottawa.
-
FLORA WALLACE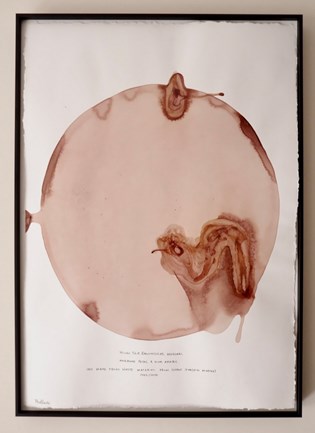 Lot 44. 
An exploration into ink making from botanical waste
More details
Flora Wallace gathers wast from New Covent Garden flower market to make botanical ink works. 
"I began making inks as a result of a longstanding interest in plants and colour. I have often been struck by how much waste the floristry industry produces. Installations are usually temporary, the flowers are often thrown away the following day which has always been hard to watch. For me the practice of making inks is a way of engaging with the seasons, time, and an exploration of place."
As part of an ongoing study, Flora approaches her work from the point of view of scientific experimentation. Variable components include the paper, the affect of time and additives such as alkaline bicarbonate of soda and acidic vinegar. Flora records each part of her process whilst slowly refining and manipulating her components to create a balance between materials to achieve the desired result.  
Flora Wallace is a ceramic artist, ink maker, illustrator and a freelance florist.
Accolades
3D Design and Material, Specialising in Ceramics, Brighton University.
-
ANGELA GILMOUR

Lot 45.
78° North, Sint Johnsforden
Estimate: £480 - 580
More details
Artist and former physicist Angela Gilmour presents a response to her experience on The Arctic Circle residency program.
78° North, Sint Johnsforden is one of a series of paintings made during her three week expedition during the Summer Solstice in 2019. The Arctic Circle residency invites international artists, scientists and innovators to live and work aboard a Barquentine Tall Ship while sailing the waters of the international territory of Svalbard, an Arctic archipelago just 10 degrees latitude from the North Pole.
Angela Gilmour's practice concentrates on the study and survey of shorelines and the way we interact with these natural borders. This theme is urgent in the context of ongoing and increasing discussions around climate change and the commons, with topics ranging from global warming to extractivism, from land possession and use, to sustainable consumption.
Accolades
Fine Art, Crawford College of Art, 2015
Awards: 'Student of the Year' and Highly Commended at the international Undergraduate Awards. Shortlisted for the Emerging Irish Artist Award by Burren College of Art, 2017.
Residencies: Sample Studios and the National Sculpture Factory, 2016. The Arctic Circle Summer Solstice Expedition, 2019.
Recent solo exhibitions: Arctica: the last fragments, Studio 12, Backwaters Artist Group, Cork, 2019. The Sum of All Parts, a touring exhibition funded by Science Foundation Ireland, 2016-2018.
-
SOPHIE MASON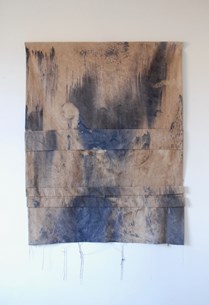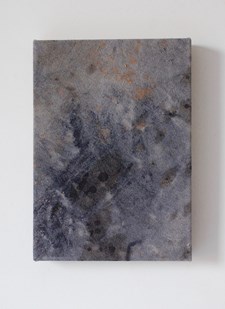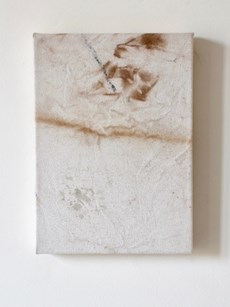 Lot 46.
Route III
Estimate: £380 - 550
More details
Lot 49.
Barcelona Winter
Estimate: £380 - 550
More details
Lot 51.
Barcelona, Winter and Spring
Estimate: £380 - 550
More details
Sophie Mason's current body of work involves dyeing large rolls of canvas with plants from the local area.
Over a period of many months, Sophie uses the fabric of the canvas as an intermediary for actions within nature. Washing it in the sea, burying it in sand and soil, tying it to trees, rubbing herbs, ash and coal into it. She uses materials from the immediate surroundings to dictate the canvas's patina. The residual build up of stains that occur through these actions creates a map of the land and the physical body on the blanket.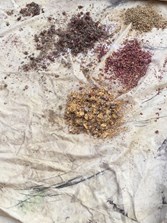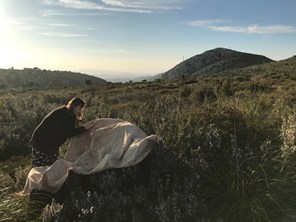 In this work Mason explores the idea that significance can be accumulated through time, wear and affection. Just as a well loved object deteriorates with lifelong love, these works hope to exhibit the residue of care built up over months of actions between artist and environment.
It is important for the buyer to note that these works are made with natural materials and as part of the work some of these materials may change over time.
Accolades
Group Exhibitions: Gossip, Take Courage Gallery 2019. Forage, Two woman show with Louise Hildreth,
The Rectory Projects, 2018. Rakes Progress, 2017-2018. A Home for All, Group installation with The
New Craftsmen and Selfridges 2017. Etchings, Group show, Brocket Gallery 2016. Construct the Future, Hoxton
Gallery 2016. Young Shoots, Hauser & Wirth, The Eden Project and Kew Gardens 2015-2016.
Solo Exhibitions: Blanket, Groc Projects 2019. Landscape (London, Autumn), May Project 2017. Weeds, Brocket Gallery 2015.
Projects: Edible Utopia, Participatory art project embedding a farm along with workshops and feasting
into Somerset House and Kings College. Soil Culture Residency, 2015-2017. Working with the CCANW (Centre for Contemporary Art and the Natural World) designing and building an edible roof garden on a primary school.
-
TAMSIN NAGEL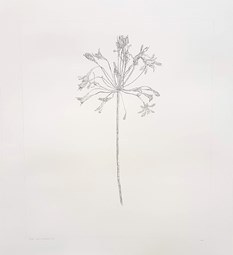 ​Lot 48.
August British Agapanthus, M&S
Estimate: £750 - 1,300​
More details
Part of an ongoing, 2 year project, these works feature intricately drawn flower stems, bought from large chain supermarkets in London, and documented once in a state of decay.
The crunchy and mouldy flora have an underlying wry tone: the seemingly quiet beauty of the drawings is juxtaposed with the reality of this mass farmed, imported, and mass consumed commodity that we all enjoy for a few days before the flowers quickly start to expire. And yet there is something beautiful about a quietly decomposing supermarket flower.
Tamsin Nagel is a Berlin-born London-based artist. Her intricately detailed pencil drawings explore seemingly beautiful subjects with solemn undertones.
Accolades
MA Visual Communication, Royal College of Art.
BA Illustration, Camberwell College of Art.
Awards: Jerwood Drawing Prize 2013 – Student Winner.
-
Green Perspectives is a dedicated section of The Spring Auction 2020. All artworks will be available to buy on 28 March at 5 pm. 
*Wired.co.uk, 'The 10 facts that prove we're in a climate emergency', 6 March 2020.