Alice Sheridan we are so excited to have you involved in the Sea-Fever auction on the 13 September. Your paintings are stunning and carry such a beautiful balance in both colour and composition. We can't wait to see Water's Edge up on the wall of the gallery with the other sea inspired artworks in the auction. Thank you for getting involved in the Collective!
Water's Edge is an iconic work of yours as you are best known for your abstract landscapes which are so striking in their expressive form. Where does the inspiration for the landscapes come from?
I don't have a plan as I begin to paint. The paintings evolve over time, guided by my response to what is happening as I make marks and apply the paint to the panel. There is usually a totally chaotic stage with a mix of crazy colours, but then I start to see clues within the painting about where I want to lead it. It's at this point that previous experience of sketchbook drawing out in the landscape will start to inform what I'm doing. Never as a direct copy, but recollecting a feeling of being in a place, or the descriptive marks.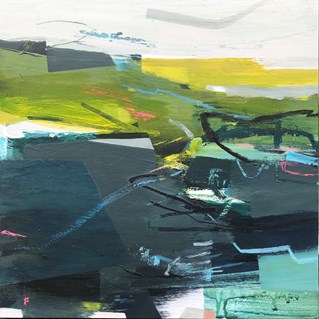 That must be very satisfying and exciting to see unfold. Does this also apply to your seascapes and, if so, how often does the sea-influence your work? 
The fluid nature of the way the work changes is much like water - finding its own path.
I don't get to visit the coast often, so it feels exciting when I do. Buyers of my work often remark on the energy they sense within the paintings which reminds them of movement within the landscape; waves or wind. I'm interested in the moments of calm amidst overall busyness and I think that's why so many of us lean towards nature to find that rest and re-set. A painting lets you keep that.
And that rest and re-set is very much needed in today's 100 mph world. Let's hope the exhibition can give everyone a chance to do just that.
Still leaning towards nature for now, what is it about the sea that excites you in your painting? 
That expansive freedom of open space is never stronger than when you are standing looking at the edge of the earth disappear across the sea. I find horizons and edges are a motif which recur frequently in my work. A horizon is a link we all recognise and I'm interested in the mix-up between that long distance or overhead vision of the space around us, and the close-up minutiae of texture and surface which can be so wonderfully distracting.
How do you translate that excitement and passion for the land or sea into your creative process - how do you begin painting? 
It's a fast mess at the beginning! I don't fear an empty panel - it's full of possibilities and I relish that I have no idea how this will resolve. I have to trust that the process I have developed will take me somewhere new each time I create new paintings.
I work on up to 16 paintings at once and they each emerge with their own personality which keeps me on my toes. This is the excitement for me. Towards the end the painting becomes much more considered as I am balancing the composition with more precision until it's both satisfying and intriguing. On the edge of recognition perhaps. 
16 paintings are a lot to consider! So once that creativity is flowing, how do you know when a painting is finished? Is it hard to walk away from a work?  
Some move ahead quicker than others - they lead the pack! Then I work on the others until they catch up, and often overtake so it becomes like a leapfrog of which is my favourite.
When is it finished? When I have no further instinct to make changes is the best way I can describe it. Also, when I know I would be happy to have it hanging on my wall and find new things to look at forever! 
Well it seems like a successful test as I know lots of people are keen to have Water's Edge hanging on their wall too!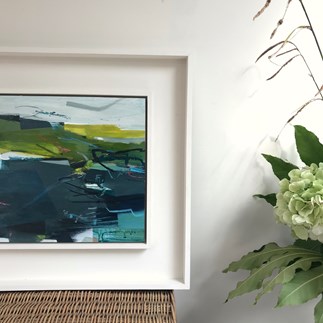 Thinking of the medium for a minute, very interestingly Water's Edge, like many of your paintings, is created on a birch wood panel. What is it that attracts you to this surface over something like a canvas? 
I think that came from drawing; having a smoother surface. My training was in graphic design and the sharpness you can get with wood as base is harder to achieve on canvas.
Wood also gives me a surface I can build and scratch into, and the cold wax finish on the surface gives a beautiful tactile quality, almost like a soft polish. Like a wave-smoothed pebble in fact!
 Ah if you like weathered and wave friendly pebbles, you should have a look at Lot 50 in the Sea-Fever auction by Paul West. 
Ok, so after the auction, what is next in your calendar and how can The Auction Collective readers stay up to date with your work? 
I have three paintings showing at the Mall Galleries with the Society of Women Artists, which starts on 27th September. All three are the same size as Water's Edge, but the colours are quite different.
Then I will be showing at the Windsor Contemporary Art Fair in November. You can get invitations to these events, and first access to new work by signing up on my website www.alicesheridan.com
Brilliant. And what about social media, you are understandably popular on Instagram with over 17,000 followers but what do you like about it and what is your favourite account to follow? 
It's an amazing place to share what goes on behind the scenes. I enjoy watching new artists find their way such as @annafmacdonaldart and @andywalkerdigitalartist who both make work which is very different to mine! I also love seeing artists form different parts of the world such as @karinabania where you can see so clearly the influence their landscape has on their work.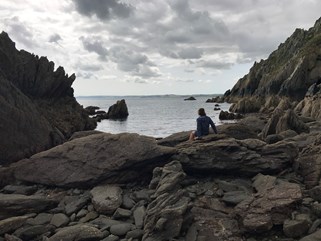 And finally, in the words of John Masefield himself, if you could "go down to the seas again to the lonely sea and the sky" which sea would it be, what time of year would you go and why? 
We spend time in Dartmoor and last year discovered a quiet hidden cave at a place called Sugary cove on the south Devon coast. Dartmoor wild swimming is great fun, but the sea is warmer, so I'll have another sunny summer day please! I do like the exhilaration of a slightly chilly swim, but I'm not sure I could do that in winter. 
Wonderful to hear! Alice Sheridan – thank you very much!
You can hear more on Alice's working practice and the place that the sea has in her creative process in this video.
If you would like to bid on Alice's work then please register here  and either join us at Hoxton Arhces on 13 September at 7.00 pm or leave an absentee bid on here auction lot page.