Paul West, we are so pleased to have you back after your involvement in Far From the Madding Crowd. You have two artworks in the Sea-Fever auction on the 13 September: Lot 33, the moody charcoal of North Arran, and Lot 50, Pebbles the group of four canvases. Thank you for getting involved again!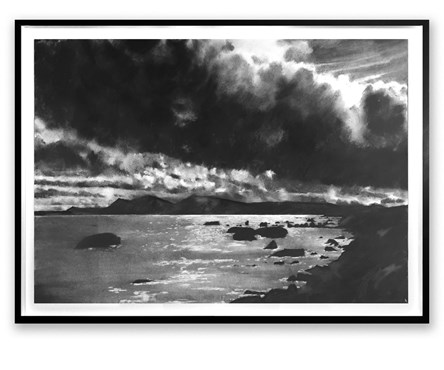 Tell us first about North Arran, it is an incredible picture so dramatic and such a beautiful composition. How did it come about?
The idea goes as far back as 2010! Paula, my partner who runs Film and Furniture, and I were invited to Mount Stuart on the Isle of Bute for a function. To make the most of our time in Scotland we thought we'd 'road trip' it to take in the islands. As it was September the season was in full change mode, resulting in gorgeous sky formations and light.
I made several sketches of the views at Arran from the Firth of Clyde and took some low res reference photos, and really left the view in my memory bank until the moment came to create a more finished work capturing the feeling of the moment when we were there.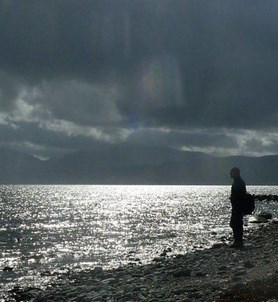 And what about the medium, why did you choose to use charcoal and what is it about the medium keeps bringing you back to it?
There's a connection that's 'primeval' in working with charcoal that I can't really put into words. I hear it from potters, and woodworkers - it's a sense of working an old craft that it is very absorbing. The process can be haphazard or enlightening depending on your mood, and I find it can be more evocative to express than a painting can sometimes be. The mark making almost feels like a signature with charcoal.
I use about five different width sticks of Willow charcoal for mid tones, compressed charcoal for the deep blacks, and charcoal powder for subtle shades. I've only been using charcoal powder for the past year and it's allowed many different emotions to be recorded in a landscape drawing, for example if the powder is applied with cotton wool it's subtle and silk smooth, with kitchen paper it's more abrasive, or with finger tips it's expressive.
Then come the different types of erasers which in turn create new textures. You can jump from graphic to gestural in a way that matches a mood you feel when you are working the picture. When coupled with the right music soundtrack, you never know where you'll end up and that's a creative situation to be in.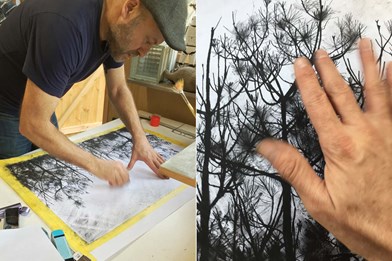 So what music did you create North Arran too? Is there a soundtrack that viewers should plug into when looking at the piece?
With North Arran the soundtrack was Wolf Alice's Visions Of A Life album, in particular the tracks Don't Delete The Kisses and Planet Hunter. Also the Blade Runner sound track by Vangelis and Ambient 1: Music For Airports by ENO- I get rather absorbed about music when I'm in the studio and the atmosphere has to be right.
Quite the backing tracks! With something of North Arran's intensity, it must be addictive to work at. How long does it take to create and how do you know when it is finished?
It's taken a few years of trial and error to be able to answer this question (a lot of works have lost their spark when overworked in the past) and to be honest, you just know when a work is finished and when it's time to walk away at that right moment.
However, Pebbles is very different indeed, not just as four acrylic paintings but also in style. What is the story here, how did these paintings come about?
One summer when I was walking along Warkworth beach in Northumberland, the shoreline was covered with the most wonderfully shaped sea worn coal and stone pebbles with the quartz lines running through them. I wanted to paint something graphic that combined that wonderful mixtures of graphite greys with an off-cream sand, but reverse the process of painting these small parts of our landscape 'large' rather than record a 'small' version of the landscapes I normally paint.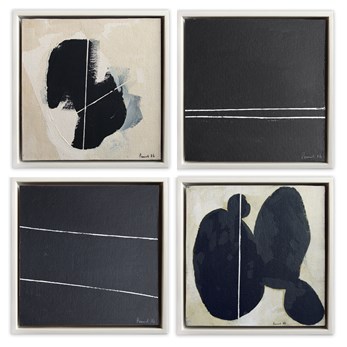 It is clear that the British countryside plays a very influential role in your work and often we see the sea inching its way over a horizon into your pictures. How important is the sea in your life and how does it impact your creativity?
Growing up in Dorset I've had a close relationship with the countryside and the sea from the earliest age. My memories are running wild in the woods (literally), and walking the coastline from Burton Bradstock to Charmouth over Golden Cap while seeing Lyme Regis sweeping round the corner. To anyone who HASN'T done that Jurassic Coast walk - you must! It's breathtaking.
In Northumberland my favourite walk is a country path from Warkworth to Alnmouth, flanked by the North Sea where you often see the beautiful squall showers far away on the horizon like a mist. Very emotional stuff, which I keep with me.
And finally, in the words of John Masefield himself, if you could "go down to the seas again to the lonely sea and the sky" which sea would it be, what time of year would you go and why? 
Lyme Bay in winter. Those seaweed-green waves lashing the coast by Golden Cap is a sight to see - and I'd be totally alone listening to December by The Waterboys with a pint at The Anchor in Seatown at the end of the walk. Simple pleasures.
That sounds like the dream!
Paul West - thank you very much!
If you would like to bid on Paul's artwork then please register here. You can either join us at Hoxton Arches on 13 September at 7.00 pm or leave an absentee bid by heading to the artwork pages: Lot 33 North Arran and Lot 50 Pebbles.
The lead photograph of Paul in action was taken by the photographer Claire Nathan.