Ahead of 'Enter the abstract' contemporary artist Zanny Mellor talks us through the contemplative and expressive approach to her artwork and the experience of discovery that each artwork creates. 
Tell us a bit about your work - what do you create? 
I have been working in abstract painting, alternative photography and more recently installation for a number of years now. The process of making is very important. I am interested in the physical act of it, a transference of energy from body to surface, making energy visible through fluid mediums or transforming a space or surface with the effects of light. My practice has often referred to natural processes and seasonal changes happening in a landscape or city but more and more I becoming am interested in the dynamism, movement and elasticity of the body and mind.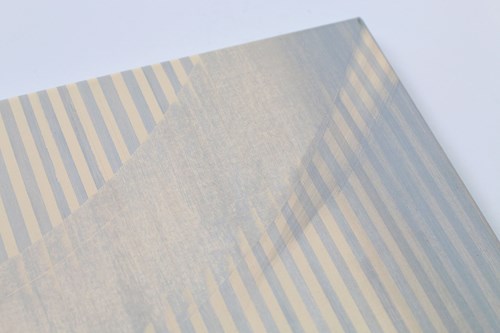 What drives you to create this? 
I make artwork because it is an expression of creative energy and curiosity to make something out of nothing. I am interested in exploring sensation, feeling and making these visible and tangible. I hugely enjoy the challenge of visually problem solving, making something exciting happen for myself and the viewer.
I've always been interested in scientific themes and processes; fascinated by the micro and the macro, the intimate and the enormous. Painting as a liquid medium that dries solid, offers an extraordinary amount of challenges and discoveries to be made because for me, being open to chance is a big part of the process. In a similar way, introducing light to my practice as a medium, either in the dark room or using translucent materials in the studio, is an exciting way to animate different kinds of surfaces.'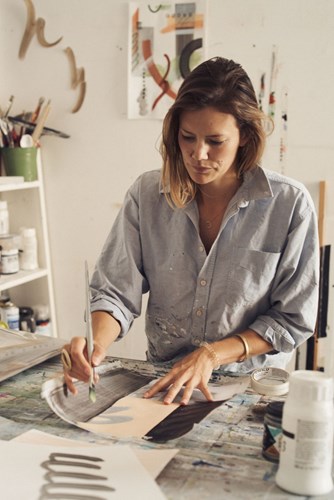 What do you want to achieve with your work?
A lot of my work comes from the experience of being in a particular place, the energising or calming experience of being in nature, amongst the elements. It roots you and brings you alive. My artwork is often a response and reflection on these themes; a way to connect body and mind, to engage with the longer cycles and rhythms of nature while comparing these to the speeds of the body and urban environments.
How do you want viewers to interact with your work? 
I would like to create intrigue, engage a viewer's curiosity and give an experience of discovery. The works that are more minimal and subtle could create a settled viewing experience, of calm and reflection, whereas the bolder, intensely gestural and high contrast artworks create impact and invite a sense of excitement.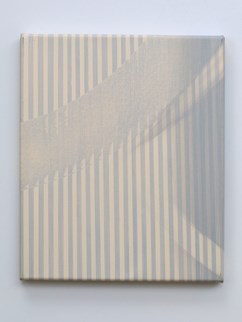 What do you do to make this happen? 
Sometimes in the paintings I have used iridescent pigments which create interesting optical effects for the viewer and encourage them to physically move around a painting to visually navigate it. Recent installation projects at a larger scale have opened the door between my painting and photography experiments and into an experiential realm. One site-specific painting I made last year on a gallery window created shadows on the floor and walls, which appeared and disappeared depending on the weather conditions and strength of sunlight outside. This created different kinds of viewing experiences as the shadows crept across the room throughout the day.
Can you talk us through your approach to the artwork in Enter the abstract?
My travels in Iceland have hugely informed the body of work I've been producing for the last few years and I have focussed on time, light and process in the artwork's production. It is the experience in nature and wilder places that nourish my creative practice as I engage with the longer timeframes within the landscape; daily and seasonal change, geological transformation and the cycles of decay and growth. I measure these through different speeds of painting, with both swift and sudden gestures, as well as slow methodical layering, which are both evident in my photograms and paintings in Enter The Abstract.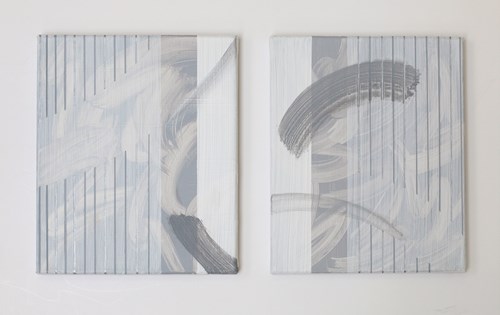 Can you talk us through the process? 
The linear elements that take diligent masking in Increments 1 and the diptych Into, reference a graph of the annual amount of daylight that the country of Iceland receives each year. Studying this was a way to tune in to seasonal changes which are especially apparent in the UK where I live, but they also became a visual tool to structure and contain the quicker, more impulsive painting gestures that I enjoy to use.
The photogram Blind Light 16 is a 'multi-exposure painting' made in a photographic dark room. The process of erasure is as important to the addition of paint, where a rhythmic and repetitive mark-making invites a tension between control and chance. The paint is exposed to light multiple times and the shadows fixed onto light sensitive paper.  This is then erased and reconfigured for the next piece, thus making each work a unique multiple.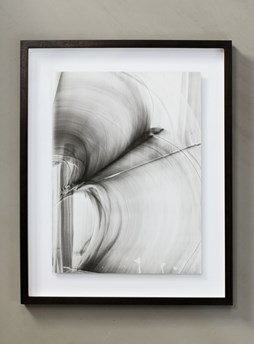 This show is all about time dedicated to viewing the artwork and escaping into it to give the viewer a moment of self reflection and contemplation - is this something you strive for? 
Some of the more minimal paintings like the diptych Into exhibited in Enter The Abstract, are built using subtle gradations in tone which give them a visually calmer appearance and perhaps a moment of pause, whereas the bolder dynamic compositions are designed to ignite energy and create an exciting visual reading. I find it important to create works that give both kinds of experience, of slow discovery and contemplation that make you think of climatic or biological processes occurring that allow you read a work, or to revive and energise and I think it's important to have these dualities.
Zanny Mellor, thank you very much. 
Zanny is including three works in Enter The Abstract: Increments 1, Into and Blind Light 16. 
Auction | 6 November, 7pm