Almudena Romero uses experimental photographic techniques, both traditional and digital, to explore timely themes. Her impressive accolades include work exhibited at the V&A, National Portrait Gallery, Welcome Collection, Tate as well as lecturing and many universities including University for the Creative Arts and Camberwell College of Arts. 
We're really pleased that she is including Lot 61. Mariah Idrissi in The Spring Auction 2019. Ahead of the auction, we caught up with Almudena to hear more about the Growing Concerns series. 
This is an intriguing image, can you begin by describe the work for us? 
It's a chlorophyll print made out of 8 hosta leaves. In this series I use plant leaves as photographic paper to print images directly on the leaf. It doesn't require any chemistry or ink, it only uses the bleaching power of the sun.
The Growing Concerns series uses plants from former British colonies as canvases to host images that reflect on the links between plant trade, colonialism and migration, and the legacy of these in modern day Britain. In this case I have used a plant originally from Asia to host a portrait of Mariah Idrissi.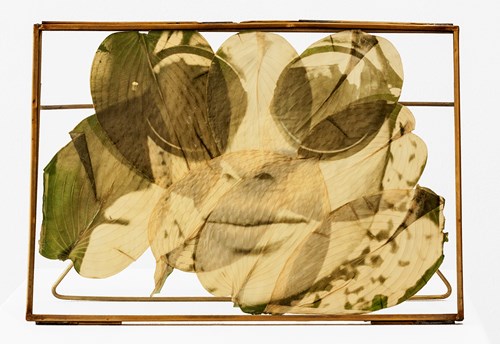 What sparked the idea for Growing Concerns and how did it develop?
I went to the Covent Garden Market and I was amazed by the amount of plants and flowers from all over the world that were brought here on a daily basis. I was impressed by how easy it is to import goods like roses from Colombia or Kenya on daily basis and how complicated it is for people from the exact same places to come to the UK.  It led me to think about the historic interest in facilitating movement of goods and capitals and the increasing interest in restricting movement of people.  
As the title of the series suggests,  your work looks at contentious political and social issues; migration, the legacy of colonialism, inequality. What has the reception been like for these works?

Very positive. Brexit, the Trump wall, the Windrush scandal, and the increasing anger and support for extreme parties are growing concerns for many people.  I have received a lot of positive feedback on how the work articulates broader cultural, societal and economic issues through a unique printing technique to produce an innovative and challenging art piece.  I think both the critical context and the visual rhetoric work very well together.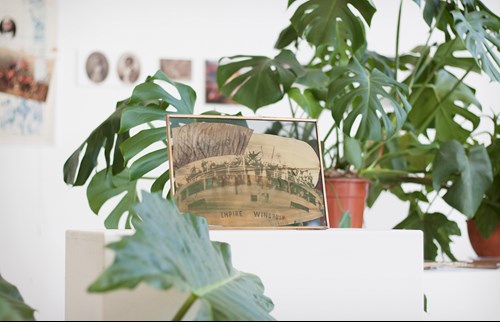 You have carefully selected iconic figures for this series, can you tell us who Mariah Idrissi is and why you were drawn to her image?
Born in the UK with Pakistani and Moroccan parents, Mariah Idrissi the first British Muslim hijab wearing model. I love the way she negotiates her cultural background with her professional ambitions and I chose her portrait because she represents future. At the age of 26 she has changed the fashion industry. It's normally the other way around, the fashion industry dictates how models should look like, sometimes promoting unhealthy behaviour such as eating disorders. Not only has she not gone that way, but she has convinced the industry to embrace her appearance. She has changed the industry to accommodate her views on herself, and that is the future. Tolerance, empathy, openness, solidarity and caring attitudes as opposed to selfish and destructive positions are the only way forward to overcome the challenges that we are facing today.
All of the pieces in this series represent people in line with Mariah Idrissi, like Jamaican football player John Barnes who played with the England national team in 79 occasions and it's a leading figure against discrimination in his industry.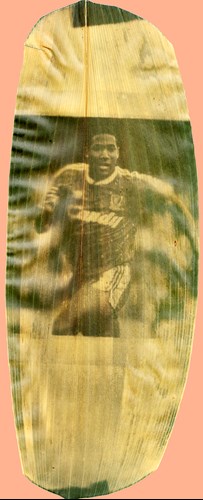 Can you tell us about your process, how did you collect your unusual canvases and how are the images produced?
Plant leaves are like human skin, when exposed to light they change colour, while areas that are protected from sunlight remain the same, this is what happens when we record the outline of our swimming-suit in our bodies. If I would place a negative on your skin while you are sun-bathing it will record the image of the negative, and this is what I have done here, but with a collage of hosta leaves.
You always seem to be working on interesting projects that involve a lot of research. Can you tell us what is next in the pipeline for you?
My next project reflects on photography as an allegorical image making process.  It focuses photography as an art form that includes multiple practices including performative, sculptural, pictorial and installation ones.
I am working with performers, set designers, photoshop technicians, to create a series of images that explore the fictional and the limits of the representability of identity. I am playing with abstract and  non-figurative methods of depicting identity as a subject, which is a strong change in my practice as it often involves portraiture.  
And are there any works in The Spring Auction that have caught your attention?
I was very happy to see pieces by Michael Craig Martin and Rory Menage as part of the auction, I really like their work!
Finally, how can our readers see more of your work and keep up to date with your projects?
I am often involved in open to the public events. Next one in the line-up is a talk at the Science Museum late night on the 24th of April.  A good way of following my activities is to sign up to my newsletter and or to follow my Instagram account.
Almudena Romero is including the portrait of Mariah Idrissi in the Spring Auction as Lot 61. You can view it here.