Studio Sale 2023 | Chris Daniels
20 JANUARY 2023 - 06 FEBRUARY 2023, Ends 04:00 PM
A Studio Sale of works of art direct from the studio of artist Chris Daniels.
Timed Auction Ends
6 February, 4pm (GMT)

The selected paintings are from 2018-2022 and represents the artist's ongoing investigation into colour and form through painting.
He chooses colour combinations by instinct and experience over adherence to traditional colour principles. This approach echoes Albers, who was interested in the interaction of line and colour over theory. These stimuli can come from the wider world such as advertising and design, and often echoing previous paintings. He is drawn to colours which provoke a vibration or reaction when placed together. Colours are not static; they have relational value depending on how they are placed together, and he seeks to exploit and manipulate this visual experience. The forms use hard edges to constrain the gestures within boundaries, creating tension.
Chris Daniels, b. 1981, is an artist who graduated from the Royal Academy Schools in 2008, and Loughborough University in 2004. He has work in private collections in the US, Japan, South Korea, and worldwide.

Bidding Enquiries
[email protected]
Monthly Payment
Monthly payment options are available for this artwork.
To hear the latest news follow @theauctioncollective on Instagram and sign up to the mailing list here.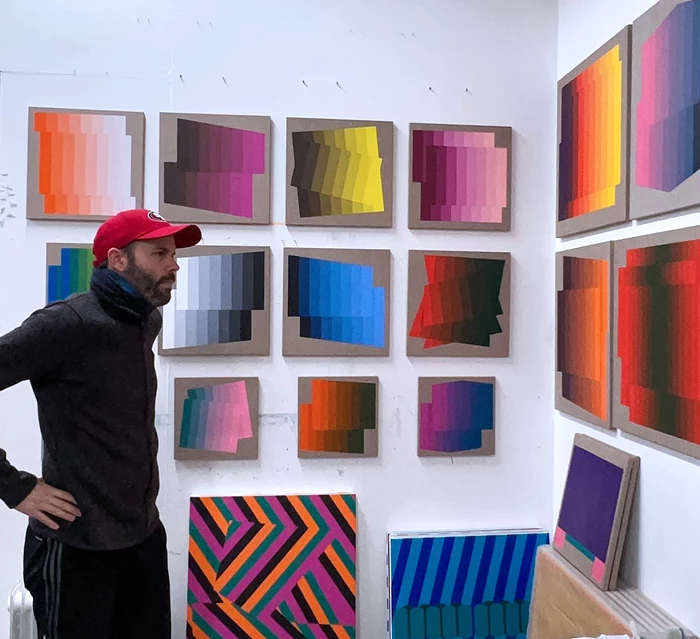 Join the auction
You must register to bid in this auction