Studio Sale 2023 | Fat Cap Sprays
20 JANUARY 2023 - 07 FEBRUARY 2023, Ends 02:00 PM
A Studio Sale of works of art direct from the studio of artist Fat Cap Sprays.
Timed Auction Ends
7 February, 2pm (GMT)

Fat Cap Sprays is a London based artist, well known for his energetic videos that merge street art with pop culture. His work is influenced by video games and cartoon series. Focusing on painting characters with a glowing neon twist, he paints in bright colours and in a graffiti aesthetic.
By redefining neglected spaces, Fat Cap Sprays breathes new life into walls and gives character to the streets. During the pandemic his art engaged with different audiences, finding a connection to characters from a positive time of their life. His works have also attracted attention due to their nostalgic factor, as well as their socially interactive nature. Placing them within popular street art hubs like Shoreditch, Hackney Wick and Penge, the pieces often get treated like collectibles to discover.
By filming each piece and sharing the creative process through satisfying short form videos, which emphasises the naturally therapeutic sounds of the artwork production he has earned over 100 million likes on TikTok.
fatcapsprays.com
@fatcapsprays

Bidding Enquiries
[email protected]
Monthly Payment
Monthly payment options are available for this artwork.
To hear the latest news follow @theauctioncollective on Instagram and sign up to the mailing list here.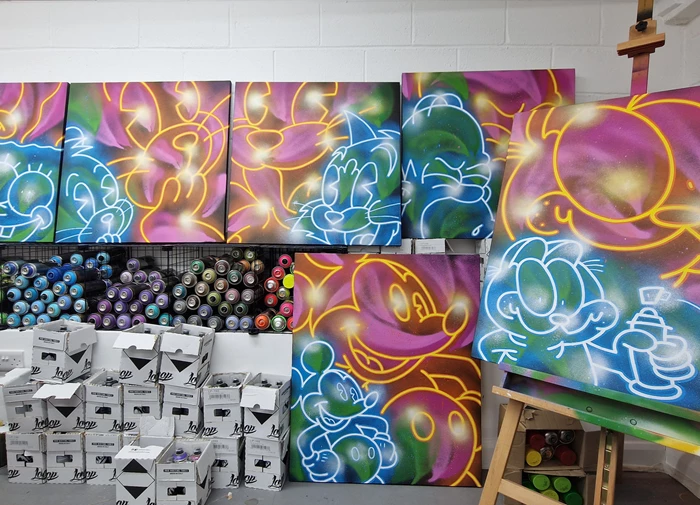 Join the auction
You must register to bid in this auction