Studio Sale 2023 | Grace Crabtree
20 JANUARY 2023 - 08 FEBRUARY 2023, Ends 10:00 AM
A Studio Sale of works of art direct from the studio of artist Grace Crabtree.
Timed Auction Ends
8 February, 10am (GMT)

Payment
Payments for this auction will be handled directly by the artist.
Grace Crabtree is an artist based in Bridport, West Dorset, whose paintings of land and water are grounded in the experience of walking or swimming, and infused with hints of historic or mythic narratives connected to a place. Working mostly in egg tempera, the painting surfaces hold delicate layers and scratched incisions.
This studio sale offers a selection of paintings and works on paper from Grace's studio, inspired by the landscapes of West Dorset, Sussex, and the Lake District.
Grace says: "My landscape paintings, perhaps more akin to portraits of place, respond to places I have walked within, recalling and reforming their colour and form, texture and light in a process of shaping and excavating layers of pigment. Rather than a traditional distanced, overarching perspective, I want to give a sense of being within, or moving into a landscape; perhaps revealing what lies beneath the visible: the physical underlayers beneath our feet, as well as undercurrents of folklore, ritual, and mythology that run through a landscape."
Since graduating from the Ruskin School of Art in 2019, Grace has exhibited in a number of group exhibitions, and attended artist residencies in France, Portugal, and Cyprus. She has recently completed two years of the Turps Correspondence Course (2020-21; 2021-22).
Website: www.gracecrabtree.co.uk
Instagram: @gracecrabtree.art
Bidding Enquiries
[email protected]
Monthly Payment
Monthly payment options are available for this artwork.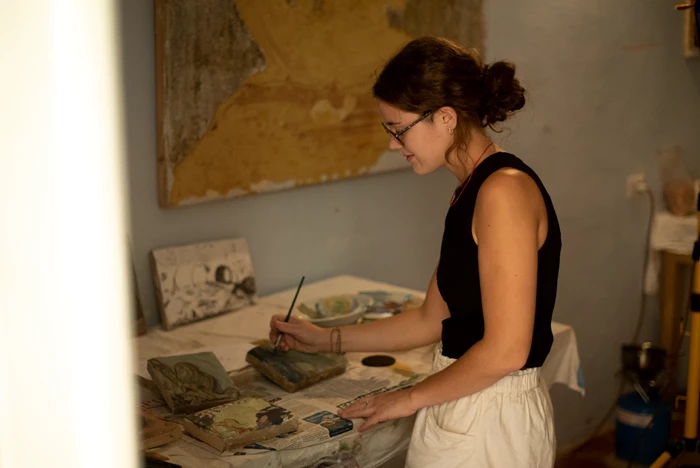 Join the auction
You must register to bid in this auction