Studio Sale 2023 | Molly Kent
20 JANUARY 2023 - 09 FEBRUARY 2023, Ends 03:00 PM
A Studio Sale of works of art direct from the studio of artist Molly Kent.
Timed Auction Ends
9 February, 3pm (GMT)

Payment
Payments for this auction will be handled directly by the artist.
Molly Kent is a textile artist concerned with representing mental and physical health notions through mediums such as rug tufting and weaving. She portrays contemporary existence regarding social media and internet living and how this affects our perception of self. This stems from her personal experiences of her mental health condition CPTSD but also reflects on broader anxieties and fears that have come to attention due to the COVID-19 pandemic.
Kent is a 2020 graduate from Edinburgh College of Art, where her practice solely focussed on rug making.

Since her graduation, Kent's work has expanded to include tapestry weaving and knitting as outcomes. At the beginning of 2021, after experiencing an episode of ill mental health, Kent's work shifted towards a new project, Dream Weaving. Dream Weaving is a multi-award-winning body of work that records dreams and nightmares experienced by the artist as a result of her mental health condition. This series of works features recurrent themes of falling, extreme weather, and digital anxieties and offers a critical insight into how dream psychology can tell a lot about the inner workings of a person. The work is inspired by symbolism, mysticism, myths, and legends alongside personal symbols of the trauma Kent' suffered that led to her diagnosis.

Bidding Enquiries
[email protected]
Monthly Payment
Monthly payment options are available for this artwork.
To hear the latest news follow @theauctioncollective on Instagram and sign up to the mailing list here.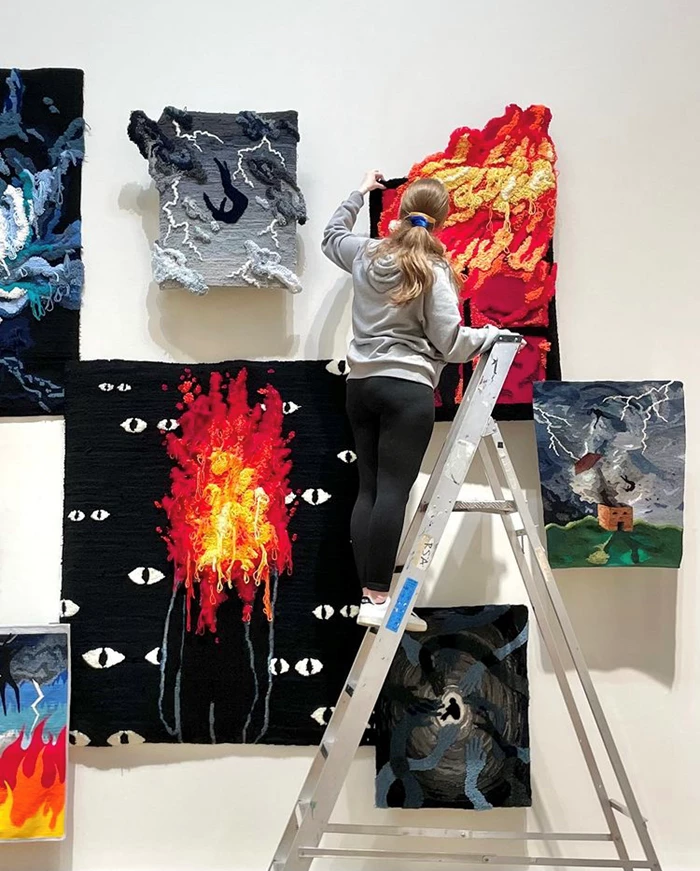 Join the auction
You must register to bid in this auction