Studio Sale 2023 | Monica Perez Vega
20 JANUARY 2023 - 10 FEBRUARY 2023, Ends 10:00 AM
A Studio Sale of works of art direct from the studio of artist Monica Perez Vega.
Timed Auction Ends
10 February, 10am (GMT)
Payment
Payments for this auction will be handled directly by the artist.
Monica's work explores ideas of uncertainty and adaptation and her imagined landscapes sit between nostalgia and unease. Originally from California, she has lived in Montreal, Amsterdam, London and presently Birmingham, UK. Her memories of home are warped by a changing landscape, and her experiences of continually starting over have led to a practice which investigates cycles of change. There is a fluidity and resilience to her practice which is guided by incident. She is interested in the potential between renewal or collapse and relies on disruption as a search for hope amid precarity.

Skies and trees are ongoing themes in her work. Skies are about transience while trees tell a story of steady resilience. Tree stumps are headless figures; embodiments of disruption, but also places where life quietly thrives. Trees elicit memories of home, as well as an aspiration towards rootedness.

Recent Solo exhibitions include:
My Life in Trees, Birmingham and Midland Institute, Birmingham, 2021/ To the Trees, SUPA Gallery, Birmingham (Online), 2020/ Solo Exhibition, Rob Radamaker Gallery, Utrecht, 2015

Bidding Enquiries
[email protected]
Monthly Payment
Monthly payment options are available for this artwork.
To hear the latest news follow @theauctioncollective on Instagram and sign up to the mailing list here.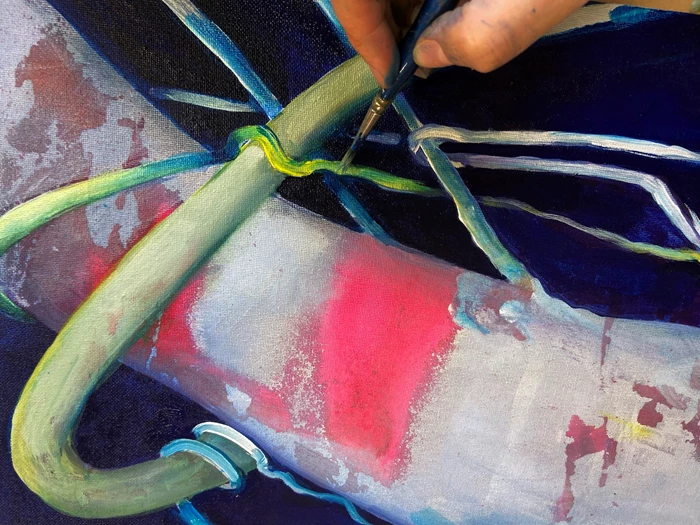 Join the auction
You must register to bid in this auction