The Summer Auction 2019
06 JUL 2019 6:00 PM - 06 JUL 2019 8:00 PM
Candid Arts, London EC1V 1NQ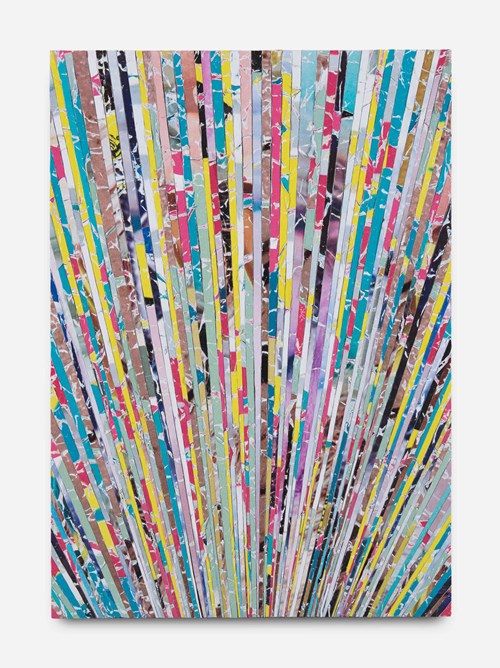 10. Benjamin Phillips
Reach
Signed (on the reverse)
Mixed media on wood panel
60 x 42 x 5 cm.
Created in 2019
ESTIMATE
£400 - 600
View shipping estimates
This auction has now ended.
Notes
This urban art collage was created using music posters from the streets of London.
Benjamin Phillips uses everything from paint brushes to power tools to create large-scale, mixed-media compositions on handmade wooden panels.
By developing his own unique art-making techniques he is able to marry his history—as the son of a master craftsman, oil painter and driftwood sculptor—with his interest in the contemporary urban landscape and is able to connect seemingly disparate ideas through form and materials.
Many of the collage elements in his work are culled directly from the streets of London. Once back in his studio, he incorporates these ephemera into his work to create a contemporary abstraction. He gathers public imagery to repurpose towards his own aesthetic. Through this work, he explores the relationship between materiality and urban landscapes.
Like the layers that make up the human consciousness, the layers of his work include posters, flyers, graffiti, and other aspects of urban archaeology that comprise the city's psyche. The fragmented, textural, topographical nature of his work reflects the city's ever-changing surfaces, which have accrued years of printed matter. His work is a snapshot of a specific moment. It combines many cultures and many stories into individual works of art, both calling to mind London's sensory overload of colours, noises, and smells and allowing viewers to determine the works' dynamic meaning and social impact for themselves.
Accolades
Benjamin Phillips lives and works in London. His work is exhibited and collected worldwide.
Recommended for You