Published: 15 Feb 2022
Marcus Aitken recently auctioned 17 works directly from his studio. Marcus is a contemporary artist living and working in South London. Fast becoming a name in the London art scene, Marcus Aitken has had an impressive few years with various press features and exhibitions, including a solo show with Pringle of Scotland, a residency next to the national gallery and a group show in Singapore. We spoke with Marcus about his art, studio and creative approach.
1. How would you describe your art in one sentence?
An exploration of gesture and tempo.
2. What inspires and influences you?
So many things. With things like Instagram always at the tap of our finger away, there is an endless supply of ideas and references always waiting…sometimes it can be a distraction though. I take a lot of inspiration from figurative painters and sculptors and like to reimagine their lines and forms in my own work.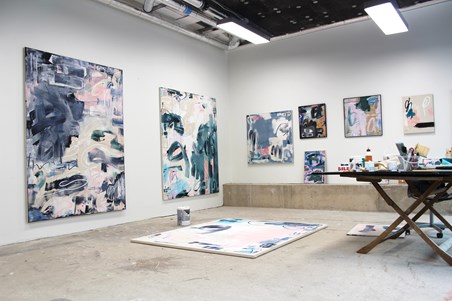 3. Are there any recurring themes in your work that are vital to your practice?
I tend to experiment a fair amount with my work and with different textures and surfaces but something that is always concurrent is music as this will set the tempo as to how I create each work, and I hope my viewers are able to pick out which lines or brushstrokes are fast or slow which is based on whatever I'm listening to at the time.
4. Can you describe your studio setup and your approach to creating?
My studio, at the moment is a mess!...albeit a very creative mess. It's a converted loft space, which I think is advantageous as I get light from both directions, which is so important for painting. Typically I work with the canvas on the floor or a large table I have in my studio, as this way I find I can really get stuck in and get the most out of my movements.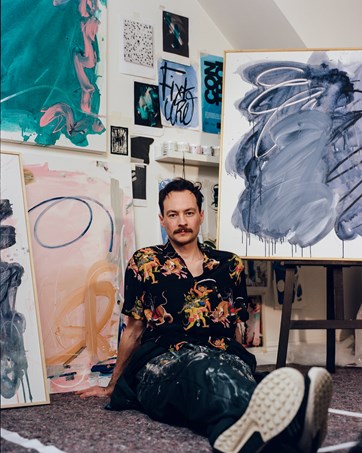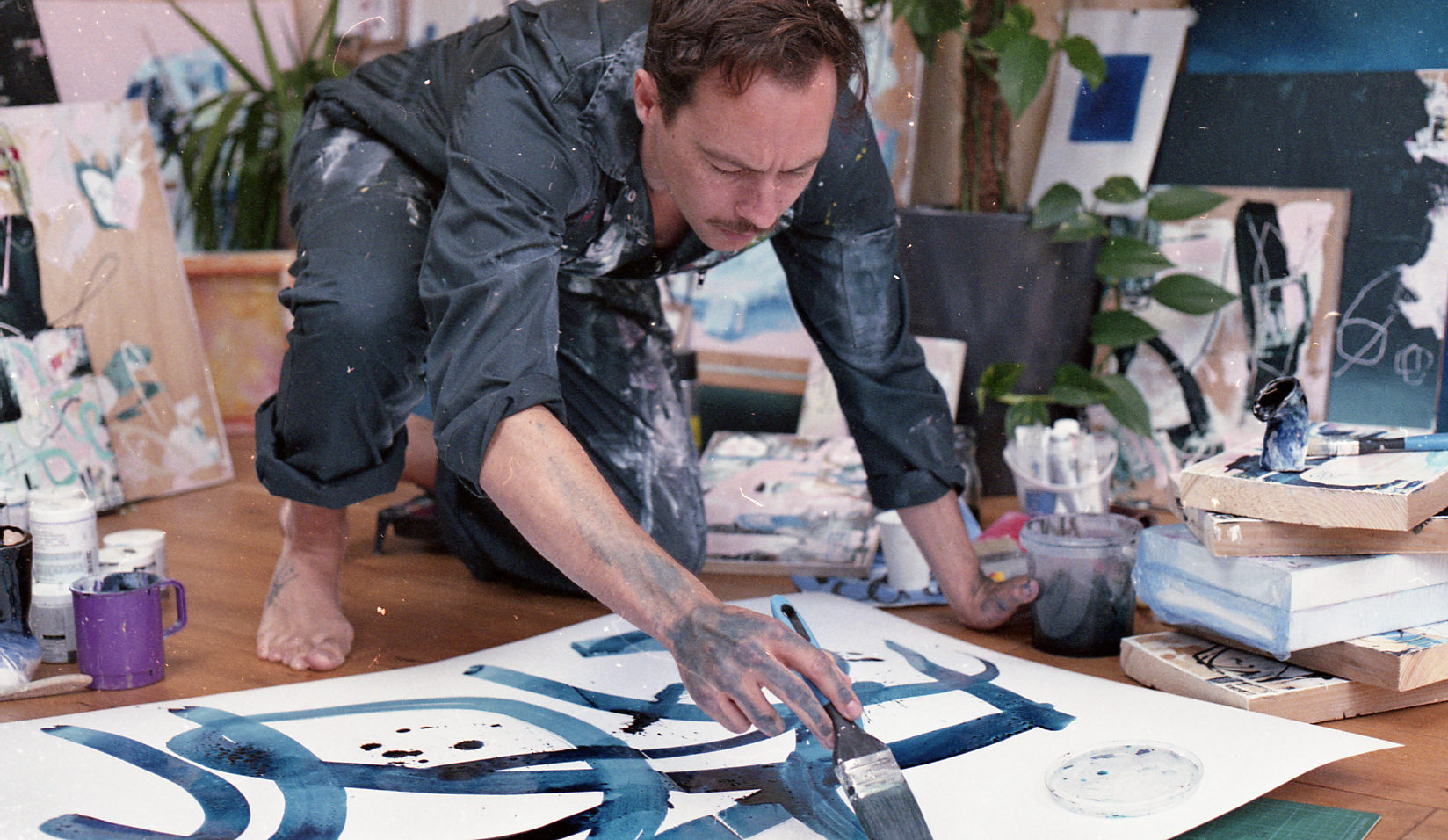 5. What has been your proudest achievement to date?
Very recently I was asked to collaborate and launch Farah in Japan. The outcome was a film and my own line of paint splattered Jeans that were sold in various 1LDK stores in Japan. It was really surreal and exiting to be tagged on social media from various people in Japan wearing my jeans.
6. What are you currently working on?
Right now, I'm working on some large scale pieces which I will be presenting at the upcoming Affordable Art fair.
7. What is next for you and how can people follow what you are up to?
Global pandemic permitting, I hope to be travelling to Italy for a residency in the summer as well as performing at a festival in Switzerland creating large scale works on a stage. I also have a few shows and art fairs in London and one in France as well as another fashion collaboration which will be released some point later this year. You can follow all the action on my Instagram.
8. Which living artists do you most admire?
Currently I'm really enjoying the works of Jenny Brosinski, Daisy Parris and Farrok Mahdavi.
9. If you could get a studio tour from any artist throughout history, who would it be?
Paul McCarthy (he's still alive and creating in LA)…although his work is drastically different to what I'm doing, I've always looked up to the sheer confidence and humour he has been able to inject into his work and performances. Utterly brilliant.
10. What work of art, from either a public or private collection, would you love to have in your life?
Anything from Cy Twombly as his work has been very influential on me since I first learned about him. I particularly gel with his Lepanto paintings.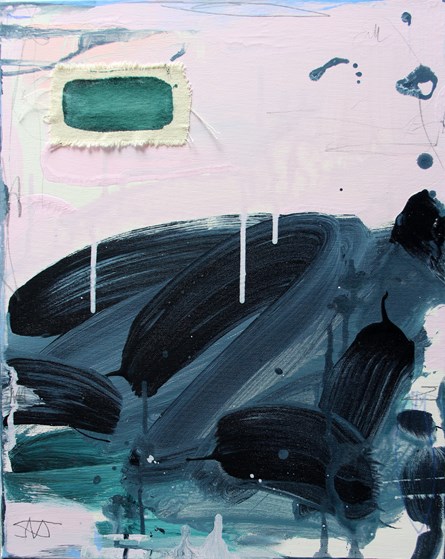 Marcus Aitken, Cornet, Studio Sale