Author:

The Auction Collective
Published: 19 Nov 2021
Mychael Barratt was born in Toronto, Canada, however, considers himself to be a Londoner since arriving for what was supposed to be a two-week stay 30 years ago. He is a narrative artist whose work is steeped in imagery relating to art history, literature, theatre and everything else that overfills his bookshelves. He was an Artist-in-Residence for Shakespeare's Globe Theatre throughout Mark Rylance's reign as Artistic Director. In 2011, just prior to the 2012 Summer Olympics, he was commissioned to paint a large-scale mural on T. V. Edwards Solicitor's building on Mile End Road. He is a Fellow of the Royal Society of Painter-Printmakers and in 2013 was elected to be its 12th President. We spoke with him about his art, influences and practice.  Mychael's work is available in the Art UK Print Collection here.
How would you describe your art in one sentence?  
My work combines a love of storytelling and art historical research with a genuine desire to create work that exemplifies my respect for the enduring craftsmanship of printmaking.



What inspires and influences you?
I am deeply inspired by art history and with the concept of creatively standing on the shoulders of giants.



Are there any recurring themes in your work that are vital to your practice? 
I often use portraits of imagined pets as a vehicle for creating homages to my favourite artists.




Mychael Barratt, Starry Night

4. Can you describe your studio setup and your approach to creating?  
My studio is set up as an etching studio but I love experimenting and pushing techniques. I have lately been making woodcuts which I have made work for me using the wrong ink on the wrong paper, printed on the wrong press. 


5. What has been your proudest achievement to date?
Raising two glorious daughters.


6.What are you currently working on?  
I am currently working on a large scale narrative map, another of my recurring themes.


7. What is next for you and how can people follow what you are up to?  
I plan to keep on making art at a fever pitch and I suppose Instagram is the most immediate way to follow what I'm up to.


8. Which living artists do you most admire? 
David Hockney for his inventiveness and openness to new techniques; Norman Ackroyd for his work ethic; Stanley Jones for his spirit, positivity and optimism; Chris Orr for his love of drawing and his sense of humour.


9. If you could get a studio tour from any artist throughout history, who would it be?
There would be a long list of about 100 but I'd have to narrow it down to Rembrandt.


10. What work of art, from either a public or private collection, would you love to have in your life?  
Another huge list but I'd go for something by one of my favourite artists whose works are extremely rare so either Hunters in the Snow by Bruegel or The Arnolfini Wedding by Jan Van Eyck.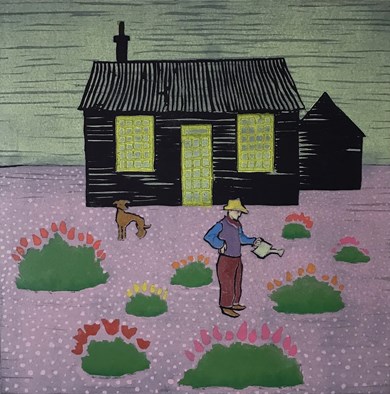 Mychael Barratt,
Dungeness – Derek Jarman's Dog

Available in the Art UK Print Collection
here
.