Author:

The Auction Collective
Published: 19 Oct 2021
Susan Vera Clarke is a British artist who lives and works in East London. Susan steps away from the stereotype that's normally associated with Etching and finds the true impression from her matrix, the plate. With a central focus on Etching, Susan explores the boundaries of intaglio techniques and challenges what we traditionally considered to be a 'print'. She adopts a playful use of colour, stencil and other more conventional etching steps to draw her image and through this allows the method to dictate the aesthetic of each edition. We spoke with her about her practice and creative approach, Susan's works are available in our Abstract Etchings Collection.
1.How would you describe your art in one sentence?
A mindful exploration of the things that I care most about in life.
2. What inspires and influences you?

I am influenced hugely by the people I surround myself with. The dialogues that I have with those people, and the thoughts and ideas that come from those conversations, a lot of the time influence the direction or context of a piece.


3. Are there any recurring themes in your work that are vital to your practice?
As I look back over my years as an Artist I notice that I toy with the sublime in a lot of different contexts, whether it be nature, geography, culture or science. In some way or another, I am always attracted to topics that have a sense of unparalleled importance or superior excellence, but in a subtle non-obvious sense.


4. Can you describe your studio setup and your approach to creating?
My approach to making is hugely led by the process that I am using. My years of printmaking have taught me to embrace the journey of making and let the materials dictate how the work might be in that very moment. These days I don't force something and find myself experimenting in unconventional ways. It's a much more liberating way of working.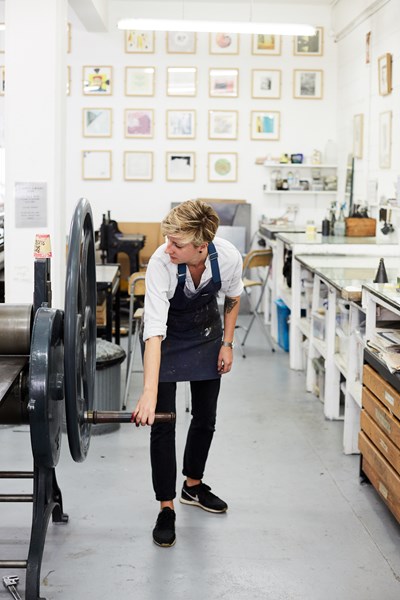 Susan Vera Clark in the studio

5. What has been your proudest achievement to date?
Oddly enough, my proudest achievements don't come from my own practice, but from that of others. I am a teacher of Etching and Silk Screen Printing and for me I feel most proud when I see the prints of my past students in shows or publications. It's an overwhelming sensation and quite simply it makes everything I do, even within my own practice, worthwhile.


6. What are you currently working on?
At the moment I am working on a series of prints that explore how Machine Learning is assisting in coral reef restoration and species classification. I've been collaborating with a PhD research student from UCL, Fernando Perez-Garcia, who's been helping me generate some awesome AI images/video graphics generated from coral data sets. That should keep me pretty busy for a while.  


7. What is next for you and how can people follow what you are up to?
For now I am going to carry on working with the Coral Reef data sets and collaborate with other professionals wherever possible. Some of these works will be on display as part of a group exhibition called Ecologies of Change at the Royal Over-seas League and also Woolwich Contemporary later in the year.

8. Which living artists do you most admire?
A sculptor called Polly Morgan. She's not a classically trained artist, but yet she has this real sense of conviction in her work that I love! She is good purely because she is good and I think that makes for a brilliant artist. I'm a big believer in craftsmanship and doing processes yourself, and that's her all over.

9. If you could get a studio tour from any artist throughout history, who would it be?
Bridget Riley, hands down. I went to a retrospective of her work at the Hayward Gallery some years ago and I was just captivated by her process drawings - the linear, rough sketches or preliminary drawings that she had made. I love to just sit and watch her work. 

10. What work of art, from either a public or private collection, would you love to have in your life?
Whistlejacket by George Stubbs. I think this painting might be the reason why I'm an artist, for sure.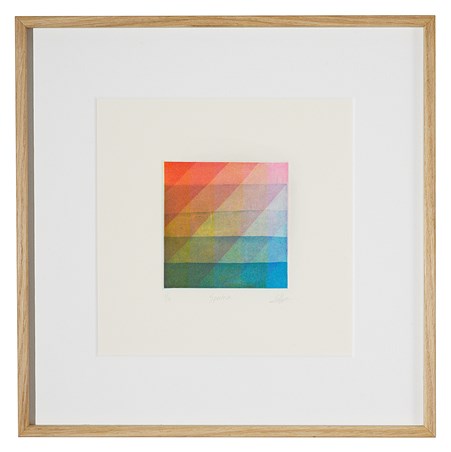 Susan Vera Clark, Spectrum, 2020
Susan's works; Complex Systems, Emerald Veil and Spectrum are available in our Abstract Etching Collection.