Author:

Nick Yau
Published: 09 Mar 2019
The award-winning chef and restaurateur, Mark Hix, has had a life-long passion for art. As an emerging chef in the 80s and 90s, Mark spent his time in East London exchanging food for artworks from artist friends emerging in their own industry. It just so happened that those friends were Tracey Emin, Damien Hirst and the rest of the Young British Artists (YBAs).
Since then, Mark has built an impressive collection of art that is displayed throughout his restaurants, whilst continuing to find and support the next generation of artists. 
Mark Hix, thank you so much for taking the time out to chat.
Your passion to support emerging talent is very impressive. There was the HIX Academy for Food in Dorset and now there is the HIX Award for art school graduates. What do you look for when assessing the potential of an emerging artist or chef?
Well the interesting thing with the HIX Award specifically is that there are 600 entries, and for the final show we always aim to represent all aspects of art: sculpture, video art, conceptual art, paintings, drawings.
And in that moment, you have to think about what would other people like and not just "what I would like". Individual taste isn't always the best judgment. That is why we have a 15 people committee of creatives, artists, curators, gallery owners - all people connected to the art world.
It is slightly different in the cooking world for emerging talent - for me I only went into it because I didn't know what to do. It was the last year at school, you had to get your arse into gear and make your mind up with what you want to do with your life.
But in general, I think it is a mixture of personality, product and common sense. From a chef's point of view, someone has to have a good personality. Working in a restaurant or a bar, personality is key.
And we are delighted to be offering two works in The Spring Auction from previous HIX Award finalists: Lot 29 by Megan Rea and Lot 52 by Ali Ferro Kirby.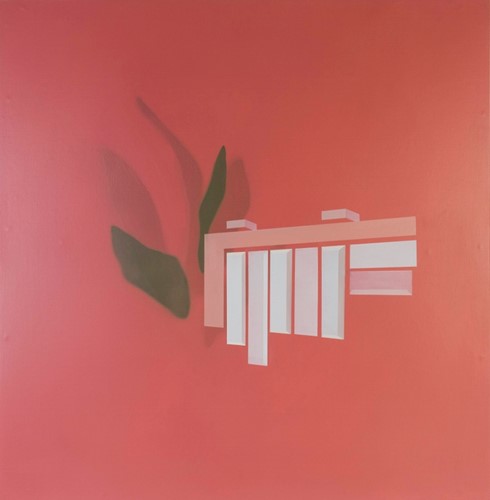 Lot 29. Megan Rea, You Could Reach One From the Window of the Train, Estimate: £1,300 - 2,000
Apart from learning how to cook, so that you can exchange food for art, what advice do you have for people just starting to collect art?
Whether you have a big budget or no budget, you have to go and see the emerging artist shows like the ones we have downstairs at Tramshed. A lot of the big galleries don't do emerging artists but I think they should do at least one show a year.
Buying editions and going to the Royal Academy are good ways to start collecting if you are on a low budget. Then the more money you earn as a hedge funder you can start hitting the bigger galleries and competing with your mates!
But at the end of the day it's all about personal taste. The first works I bought were small Bridget Riley editions. I got those directly from her. One of those, a small black and white edition from the 60s, is still one of my favourite pieces.
Do you know which work was the first one you bought? And where did you go from there?
From memory, the first piece was a Bridget Riley edition, RA 2. Then after that I started doing some exchanges for art with my friends like Howard Hogdkin and Tracey Emin. I think by knowing the artist it is much easier to understand and appreciate the work.
I bought things from Michael Landy, Matt Collishaw, Polly Morgan, Anya Gallaccio, Gary Webb. All artists I know well or who I get to know through the HIX Award.
But I have since bought all sorts of things, I brought a cheese press from the 1800s at a Sotheby's auction, as well as some beautiful brass fish scales and a butcher's block also from the 1800s. I class them as artworks in their own right as they are unique from that period in time.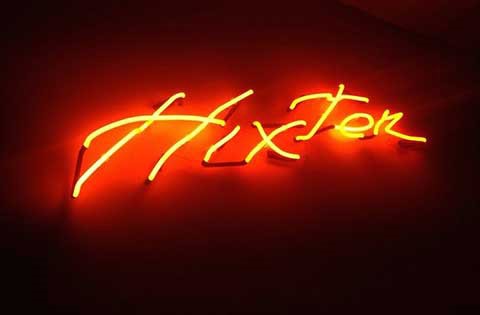 Tracey Emin, Hixter, Hixter Bankside
What an eclectic mix, was there a moment that you realised you had caught the 'collecting bug'?
Well I knew I wanted more art but I didn't want to just go shopping and buy any old crap for my wall. I wanted to know who the artist was and enjoy telling people about my artwork.
From then on, friends of mine who were collectors, gallery owners and curators, like Thomas Dane and Ivor Braka, were always on hand to give me good advice.
How many pieces do you now have and what are your highlights in the collection?
Oh god, I have hundreds and some are on loan. At HIX Soho, there is a painting by Harland Miller and on the ceiling there are sculptures by Antony Gormley, Danny Chadwick and others. Here at Tramshed there are Damien Hirst, Henry Hudson and more.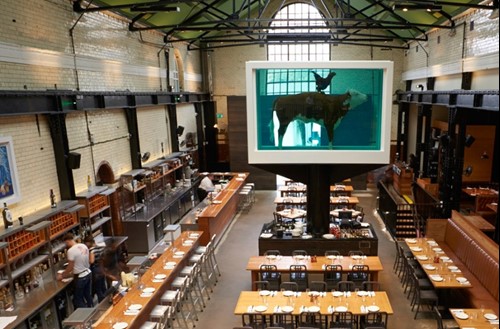 Damien Hirst, Cock 'n' Bull, Tramshed
And your top artists of today?
Henry Hudson is going to be big. I have always followed him and have got to know him really well. I always believe in the HIX Award winners like Sam Baily and Danny Fox. Danny was introduced to us by Sue Webster and he is now represented by V1 in New York.
In all honesty, there are a lot of great artists you want to do well but it is all about being in the right place at the right time.
Well, your restaurants are filled with museum-worthy art from incredible artists. Your 2016 collaboration with Damien Hirst for Pharmacy 2 even feels like an art installation in itself. Why is including art in your restaurants important?
It goes back to when I was working with Chris Corbin and Jeremy King at La Caprice and The Ivy. The art was part of the restaurants. So when I started doing up restaurants myself it was the natural progression. As soon as I'd exchanged on a property, I would invite a few friends who were artists to look at the space.
HIX Soho was the most interesting, there wasn't much wall space so I asked ten friends to make mobiles – a lot of them gave me a blank look. Some had never made a mobile in their life… hence why some of them don't move.
But once the works started going up on the ceiling, other artists started asking if they could make a work too. Michael Craig-Martin had been watching a lot of his old YBA students put works up and so he said "I'll make you a mobile". Then Gormley did the same thing. After that Danny Chadwick got a bit jealous and said "I will make you two mobiles that will span the rest of the ceiling".
So I ended up with a lot of work suspended from the ceiling including the little fish boxes by Damien (Hirst) and the Fray Bentos cans by Sarah Lucas. Then one day Harland Miller was having lunch in there and showed me a picture on his phone and said "You need this on the wall down by the loos". It was The Hard as Fuck work.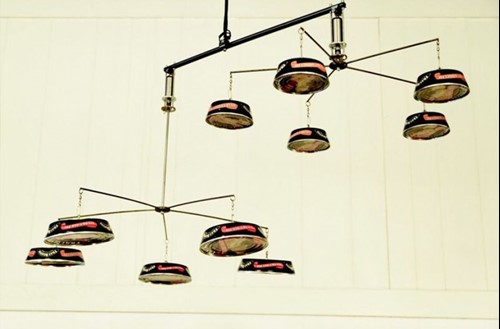 Sarah Lucas, Pies Mobile, HIX Soho
What a brilliant chain of events. So at first you were asking them to get involved in co-creating the restaurants, but by the end they were contacting you to use the restaurants like a gallery?
Yes, it was interesting that other artists wanted to get involved. The mobile thing was, in part, inspired by the Calder mobiles that I saw at La Colombe d'Or. With the high ceilings of HIX Soho I thought let's have an exhibition of only mobiles. I didn't know anyone that had done this before and thought it would be really interesting to get different artists to make mobiles and see what their take on it would be.
It was the same with Hixter Bankside: I took the likes of Collishaw, Gary Webb, Noble and Webster, Rob and Nicki Carter, Gavin Turk and Charming Baker into the space for them to make site-specific pieces. There were a mix of new artists that had never had work in the restaurants with some existing artists like Pauline Amos who had also been in the gallery.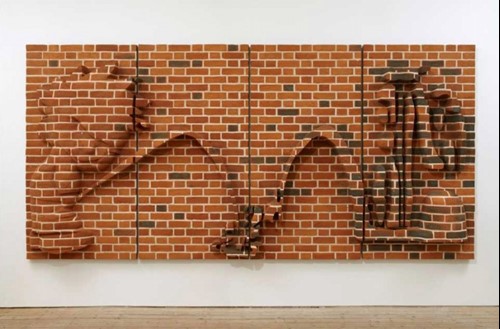 Gary Webb, Dorset Knob, Hixter Bankside
Does this mean you have different rules when buying art for your private collection over your restaurant collections?
Not really, the one thing that unites them is that they are all made by my friends. Although one difference is that the majority of works for the restaurants are made specifically for those spaces.
How did the gallery come about at Tramshed?
When I bought the building and saw the space downstairs I thought, this could be a really interesting space for a Shoreditch gallery. Then I bumped into a friend and we started curating. It has been going about seven years now and in the last three years it has become purely about emerging artists. Each show has a well-known artist curating a show for lesser-known artist. Right now, we have Polly Morgan and Rob Cooper.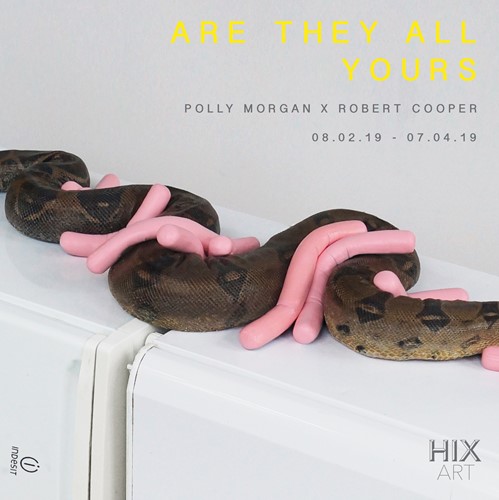 Thinking of well-known artists, what work of art, from either a public or private collection, would you love to own and exhibit in one of your restaurants?
I have no burning desire for one object. It is not how I collect. I am not an obsessive collector that needs to employ someone to track down a work for them. It is not what I have done. I just like having works by young artists and friends that I know. I wouldn't want to waste the space on a wall with something that isn't from a friend.
And finally, like all great people in this world, you are from Dorset. You are brilliant at supporting your roots with things like the HIX Oyster & Fish House, HIX Townhouse and the Academy in Weymouth, do you have aspirations to do anything with contemporary art back in Dorset? If not, what and where is your next art project?
Well in fact yes, I am now on the board of the lovely Marine Theatre in Lyme and thinking about an art auction to raise funds. And there is also something else in the pipeline…watch this space.
Mark Hix – thank you very much!
Mark Hix is offering The Auction Collective a 20% discount at Hixter Bankside restaurant for the duration of The Spring Auction exhibition, 19-23 March. You just need to download a bidding paddle at the auction page (free of charge) and show this to the team at Hixter Bankside. You will then have 20% off the total bill when dining a la carte between 11.30 am - 7.00 pm, with maximum table of four people.