Author:

Tom Best
Published: 17 Mar 2019
Paintings In Hospitals are transforming the UK's health by using world-class art to inspire hope and boost wellbeing for patients, carers and communities.
Founded in 1959, their incredible network of supporters has enabled them to develop a collection of over 3,800 museum-quality artworks. Works from this collection are on loan to a staggering 178 health and social care organisations across the UK.
As part of their 60th celebrations, Peter Blake, Michael Craig-Martin, John Hoyland, Eileen Cooper and Norman Ackroyd have donated prints to raise funds for their work. Five of these prints are for sale in The Spring Auction on 23 March.
We caught up with Paintings in Hospitals Director, Ben Pearce, to hear more about their work and the health and wellbeing benefits of art.
Firstly, thank you for taking the time to chat with us. Secondly, and a pretty key question, is art good for you?

At Paintings in Hospitals we certainly believe so – for 60 years we have been bringing the best of visual art into all types of health and social care sites – and our findings echo that of the recent All Party Parliamentary Group on arts health and wellbeing – which found that art helps you live longer better lives, reduces stress, anxiety and depression, supports care-staff, and improves mental health and wellbeing.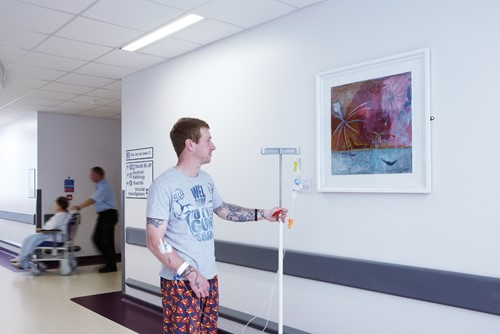 Do particular styles of art, or specific subject matter, bring different benefits to the viewer?
This is a good question – we get repeated requests for landscapes – and the reasons behind this are something we are exploring and testing with our project with the Arts Council Collection, Rooted in the Landscape. Clearly there is an element of escapism and people want to be taken out of their situations – but not all art in hospitals has to be cheerful, bright and colourful. For example, if you were feeling really low, would you want to put on really cheerful pop music? Probably not! We aim to challenge perceptions of hospital art.
Is it enough for people just to look and enjoy the art, or is a wider understanding needed to really benefit?
These days it is not enough to just hang art, or just look. Our art displays, projects and installations are just one part in a creative process – that might include curating spaces together with older people or healthcare staff, working with creative practitioners, or writing new interpretation. In some areas though, where our work might be the only chance to engage with good contemporary art we can give people a way in to the medium – or a chance to see it outside of the sometimes intimidating or exclusive gallery.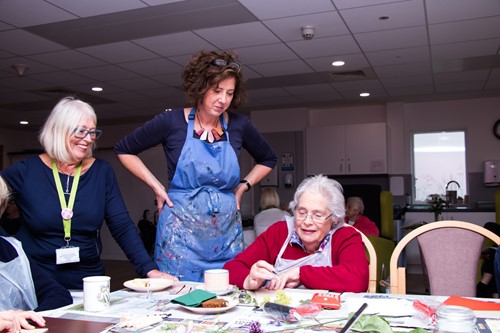 Do you have any success stories you can share?
Many! We are currently running around 260 different contracts, displays, projects and installations, across 178 sites. One recent collaboration was with the Wilhelmina Barns-Graham Trust and Imperial Healthcare Charity – Linear Meditations – which has brought together beautiful prints and mindfulness activities into a busy hospital atrium.
Do you ever hear of patients changing their living habits after engaging with your collection?
Our work has had outcomes like this. For example at the Wallich Centre in Wales, which supports people recovering from addiction, our art and activities helped some people at the time gain new creative insight, confidence, and get into something more positive. At other sites it can be about the care staff – who might for example use the art as subject matter to talk with patients and find common ground – so that its not all talk about the particular condition they are suffering with.
178 organisations is an enormous amount, do you know how many people get to benefit from your art?
We currently estimate that across all of these, 2 million people per year engage with our work
That is absolutely amazing – congratulations, what an achievement.
Which organisations can borrow from your collection?
Any type of health or social care site – from hospital to GP surgery, care home to hospice, special-educational needs (SEN) school to dentist, can work with us.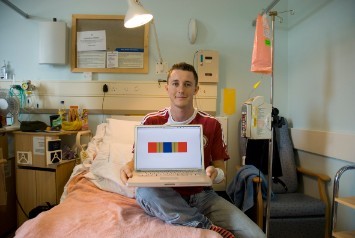 And once an organisation is approved, how do you determine which art goes where
We work closely with a group of patients and staff at each site to 'co-curate' the space. We may advise on locations best for the care of the collection, but we aim to facilitate and support the care site to achieve the display or project that best suits their needs.
With that democratisation of access to art, it clearly is an incredible organisation; how can our readers get involved?
This year as part of our 60th anniversary we are aiming to raise £60,000 towards our national work. People can donate here. 
You can also come to our events – we will hold three this year – in May, June and November – keep an eye on our website for details.
You can also nominate a care site. Perhaps your local Doctor's surgery could use some art – or your local care home has a poor environment for its residents. Get in touch and as a charity we can help them
How can people follow what you are up to?
Please check out our website and social media – sign up for our e-newsletter too!
And finally, if you could take any work of art from The Spring Auction into your collection, which would it be? 
Though at the moment, with a high number of works needing conservation, repair and framing, we are not accessioning new works unfortunately. However, amongst the many beautiful works in The Spring Auction, personally I love Matt Jukes' Under the Clouds monoprints.
Paintings in Hospitals – thank you very much!
As the Charity Partner for The Spring Auction, Paintings in Hospitals are offering five prints from their patrons to raise funds for their work. You can bid on them here: