Published: 12 Feb 2018
The Auction Collective has been created to support artists and art buyers at the lower end of the market. We want to make it easy for anyone to have a piece of art in their life no matter who they are. But this wouldn't be possible were not for our sponsors. As we prepare for the Far From the Madding Crowd auction, we caught up with Leanne Harvey from one of our wonderful sponsors, Church House Investment Management, to hear why she wanted to get involved and what she has her eye on in the auction.
So Leanne, firstly, thank you for taking the time to do this. Lets begin with Church House. What is it and what do you do for them?
Church House Investments is a private and independent, professional wealth management business that delivers peace of mind investing through a range of investment solutions for individuals, families and institutions.

A lot of our readers wonder whether art is a good investment. Do you think it is? If not, what would you recommend instead?
Art certainly can be a good investment providing the investment is part of a diverse portfolio. As with other tangible investments, liquidity can be an issue if the holder needs access to funds at short notice.
At Church House, we prefer more liquid investments that can meet the needs of our clients when they need it. Our in-house funds are daily-traded as well as being ISA permitted, making part of full withdrawals possible. Unfortunately, you cannot sell part of a painting, it's all or nothing! 
The world of finance can be a bit bonkers at the moment and we imagine the need for escapism is great! Far From the Madding Crowd is a nod to the escapism a picture can bring when we need it. Knowing you are an art fan, if you could own any work of art in the world to have at home, so that when you get back you can kick off your shoes, pour a glass of something nice and sit back and get lost in the artwork, what would it be?
To me, art needs to make you smile and I do enjoy the work of Banksy. I would love to own a piece. If I came home one day to find he'd painted something on the side of my house I don't think I would ever move!!
Excellent! Now bringing you back to reality, what work in the auction do you have your eye on and why?
I am interested in Clouds over the Hampshire Hills by Jo Holdsworth, it's bright and just draws me in to look further. I am not sure I have a particular theme when it comes to art, it tends to be something that catches my eye.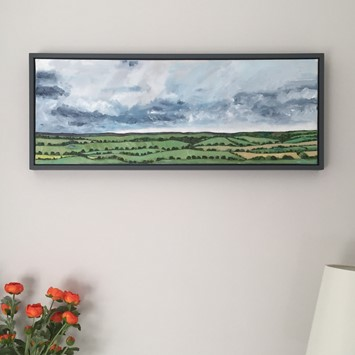 Lot 3, Jo Holdsworth, Clouds over Hampshire Hills, Estimate: £250-350
You have quite a few interesting pictures at your office; do you think it is important to have art in your daily life?
Yes, I think art is important in daily life. The work we have at the office has been a conversation starter for many a visitor, which is a great way to break the ice. It is interesting and thought provoking.
What do you look for when buying a work of art? What makes it something you can't live without?
For me, art needs to make you smile. Whether there is a story behind the painting or the painting itself. I recently bought two Caroline Shotton pieces at an auction. My husband had seen them in the window of a gallery a few years ago and it made him stop and laugh. We had many conversations over the last few years about the silliness of them and when they appeared at auction a few months ago I felt I had to buy them. Whilst the paintings themselves were not to my taste, every time I look at them I smile at the conversations we had.
What advice would you have to someone who is taking that leap of faith and buying their first work of art?
Make sure it is something you love. You need to be able to enjoy the artwork and always ensure you have the space for it. The art in a gallery may look smaller in a big space so if you have a particular place in your home or office that you want to display it, always ensure it will fit.
Wise advice!
Leanne Harvey and Church House Investment – thank you very much!