Author:

Nick Yau
Published: 01 Nov 2018
Debbie Lawson, it is an incredible honour to have your White Stag involved in the PAPER | SCISSORS | STONE auction on 8 November – thank you. It is safe to say that your carpeted bear, Red Bear, had every visitor to this year's Summer Exhibition (2018) completely spellbound. It captured hearts across the nation and became a talking point on social media with everyone from artists to celebrity talk show hosts including Graham Norton, Paloma Faith and Cornelia Parker.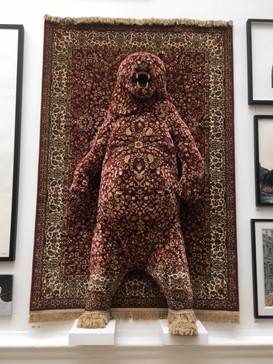 What was it like to have a work of yours selected by Grayson Perry and then exhibited at the Royal Academy in its historic 250th edition of the show? 
Thank you! It was great fun being in Grayson Perry's show. Red Bear was hung in the gallery curated by David Mach, and I was amazed to see it mobbed every time I visited. It's strange when you live with a piece in the privacy of your studio, surrounded by materials and tools, and then see it on the wall at the historic setting of the Royal Academy. I had messages from all over the world, but the most humbling was Cornelia Parker saying it was 'the star of the exhibition'.
Like Red Bear, White Stag, is part of a long series of carpeted creatures, but where did this all start? What led you to begin this series? 
It started with a moose. I was commissioned to make some work for Bethnal Green Old Town Hall, now the Town Hall Hotel, and I wanted to continue using found materials from the domestic interior, but to start to scale up. I've always been obsessed with 'finding' images in pattern, whether it's in a wood grain, a carpet or a roll of Lino – and I decided to see what would happen to the carpet if an animal emerged out of it, heightening the sense of animation in the pattern. 
What was it that drew you specifically to Persian carpets as a medium? 
Oriental carpets have a rich history, socially and artistically, and I have a particular passion for them – and a small personal collection that started when I left university and travelled around North Africa and the Middle East. Their cultural significance is hard to quantify but I like that they are well travelled, spanning quite a large number of countries – not just Iran but places like Azerbaijan, Russia and Turkey. I think it's fascinating that you can see them in the background of paintings by Holbein and other painters of the fourteenth and fifteenth centuries. The carpets I use are mainly synthetic copies, which are also well travelled – I get them from Greece, Sweden, Turkey and Belgium.
How do you choose the subjects for the sculptures and what have you used so far?
I am drawn to wilderness creatures and rugged landscapes. I could imagine myself roaming the deserts or the mountains of the world. The creatures I have used as a subject include foxes, gulls, wolves, bears, tigers and crocodiles.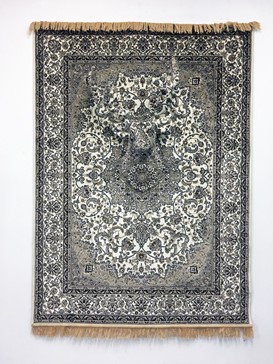 And, it is a question on many auction bidders' minds, are these works, specifically White Stag, easy to install and live with in a domestic setting? 
All you need to install and maintain the carpeted work is a screwdriver and a dustpan and brush. I just use a stiff dustpan brush to remove any dust from time to time.
Easy. Although to be precise, that is three screws at the top and one for the head.
Of course, carpeted sculptures are not your only forte however. What other works of art do you create? 
I'm currently making a pair of large, Italianate chandeliers covered in seagulls, and I also occasionally make inlaid wooden pieces, like the big Joy of Sex panels I have in the Saatchi Collection but often on a smaller scale.  
And what is next on the horizon with your work? How can The Auction Collective readers follow what you are up to?
I am working on a few commissions will eventually go to Los Angeles and Sydney, Australia. I'm also starting to create work for two shows but I can't reveal the details yet!
And finally, like with Grayson Perry curating the Summer Exhibition, we always love to hear which artworks are the artists favourites. So which is your favourite work in the PAPER | SCISSORS | STONE auction?  
I'm a big fan of Tisna Westerhof, and I love Lot 35 her embroidered 'Brexshit' iPhone.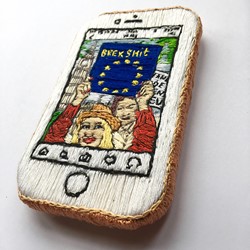 Debbie Lawson – thank you very much!