Published: 03 Feb 2018
Nadia Attura has a Postgraduate degree in Photojournalism from The London College of Printing. She has an exquisite eye for detail in capturing beautiful moments in her travels around the world. In was no surprise then when her work, Snowfields, was selected for The Royal Academy Summer Exhibition in 2016 and all 75 editions of her work sold out. We are very lucky to be offering two of her works, Blue Swim Forever and Portrait of the Candy Floss Seller, in our next auction Far from the Madding Crowd on 15 February. Nadia took time out of her busy London schedule to have a chat with The Auction Collective on all things escapism and art.
So Nadia, where did it all begin? How did you get into photography?
Purely by mistake. I wanted to study film making and storytelling, so I took A Level Photography to help me get into Uni. At first it all seemed so technical and involved chemistry and physics, not my favourite subjects but I was soon hooked and enjoyed experimenting with all these elements together.  After graduating I worked as a Press and PR photographer.
Your photographs are beautiful, and the compositions framed perfectly. How does your creative process work, how do you approach a view like the steps in 'Blue Swim forever'?
Thank you. I spend time simply looking, absorbing a place, not taking any photos, I ask myself what does it say to me, how is it changing. I watch before I commit to a photograph.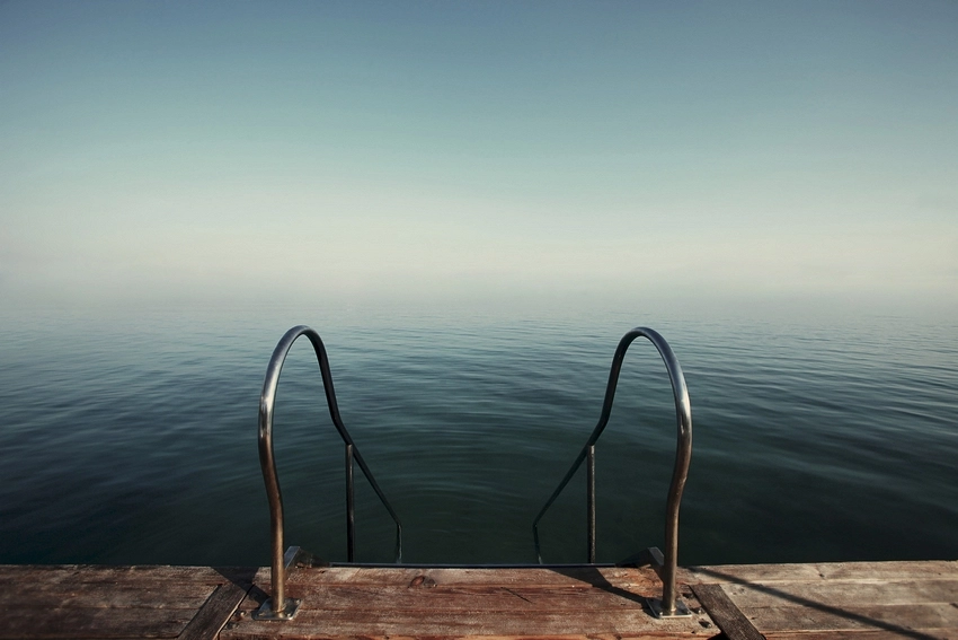 Nadia Attura, Blue Swim Forever, Estimate: £250-350
All the editions of your work sold out at the RA Summer Exhibition. This is an incredible achievement. The RA has a rich history of artists, are you influenced by any of them? Or is there anyone outside the RA today, or throughout history, that has inspired you in your photography?
I am a huge fan of Barbara Rae, Norman Ackroyd, David Hockney and this year at the RA I enjoyed Hughie O'Donoghue. Magnum photographers like Alex Webb had a huge impact on me since I was a student.
Far from the madding crowd is all about escapism and recognising that pictures can help us find that quiet space of our own. But this is also true of many artforms including music. What music do you have playing in your headphones, or in the studio, when you need to step back from the world for a bit? What is your escapism tune?
I always grew up with music at home my mum and her opera, at work my dad's restaurant and his Italian classics and jazz standards. These all remind me of home and love. Currently I am listening to "We almost Lost Detroit" by Gill Scott-Heron, Father John Misty, Blood Orange, Alexi Murdoch, First Aid Kit, The Lumineers. I always work with music, cranked up especially when I feel that I am getting somewhere with work. Recently I keep going back to Chan Chan a song I heard in Cuba over 20 years ago. It was my first time out of Europe and I fell in love with the place. Maybe because I am going to Miami that I have started listening to Latin American music again and having a little dance to myself while I work, which cannot be bad.
Speaking of Miami and Cuba, we can see from your work that you travel a lot, what has been your favourite place to visit? And your favourite subject to photograph?
Landscapes are my passion, a view someplace my eyes can roam. My favourite places are always those that I have felt a connection with and have been able to be a part of. Some places sing louder in the heart. If I can stop and be somewhere for an hour or two and do nothing but just be, then I can recall that place, that same feeling, years down the line. I can be drifting in the Indian Ocean, or sat at Machu Picchu watching day turn to night or smell freshly baked bread and coffee and be instantly back in Rome.
Where is next? 
Miami this month, then New York and Iceland.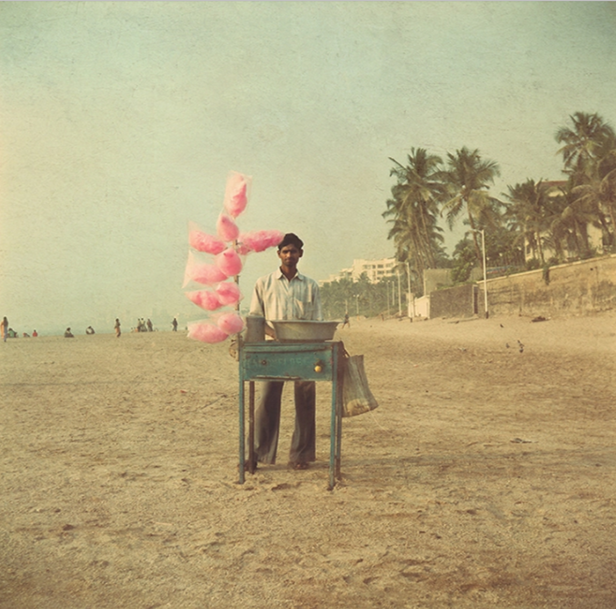 Nadia Attura, Portrait of the Candy Floss seller, Chowpatty beach, Mumbai India, Estimate: £150-250
Busy times! How can our readers stay up-to-date on your latest work and ways to engage?
Latest news goes onto Instagram (@nadia.attura) then my Blog www.nadiaattura.com for print sales and enquiries it is www.nadiaatturaart.com
What advice would you give to any aspiring photographers out there? 
Go out, put your camera down, look and be present.  Be a part of where you are.
Your two photographs aside, what is your favourite work in the auction? Which one would you, or will you, be bidding on? 
There are several artworks in the auction that I love, and I know many of the exhibiting artists, two of which I have bought work from in the past. But I would have to say the one for me is Benjamin Thomas Taylor's painting The Regina Hotel ­– beautiful. Although it is great to see Suzy Moxhay and Amelia Lancaster's works in the auction too. A fantastic auction selection.
And finally, there are currently 800 million Instagrammers snapping away out there today but what is your favourite Instagram account to follow? 
My favourite Instagram feed is the abstract landscape artist @AliceSheridanStudio she is incredibly inspiring, presents interesting and lively discourse and her work is simply sublime. An Alice Sheridan is my next purchase.
Thank you Nadia Attura!