Author:

The Auction Collective
Published: 10 Dec 2021
Emily Crookshank is an artist and printmaker whose series of monochrome etchings are available in our Abstract Etchings Collection. "The work I create comes from the wild places I roam in the Cairngorms National Park, Scotland. I create etchings, monoprints and drawings influenced by this place and the Stuff of Life that makes us human. Like the Scottish writer Nan Shepherd, I am inspired by this wild land. The deeper Nan went into the life of the mountain, the more she learned about her own. Similarly, as I have gone deeper into these printmaking processes, I too have found my way in." We spoke to Emily about her approach to creating and what she is working on.

How would you describe your art in one sentence?
Art that gets to the heart!
What inspires and influences you?
Mountains, music, wild things and the 'Stuff of Life' that makes us human and life worth living.
Are there any recurring themes in your work that are vital to your practice?

Getting to the essence of things is, perhaps quite appropriately, the essence of my practice. The etchings shown in the film came out of significant time spent experimenting with the process of etching, as a way of really getting under the skin of the materials and techniques, to understand them better. Going in search of the essence is an approach I find to be somehow incredibly fulfilling. I may not always be successful but, regardless of this, the time spent trying always seems to lead somewhere new or shed new light on something old. 'Language' has made itself known as a theme more recently within the monoprints I create and has appeared out of a search to find the right language. There are so many different ways to say one thing; it could be spoken or written but 'visual language' - which can be found within mark making - is a whole other world of communication and I have realised, only recently, that I have been trying to speak it for a long time.
Can you describe your studio setup and your approach to creating?
Since setting up my own etching studio I am now in the incredibly fortunate position to be able to work from anywhere I choose and I have chosen the Cairngorms National Park in Scotland. My family is based up here and the landscape has always been a place that I've felt strongly connected to. I get out into it whenever I can and now that I live and work here I'm in it everyday.

Now I'm living in this place
with wild things in my face
I'll freely admit to feeling a bit like I might have nailed it.
E

When it comes to creating work I have found it necessary to exercise a fair amount of structure and discipline! I make time for the making, which sounds obvious but it's surprising how easily I can find myself distracted by all the other stuff that comes with being self-employed, as well as the tangential thinking of a curious mind. So I have learnt to treat that 'making' time with great respect. On the days I know I will be making new work I clear the decks beforehand, literally and figuratively. I clear the studio, I mix my ink, prep my paper and set aside all other 'to-do's' so that when I arrive that day I am focused and embodied and for that time, I am free and able to escape into the work.
What has been your proudest achievement to date?

My recent move to Scotland earlier this year to set up a completely new life was quite an achievement. I had to muster up a fair amount of courage to leave behind a life that, although I knew wasn't the right one for me, it was at least familiar. I chose the unknown - or in the words of the Scottish writer Nan Shepherd 'the unpath' - with absolutely no regrets. I came across this quote from Georgia O'Keeffe around the time I was making the decision to move and I remember feeling the kick of it: "I've always been absolutely terrified every single moment of my life, and I've never let it stop me from doing a single thing I wanted to do."
What are you currently working on?

Right now I'm working on a new body of monoprints and etchings. As someone who has been happily lost in the magnificent depths of monochrome for the last ten years, I am simultaneously feeling electrified and terrified by the box of colour inks burning a hole through my workbench as 'colour' gears up to make its way onto my etching plates.
What is next for you and how can people follow what you are up to?
This is a really exciting time for me as the work I'm developing now is heading towards my first solo exhibition next year with Eames Fine Art Gallery in London. I'll also be showing new work alongside the incredible ceramicist, Rupert Merton, in the new year with GrandyArt. The best way to see any of this is on Instagram.
If you could get a studio tour from any artist throughout history, who would it be? 

Georgia O'Keeffe, no hesitation. I have been a life-long mega fan of her work ever since I first came across her at school. I love how she saw the world around her and how she expressed the 'rhythms of nature' in her paintings. She would get down to the bones of things and fell in love with the paired-back landscape of New Mexico. She collected animal skulls that had been bleached white by the sun. As I look around me right now, at the skulls, bones and antlers mixed in with my pots of ink and tools, I realise my own studio is perhaps not too dissimilar! I feel as though we'd have things to talk about.
What work of art, from either a public or private collection, would you love to have in your life?
As a self-confessed mega-fan of Georgia O'Keefe, when I saw her painting called 'Music, Pink and Blue' in the flesh at the Tate back in 2016, I spent a long time in front of it that day and it left a mark. To have it in my life as something to look upon everyday would be pretty powerful I'm sure but I wonder if part of the power is in the fact that it's not. However, if it'll have me I'll take it.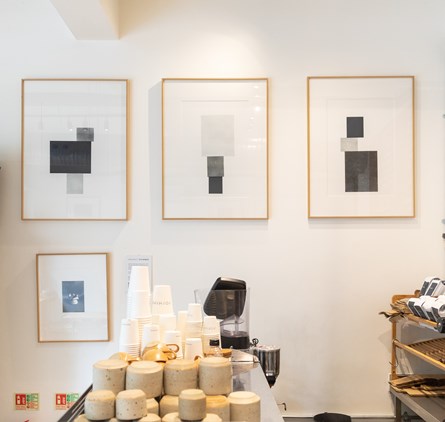 Emily Crookshank, Shuffle IIOII, Shuffle IIOIII & Shuffle IIOI on display at Pophams Bakery.
View the entire collection Abstract Etching Collection here.