Author:

The Auction Collective
Published: 05 Oct 2021
Born and raised in Toulouse, Hélène Bautista became a printmaker in 2012. As a trained and practicing French teacher, her work embraces language. The small scale of her linocuts can seem deceptively simple. Yet, what makes her visual storytelling so expansive is her ability to suggest the world beyond the compositions edge. We spoke with Helene about her work, influences and artistic admirations. Her work, The Tempest, is available to buy now in our Lino Cut Collection.
How would you describe your art in one sentence?
In all my artwork , I try to capture the essence of what I represent, and to suggest rather than to tell. Minimalism is a key word of my way of thinking about my prints.
What inspires and influences you?
Félix Vallotton, Franz Masereel, Honoré Daumier, Gustave Doré, literature and old movies.
Are there any recurring themes in your work that are vital to your practice?
It's quite an intriguing question … I notice I often represent stairs, windows and doors, lights of any sort, but I don't want to think too much about it and I prefer when images come to my mind and go out of it without too much thinking.
What has been your proudest achievement to date?
My collaboration with a french editor who asked me to illustrate by 50 linocut prints a novel which will be published in 2022. 
Which living artists do you most admire?
Olesya Drusaeva, Susana Delgado Ruiz, Sabine Delahaut, Martin Shultz, Lenny Lane, Thomas Ott, Matteotti … so many ! 
What work of art, from either a public or private collection, would you love to have in your life?
An original Vallotton's print !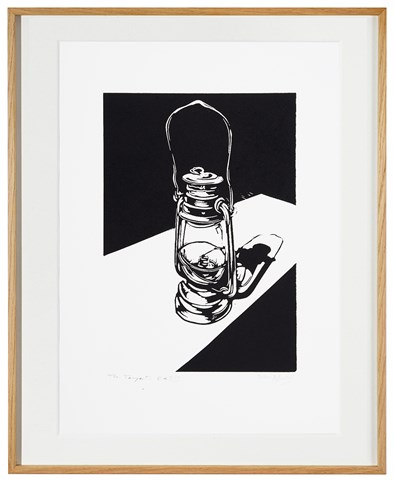 Hélène Bautista, The Tempest
Helène Bautista has included The Tempest in our Lino Cut Collection, view the artwork here.