Published: 27 Jan 2022
Poppy BH is self taught illustrator based between London and Ireland and is auctioning 20 works direct from her Studio. Poppy made the majority of the drawings in 2021, and when her mum bought a kiln back in January, she decided to turn some of them into ceramics. We spoke to Poppy about her work, inspirations and influences. You can view Poppy's Studio Sale here.
1. How would you describe your art in one sentence?
I never try to use too many words; I just like making things.
2. What inspires and influences you?
It always changes. Right now, it's shoes. I'm drawing a lot of shoes.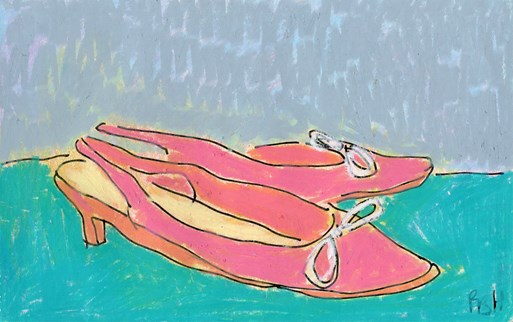 3. Are there any recurring themes in your work that are vital to your practice?
Loo roll? No, I'm joking. I should give a bit of context there - I made a lot of loo roll candlestick holders last year. In truth, I think it has to be my use of layered colours and strong line work. 
4. Can you describe your studio setup and your approach to creating?
I share a studio with a ceramicist in Peckham and have a studio in Ireland on the farm where I grew up which I use when I have time to go back there. I teach part time at Crystal Palace Football Academy so I have to be very organised about the days when I'm in either studio. One day, I'll only be drawing. The next, it will be colouring. Another it might be ceramics.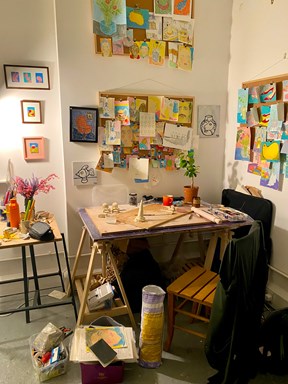 Poppy BH's Studio 
5. What has been your proudest achievement to date?
I started writing and illustrating a children's books a few years ago and I'm about to send it out to agents. This has been a massive learning curve for me and I am very proud of the world that I've created.
6. What are you currently working on?
I'm currently turning some shoe oil pastel drawings into ceramics and working on a series of animations and illustrations for my children's book. 
7. How can people follow what you are up to?
Instagram is probably the easiest but I also have a mailing list which you can sign up to via my website or by dropping an email to [email protected]
8. Which living artists do you most admire?
I admire artists that aren't just artists or ones that successfully work across more than one medium. I also like ones that manage to incorporate humour into their work too, like David Shrigley. 
9. If you could get a studio tour from any artist throughout history, who would it be?
It would probably have to be Grayson Perry or David Shrigley. If not, Wilfred Wood – I did a workshop with him the other day and loved it. Again, it's this idea of being lighthearted and profound at the same time. These artists are all extremely prolific and put craft (albeit subtly for some) at the forefront of their work. That is how I want to work. 
10. What work of art, from either a public or private collection, would you love to have in your life?
My Dad made a beautiful coil pot when he was at school and it's been sitting in our living room in Ireland ever since. I want to have that in my life forever. If not that, I love Van Gogh's Farms near Auvers - although it was painting in France, there's something about this painting that reminds me of home in summer.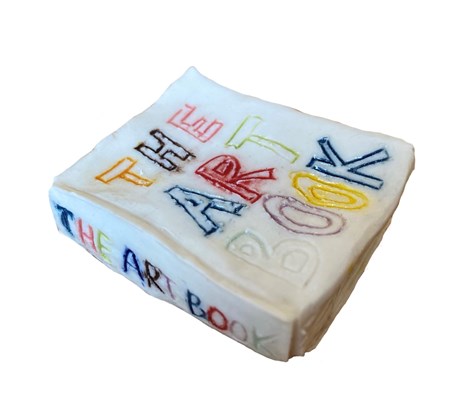 View Studio Sale | Poppy BH here.