Author:

The Auction Collective
Published: 26 Oct 2021
Yoonjung Shim's work explores the aesthetic of abstract, conceptual, geometric compositions in etchings. Inspired by the formal beauty of Brutalist architecture, she recreates the regularities of what appears to be a rippling facade. She loves the subtle inconsistencies created by human strokes, which convey faint unevenness and originalities which differ from digital computerised graphics. By threading contemporary patterns into a very traditional medium,'etching', she creates an artistic fusion between past and present. We spoke with Yoonjung about her art, creative approach and influences, her works are available in our Abstract Etchings Collection.
How would you describe your art in one sentence?
An intersection between old-fashioned traditional intaglio and contemporary geometric composition.
My work is all about geometry. Grids, diagonals, and tessellations are a frequent feature of my compositions, which are often inspired by the patterns in fabrics and buildings. Although my work is resemblant of contemporary minimal design, it is created through the process of traditional intaglio 'etching'. This ancient practice prohibits perfection. Precise lines and clear backgrounds are a near impossibility on an etching plate. Therefore, it is through this mismatch – this fusion of old and modern – that I explore the paradoxes of geometric composition and the imperfections of human strokes. 
What inspires and influences you?
As a big fan of architectural spaces, I always get inspiration from building façades, especially brutalist façades, and urban geometrics. I'm also often drawn to fabrics like tweed and herringbone.
Are there any recurring themes in your work that are vital to your practice? 
I prioritise simplicity and clarity of expression, so my patterns tend to be in monotone. I also rely heavily on repetitive lines and geometric compositions.
Can you describe your studio setup and your approach to creating?
Grid paper is the starting point of my design. Sometimes I put different kinds of grid paper on my studio wall to get some insights. 
Yoonjung Shim in the studio 
What has been your proudest achievement to date?
My first piece of art as a printmaker was selected for the RA summer exhibition in 2014. 
What are you currently working on?
Creating a variety of Herringbone compositions and expanding my 'Randomly' geometric composition selection.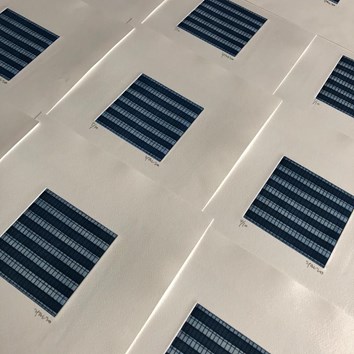 Yoonjung Shim, Herringbone Giant, edition of 10
What is next for you and how can people follow what you are up to?
I have a collaboration coming up with the Auction Collective followed by The Art School project. 'Randomly' will be exhibited in Woolwich Contemporary Print Fair in November. I will take part in the group exhibition 'A Print is for Life' at One Paved Court gallery in December.
I am a member of Southbank Printmakers & Printmakers Council and can be found on my website and Instagram.
Which living artists do you most admire?
Vija Celmins, her stunning drawings of ocean surfaces and night skies are my favourite. 
If you could get a studio tour from any artist throughout history, who would it be?
Agnes Martin, I want to see her New Mexico studio – I am fascinated by the landscape there. I can only imagine what inspires her distinctive colours and lines. 
What work of art, from either a public or private collection, would you love to have in your life?
'Nice' by Nicolas de Staël because of his striking colour combinations and his unique abstract compositions.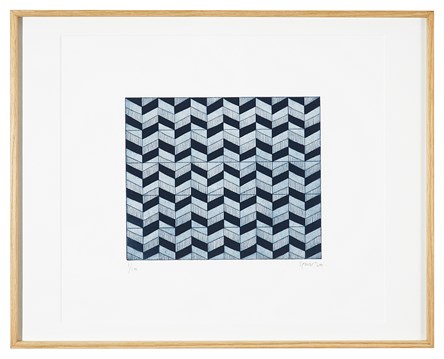 Yoonjung Shim, Herringbone Giant 
Yoonjung's works; Line Composition Mini II, Pianoforte Giant VII and Herringbone Giant are available in our Abstract Etchings Collection.