Author:

The Auction Collective
Published: 08 Mar 2023
Top 5 Artists | Gemma Peppe
This week's Top 5 features a spotlight on the top 5 next generation artists recommended by the founder and director of Art on a Postcard.
---------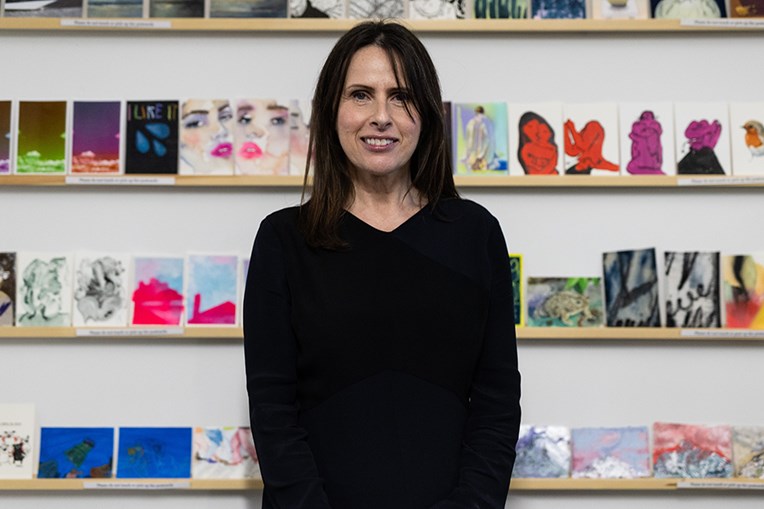 Gemma Peppe is the founder of Art on a Postcard, an initiative that raises funds for The Hepatitis C Trust in support of its campaign to eliminate Hepatitis C in the United Kingdom.
Gemma manages a dedicated team to organise postcard auctions annually, in addition to several smaller curated auctions. Art on a Postcard collaborates with both established and emerging artists to create original works, which are auctioned off. The artworks' size levels the playing field in the art world, making some artists' work more affordable and accessible. The funds raised from the auctions go towards supporting The Hepatitis C Trust and its efforts to eliminate hepatitis C by 2030.
"I spend my days researching artists for Art on a Postcard and I wanted to highlight 3 emerging artists and as well as two of my favourite contemporary artists. This is my top 5 today if you asked me next week it would be different."
Shaquélle Whyte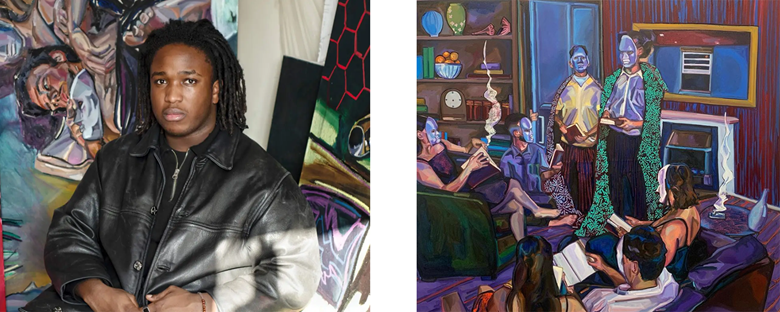 "We featured him in our Winter Auction in 2022. I admire his huge canvases and his series of artworks with people wearing masks. He seemed to be using his artwork to explore something about himself that he didn't have an answer to, he is as much of a story teller as an artist and talks of bringing in characters and killing off characters. Shaquélle graduated from the Slade in 2022." 
-
Whyte's work considers a dystopian universe where characters interact with one another, exploring the overarching theme of the human condition. His enquiry into the tableau vivant considers the surreal and iconography alike. Characters act as a vessel for metaphorical ideas that he has which he can mobilise within different paintings. 'If I don't dance, I smoke part 1' examines quiet moments, unique to the individual but commonly shared by everyone. The painting laments on habit and the need for it in lieu of environments previously unfamiliar.
Selena Scott

"Selena Scott is another artist from The Slade, I'm not even sure if she's graduated yet. Selena is taking part in a future auction that we are running for War Child UK in April. I first came across her because I saw the painting A Change in The Wrong Place and I wanted to know more about the artist. The painting is a triptych of three contemporary black men appearing out the darkness. Selena's embraced the use of chiaroscuro so expertly and the pained expressions on their faces are so full of meaning, I was amazed to find out that Selena was an undergraduate when she painted these."
-
Selena Scott is a 22 year old painter from Cambridge, UK. After obtaining her A-Levels at Hills Road Sixth Form College, and UAL Foundation Diploma at Cambridge Regional College, she has continued her studies to the Slade School of Fine Art, UCL. Taking inspiration from the theories of Frantz Fanon in his books 'The Wretched of the Earth' and 'Black Skin, White Masks', Scott primarily focuses on the socially normalised preconception to associate 'black' with 'wrong'. Her work feeds from many resources, especially rap, music videos and film, taking these forms of black expression and displaying the omnipresence of our shared struggles. She primarily uses oil paints on canvas, however her practice extends to film, textiles and digital animation.
Caroline Zurmely

"From our current auction, curated by Beth Greenacre I'd like to pick out Caroline Zurmely whose work for the auction is completed in nail varnish. Caroline's work in general is driven by texture and textile. The images are so rich with louche, elegance, glamour, and feminine & the textiles Caroline uses reinforce the feminine aspect. The four eyes we have in the auction are full of sass, as are her wider works. Caroline is based in America but she's already making a big impression over here."
-
Caroline Zurmely is an American artist. Her art is often driven by material, texture and process. Recent series include nail polish enamel relief paintings and pieces made by manipulating the fibers of vintage towels. Her work with nail polish explores tabloid photography and scenes of public mourning in tight close-ups, crafting opposing senses of intimacy and remoteness between the viewer and subject. Utilizing unconventional materials and restricting the scope of her pieces, Zurmely aims to alter the viewer's experience with respect to distance.
Kim Dingle

"Kim Dingle is a Los Angeles based artist who works in sculpture, painting and photography. She repeatedly goes back to a character called Priss who is her alter ego in the form a girl. Priss runs wild, she bursts through walls, jumps out of her cot and pulls hair with all the violence most toddlers are keen to express. Kim donated work to one of our auctions we did in 2015. Since then, we've chatted from time to time. Especially about Trump and Brexit. "
-
Born in 1951 in Pomona, California, Kim Dingle lives and works in Los Angeles. She spent her teens in Las Vegas where she began her 9-year career managing trade bookstores, which ultimately led her back to California. She left corporate retail management to take up house painting on an all-female crew while attending California State University, Los Angeles at age 27. To escape the drudgery of house painting, she applied to the Claremont Graduate School where she earned a Master of Fine Arts (1990).
Caroline Coon

"I'm finishing with Caroline Coon. She has a stunning piece in our current International Women's Day Auction, curated by Beth Greenacre. It's unlike anything I've seen by her and it shows what a versatile and talented artist she is. The piece celebrates her septuagenarian skin, it's glorious. My other favourite painting by her is of a very ordinary street in West London. You have to look hard to see that a man is visiting a basement and that's it about prostitution. It subtly tells us more about sex work then 1000 words could."
-
Caroline Coon, inspired by feminism and the politics of sexual liberation, makes unique paintings that contest binary notions of gender and oppressive patriarchal values. Her works cover a variety of subjects including sex workers, beachgoers, football players, still lives and urban landscapes. All are united by her unwavering rebellion against the status quo.
To view more Top 5 Artist recommendations, follow @theauctioncollective on Instagram.