Author:

The Auction Collective
Published: 02 Feb 2023
Top 5 Artists | Richard Parr
A spotlight on the top 5 next gen artists from those that know. This week's Top 5 comes from the award winning architect and designer Richard Parr.
---------
Richard Parr is the Founder of Richard Parr Associates (RPA), a RIBA chartered architecture and design practice established in 1994 and based in London and the Cotswolds.
Richard is a graduate of Newcastle University and the Architectural Association in London. After qualifying he relocated to Seville to work on design competitions and cultural projects for Spanish architect Guillermo Vásquez Consuegra, focusing on the sensitive adaptation of historic buildings and working on the Navigation Pavilion for the 1992 World Expo. Subsequently, Richard ran the Madrid studio of London-based design consultants Fitch, leading high-profile projects in the retail sector. It was the influence of Spain's new wave architecture that first sparked Richard's interest in contemporary interventions and the repurposing of historic structures.
In 1994 Richard returned to the UK to found Richard Parr Associates, with a focus on residential and retail projects in the UK and Spain. Establishing a base in the Cotswolds to complement the practice's London presence, Richard honed his interests in transforming historic built fabric by restoring his own Georgian farmhouse. He later moved to Easter Park Farm, a series of 19th century farm buildings – now Richard's home and the location of his West Country studio.
For the last 15 years Richard Parr Associates has concentrated on work for established names in residential and hospitality projects for cultural, creative and entrepreneurial clients – with projects ranging from new properties, as well as the sympathetic restoration of houses in the English countryside to hospitality projects such as the Farmyard at The Newt. In 2020 Easter Park Farm Studio was the winner of the Dezeen Awards Public Vote for Best Small Workspace Interior.
At the core of Richard Parr Associates lies a profound and empathetic understanding of the ways that people want to live their lives. The practice sees its role as a supportive one, developing and enhancing the lives of clients through a complete design service focused on creating unique homes.
Guillem Nadal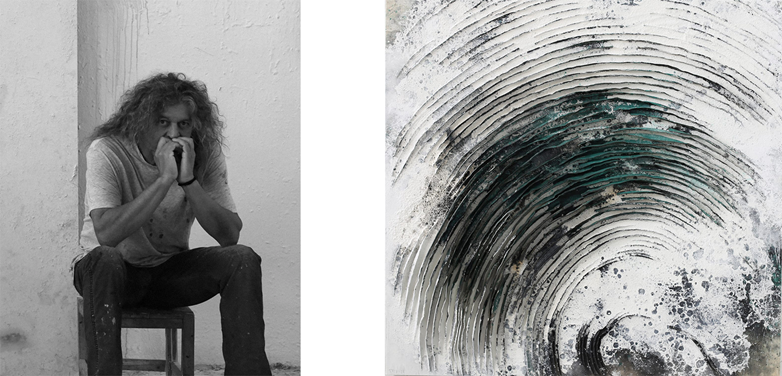 "Nadal is a Mallorcan based artist and I discovered him a few years ago and now own two works. The paintings by Guillem Nadal acquire a consistency of sculpture and his paint takes on the appearance of the raw material. Nadal feels fascination with the secret codes that govern nature and thus expresses it in his work. Tracery, contours, furrows are sculpted by Nadal into seductive forms that emerge from the paper." 
-
Born in Mallorca in 1957, the works of Spanish artist Guillem Nadal are undoubtedly influenced by the abstract tendencies circulating within the artistic sphere of the 1970s. As a response to the turmoil of the previous decade, artists from all over the world were striving to create a new kind of art, reflective of the animate, thriving atmosphere of their time. Nadal's paintings can be placed within the bracket of Conceptualism especially, a movement in which concepts or ideas took precedence over traditional aesthetic concerns.
Kay Gasei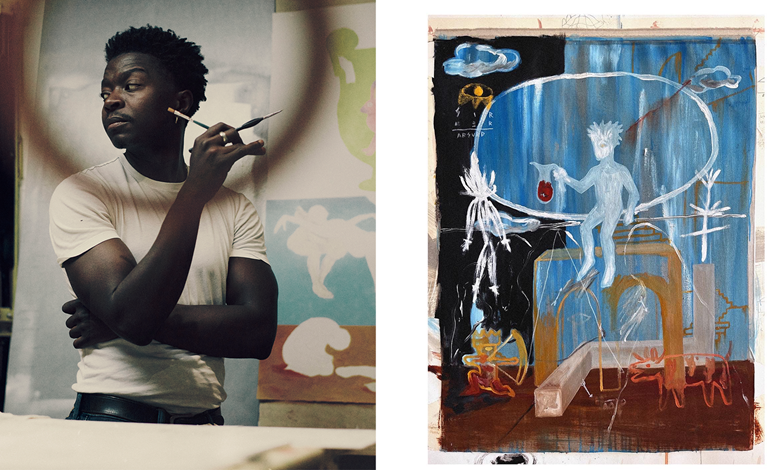 "Meeting Kay in Miami during Art Basel Miami week was an inspiration, as he unloaded pockets full of amazing sketch books we began a great conversation. I relish the art of drawing and sketching and Kay, as an illustrator turned painter combines both. We agreed to exchange sketches between us and a friendship began along with a commission. Kay Gasei is of Zambian heritage, British raised, London based mixed media artist, illustrator and designer. He mainly explores themes of culture and narratives both mythical and historical. He is eloquent, thoughtful and his painting is developing into a fascinating practice."
-
"I'm a born and raised London illustrator, painter and designer. My work has mainly focused on myths and stories, but now I'm attempting to add another abstracted element to it and find out how to make work that isn't so narrative heavy." - Kay Gasei
Caragh Thuring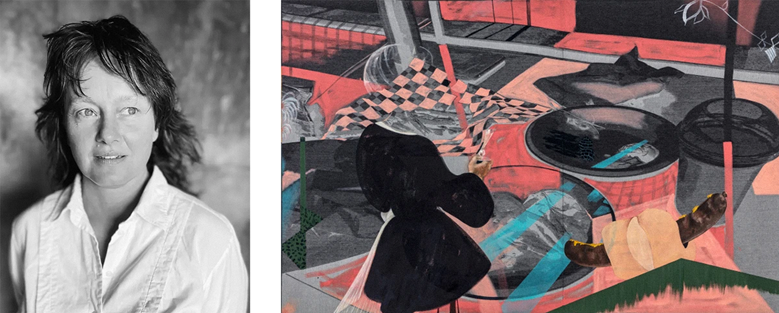 "Feted by many but not particularly known by me. I attended an Auction at Hauser and Wirth for an unbelievably worthy charity: Hospital Rooms. I managed to buy an ink drawing, so I am eager to learn more about her practice and visit her upcoming show at Hastings Contemporary."
-
Caragh Thuring was born in Brussels in 1972 and has lived in the United Kingdom since 1973. Receiving a BA Hons in Fine Art from Nottingham Trent University in 1995, she moved to London the same year and currently divides her time between London and Argyll in Scotland.

Thuring's unique language relishes but undermines the inherent flatness of painting, destablising the viewer into reassessing how they have been conditioned to look and see. Never making preparatory drawings, Thuring paints fluidly and intuitively, building and arranging imagery in opposition to traditional visual and logical hierarchies. In a constant filtering of the world, her fractured compositions of people and places interweave history, the present and the future into a glimpsed experience that's both technological and human.
YunChul Kim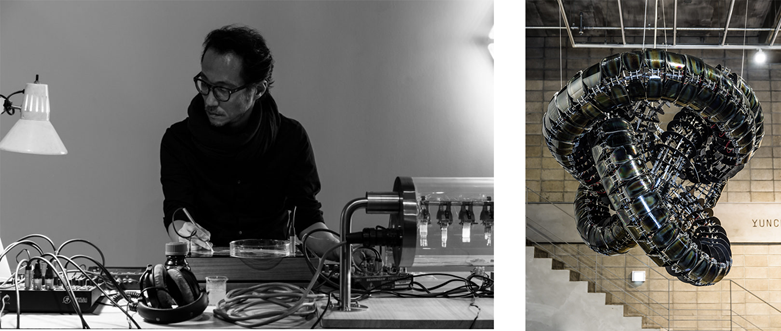 "I was spell bound at the Venice Biennale with the work in the Korean Pavilion by the multidisciplinary practice of Yunchul Kim. I had the good fortune to visit him, last month, in his studio in Seoul and learn a lot more about his practice. YunChul Kim has an upcoming show at Barakat, No.9 Cork Street in London"
-
Yunchul Kim is an artist and electronic music composer who explores and stages 'TransMatter,' matter in transit/ion. Working in installations, drawings, sound, texts and other media, he blends math, science, technology, music, philosophy, poetry and cosmology into his practice to unravel a universe of material entanglements, articulating various pataphysical sites of fluid encounters among things including nonhuman matter.
Allan Martin

"I picked up on Allan after seeing his painting in the RA Summer exhibition. We began a conversation as I have a fascination with trees and landscapes. I love his immaculately painted work and the and the spectral power of his painting."
-
"I work from photographic references most often montaging elements and shifting tones so a 'place' doesn't exist but is created. It is not my intention to then simply translate this source in the process of painting, I wish to achieve a further shift, something present which is unknown, a finished painting I don't fully understand." - Allan Martin
To view more Top 5 Artist recommendations, follow @theauctioncollective on Instagram.