Author:

The Auction Collective
Published: 16 Mar 2023
Top 5 Artists | Verity Babbs
A spotlight on the top 5 next gen artists from those that know. This week's Top 5 comes from non other than Verity Babbs, who is an art critic-comedian, presenter and writer.
---------
Verity Babbs is a Southampton-based writer and presenter from Northampton. She graduated with a History of Art degree from the University of Oxford and her work focuses on making the art world more accessible and introducing fine art to new audiences. Verity is the founder of 'Art Laughs' - art-themed comedy events which made their Edinburgh Fringe debut in 2022.
"I follow thousands of artists and have the pleasure of working with amazing emerging artists on the reg. So for my Top 5 I've chosen a selection of artists who I've been loving on Instagram recently, and I'm going to give them 5 words each to explain why I've picked them."
Alfie Caine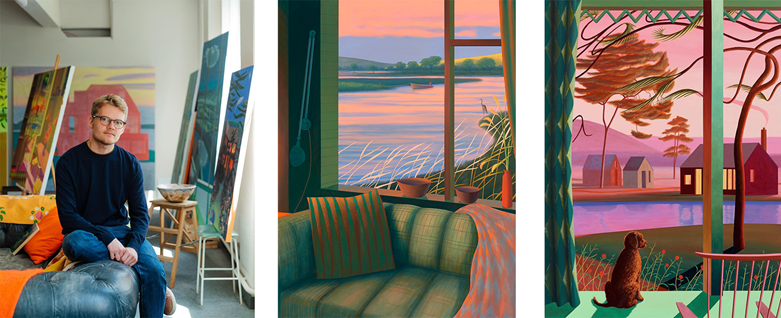 -
Alfie Caine (b.1996) is a British artist who lives and works in Rye, East Sussex. Caine creates architectural dreamscapes in his intricately constructed paintings, merging domestic scenes with striking natural landscapes to form environments that are idealised, yet always tinged with familiarity. His scenes are inviting and revel in the small moments of pleasure we take in daily life, lighting a candle, or admiring freshly picked flowers. Yet their surrounding imaginary, almost fantastical, interiors and landscape exude a surreality that draws us beyond daily life and into the otherworldly realm of dreams.
Kayoon Anderson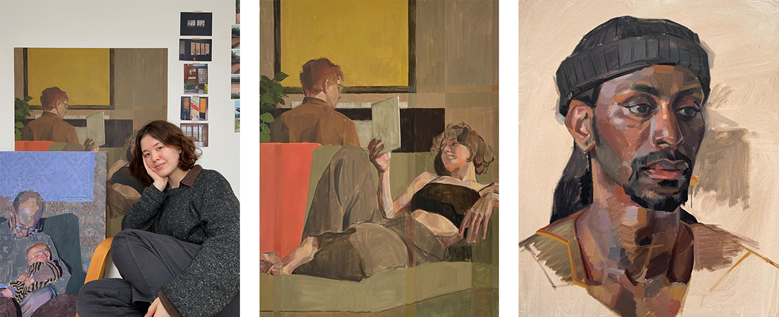 "Poignant portraits with compositional depth."
-
Kayoon was born in Seoul, South Korea in 1997. She studied architecture at the University of Cambridge and painting at Siena Art Institute before returning to England to specialise in portraiture at Heatherley School of Art. She currently works as a figurative painter in London. She looks to Italian and Korean art as influences in her painting practice.
Sally Kindberg

"Bewitching textures and framing choices."
-
Sally Kindberg was born in Stockholm, Sweden. She moved to London in 2004 to study art at Goldsmiths College, and graduated from her BAFA in 2007 and MFA in 2012. She works from her studio at Acme in Deptford, South East London.

"Interested in both high and low brow culture, I play on the notion of the tragicomic in a society that is both civilised and ridiculous. This humorous approach acts as a portal that enables us to explore our more unsavoury emotions. My paintings stay predominantly figurative - the figurative, which is the starting point, at times moves towards abstraction. In my paintings, I am interested in the contrast between flatness and the illusion of three-dimensionality, looking for a composition which is often a double take, highlighting the overlooked in the everyday through the use of colour, mark making, stylisation." - Sally Kindberg
Leonard Baby

"Striking close-ups like movie stills."
-
A painter since childhood, Baby has always been drawn to the medium as a way of expressing themself. Influenced by artists like Mary Cassatt, Edvard Munch, and Lisa Yuskavage, Baby's acrylic paintings focus primarily on the role of the feminine in the world. They borrow their subject matter from cinema, most often films directed by Jane Campion, Angela Schanelec, and Sofia Coppola. In their most recent work, Baby aims to capture grief as a reaction to death, though they are sure to keep the work whimsical and sometimes humorous in execution.
Joshua Petker

"Arresting narratives and beautiful colour-palettes."
-
Drawing inspiration from historical works, which are intentionally kept anonymous, Joshua Petker's paintings rely instead on their ability to evoke the familiar and uncanny, teasing and tantalizing. Rather than draw specific conclusions from these juxtapositions, his work unleashes an exhilarating proliferation of meanings and pictorial puzzles. The artist offers the history of art and visual culture reshuffled—Picabia, Bronzino, soviet era cartoons. Petker makes these his own and the outcome is a timeless dreamlike mix of perspective and emotionality.
To view more Top 5 Artist recommendations, follow @theauctioncollective on Instagram.