Author:

The Auction Collective
Published: 19 Jan 2023
"The Studio Sale was really great, the whole experience from start to finish was really well put together and easy to work with. Would definitely do another with The Auction Collective and have been singing your praises to fellow artists."
- Studio Sale Artist, July 2022

What are Studio Sale Auctions?
A group of individual Timed Auctions run by artists selling artwork directly from their studios. The auctions are launched together and all close in a dedicated Studio Sales auction week. See previous Studio Sale Auctions 2022 and Studio Sale Auctions 2023. 
How can I apply?
Spaces are limited and selected via open call. You can sign up to the Artist Open Call mailing list or follow @theauctioncollective to hear when applications are open. Upcoming studio sales:  
Why hold a Studio Sale Auction?
Artist's run studio sales for many reasons, including selling:
To raise funds for new projects
In place, or as part, of Open Studio events
As part of a studio move
Previously exhibited artwork
Artwork from cancelled exhibitions (e.g., due to Covid-19)
Older artwork
Archival material (e.g., drawings, studies for larger works or public projects)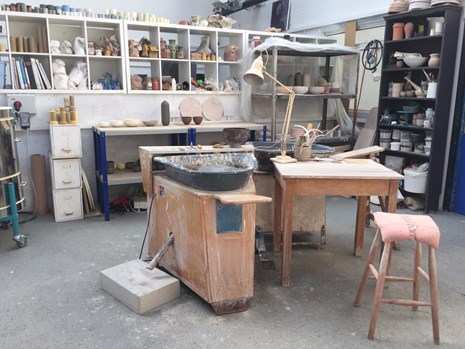 What are the benefits of a Studio Sale Auction?
Competitive bidding with no upper price limit
Clearance sale prices but with no published results
Mass-marketing
Getting new buyers and underbidders
No published sale results 
A focused and efficient sale deadline 
Professional presentation 
A permanent dedicated webpage to you, your artwork and with links to your socials and website
Realtime reporting analytics 
What is the best strategy for a Studio Sale Auction?
Read our top tips on How to run a successful Studio Sale Auction. 
Why do Collectors like Studio Sale Auctions?
To collect artwork from artists that they love but have missed at previous exhibitions.
To buy artwork that has not been shown before.
To bid on artworks with more accessible starting prices.
"Very pleased with how it went. The buyers also enjoyed the experience and found it very smooth. It's a great idea and the whole process was easy and efficient. Great comms too - happy to have been part of it."
- Studio Sale Artist, July 2022 
How does a Studio Sale Auction work?
Each artist runs an individual Timed Auction on The Auction Collective website with select artwork from their studio. We have designed the studio sales so that you, the artist, are in control of your sale and The Auction Collective is here to support you. It is your auction and they are your bidders. 
You will be given a demo and access to our Auction Management System (AMS). This is where you upload and catalogue your studio sale, including the lead image and introductory text. This is also where you will be able to see registrations, bids, traffic and other auction analytics such as page visits.


You will need to decide which works you will want to include and you will need to begin preparing your artworks for auction. There will be a deadline for all details to be submitted ahead of the sale going live on the website so that the auction can be proofed.


Your auction will go live with all other artist's studio sales two weeks ahead of the sale week. This amount of time allows the artists and The Auction Collective to promote the sale and to gather bids. If you wish to, during this time artists can also hold physical open studios events or exhibitions of the work on offer. 


Alongside you promoting your auction, The Auction Collective will market your auction to our network of collectors and bidders via social media campaigns, newsletters and web promotion.


Your auction will have a dedicated closing time within the Studio Sale week for the final flurry of bids.


During and after the auction, you will be able to see and export all results and registrations from your AMS account so that you can follow up with all bidders and buyers.


Payment can be collected by yourself or by The Auction Collective (see additional fee below).


Artists are responsible for providing shipping quotes and facilitating shipments (see below for guidance). 
How do you price artwork in a Studio Sale Auction?
The primary reason for doing a studio sale is to clear your studio, so you should price your artworks to sell.
This will mean setting starting prices (auction reserves) as low as you are happy to sell a work for, or perhaps having no starting price at all. You want to attract the most bidders and you don't want to deal with unsold items (see more on How to run a successful Studio Sale Auction).
A good way to approach this is by thinking about the auction sales model itself.
In a gallery an artwork is advertised at its highest price and then negotiated down to make a sale. Whereas an auction is the opposite. You start the bidding at the minimum price the seller is happy to sell for and then negotiate the price up. 
Don't forget you can put an estimate on each artwork that reflects the true value of the piece. While your starting bid is what you are willing to accept for it. The estimate stays published after the auction has finished but the starting price and final sale result are removed.
See more information on auction estimates, reserves and pricing.
"The ability to have low starting bids and 'non-visible' reserves meant that I felt more comfortable putting works out there below the gallery price." 
-  Studio Sale Artist, July 2022 
What are the fees?
Auction Fee - 5%
Payment Processing – 4% (Optional)
All fees include VAT and are only applicable on sold artwork.  
How long do the auctions run for?
The auctions go live on the same day as part of a combined marketing campaign. They are live for two weeks and then close on consecutive days across one week. 
This ensures we generate as much interest across the studio sales and give bidders a chance to bid in all the studio sale auctions.
How do I get paid?
If you opt for The Auction Collective to handle payments, we will send automatic payment requests to the winning bidders. The buyer's payments are received in an escrow account with our payment provider (MangoPay).
The funds are kept in dedicated e-wallets assigned to each artist. Once the buyer has received their artwork, the funds (less our fees) are transferred directly to your bank account which you can upload through a secure portal in your Auction Collective account.
More information on Payment Collection and auction VAT
If you are collecting the payments yourself, you will have access to the buyer's contact details to invoice directly as per your standard sale process. The Auction Collective will the invoice you separately with our fees.
How does shipping work?
You will be responsible for shipping artworks. This is arranged between you and the buyer following the sale.
Each lot on the website has a 'Shipping Estimate' text field for you to add your shipping process or fees whether that be a link for the bidder to request a shipping quote from you, or a list of fixed fees such as:
UK - £20
USA - £50
Rest of world – On request ([email protected])
Collection from the studio - Free
If it is helpful, we've put together a list of recommended auction shippers depending on your artwork.
Can buyers view the works in person?
As the auctions are only run online, it is up to each artist how they want to market the auction physically.
Buyers enjoy seeing the artwork in person and meeting artists, so it could be beneficial to run an open studio or an exhibition with fellow Studio Sale artists for a period during the three weeks the auction is live. But this is not mandatory.
Can I upload multiple images?
Each lot has a dedicated webpage where you are able to upload multiple images of the artwork. You can use this opportunity to take pictures of the work in situ, on your studio wall or close up details to give the collectors a better sense of your work.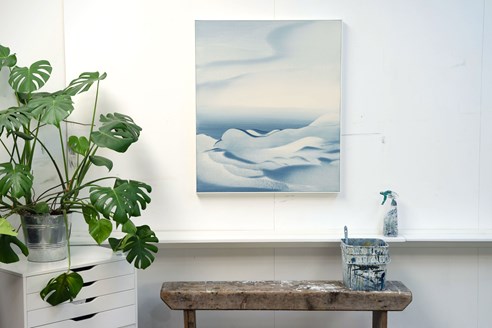 How do I prepare artwork for the Studio Sale Auction?
We have put together our advice on preparing your artwork for auction. However, if including archive studies and drawings, a studio sale might contain more unframed artwork than normal auctions.
For older artwork in particular, it is important to do a condition check of the artwork and detail any damage or discrepancies in the catalogue note. 
How many works should be included?
A studio sale can have anywhere between 4 and 16 artworks. Works can be from various stages of an artist's career and can be in various formats and mediums. It is your sale but we do have some advice on curation in How to run a successful Studio Sale Auction.
What's the next step?
Participation in Studio Sale Auctions is limited and selected via open call. You can sign up to the Artist Open Call mailing list or follow @theauctioncollective to hear when applications are open. Upcoming studio sales:  
Ceramics & Craft Studio Sales - June 2023: Apply here for Studio Sales 
USA Studio Sales - May 2023 (TBC) 
UK Studio Sales - October 2023 (TBC) 
"A really good experience. Great comms, straight forward upload instructions. Nice design and formatting on the site. The whole process was supportive and efficient, and I've had lovely feedback from a client too. Many thanks."
– Studio Sale Artist, July 2022
-----
Suggested for you:
For a free one to one consultation with our auction advisory team, contact [email protected].
For more hints and tips on how to run an auction, sign up to our Auction Insights newsletter.