Fair Art Fair x The Auction Collective
07 NOVEMBER 2022 - 28 NOVEMBER 2022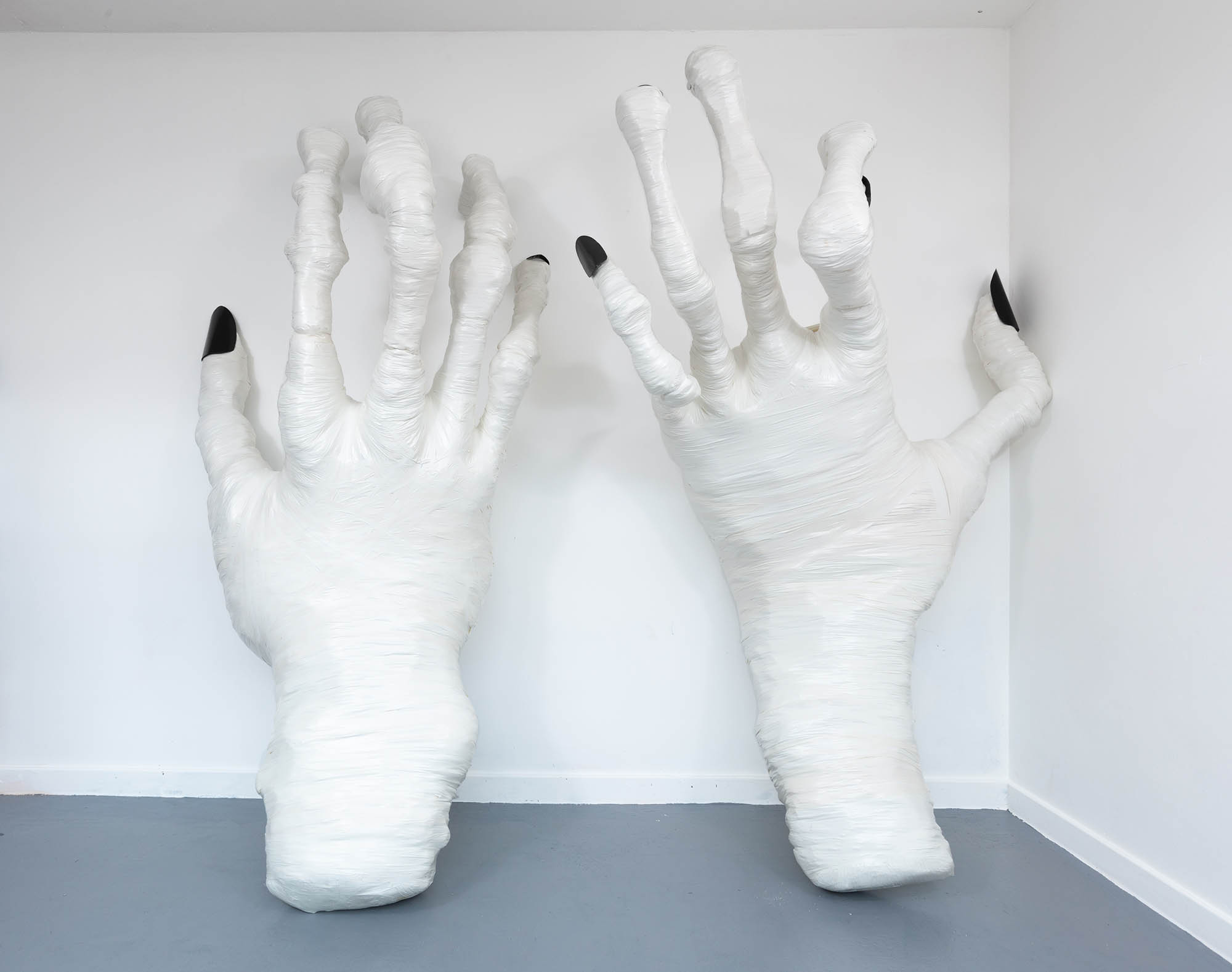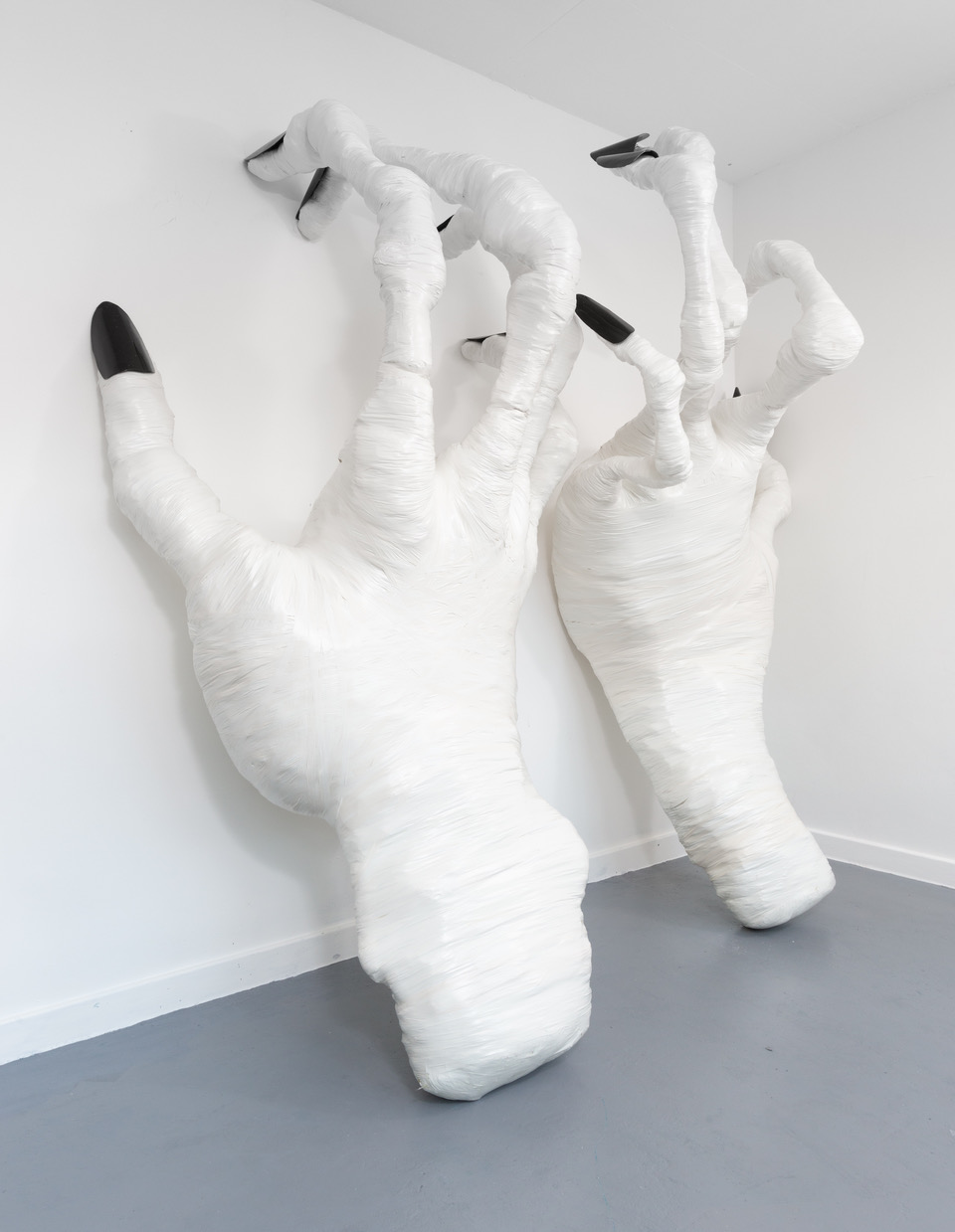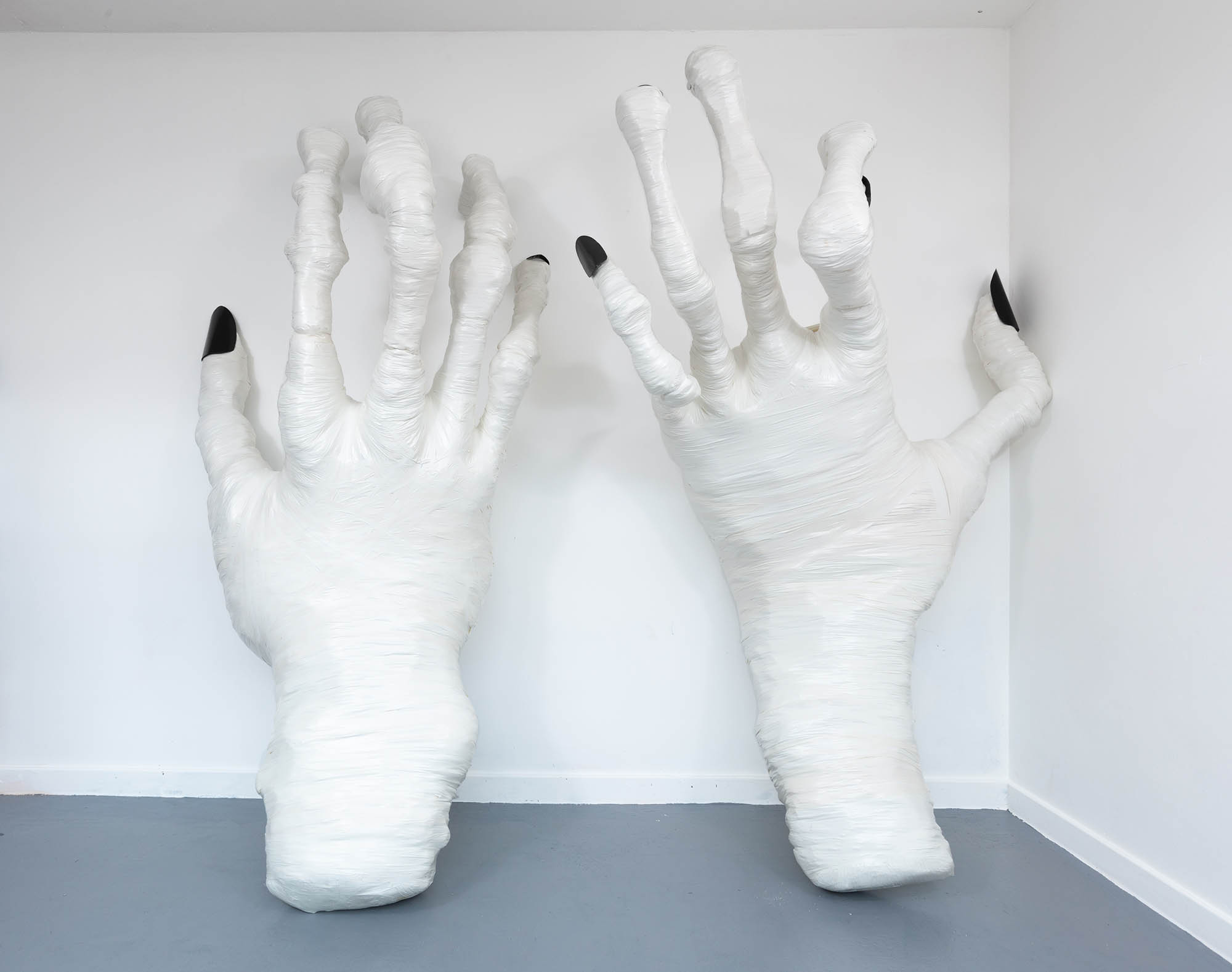 Add to wishlist
46. Poppy Whatmore
Meetings
View on FAF App
Foam, steel, wood, electrical tape
280 x 250 x 150 cm.
Created in 2021.
This work is unique.
ESTIMATE
---
£2,500 - 3,500
This auction has now ended
Notes
---
The work is a pair of severed, gnarly hands with distorted and jagged shapes, larger in perspective. The work explores the encapsulation of an event, almost an out of body experience, potentially exploding out of a mundane and contained moment. The scale of the work explores the psyche and it conception of a moment beyond the real.

The installations I create address struggles of lived experience. I am interested in the potential of language as a reflective means to address how we experience the everyday. I explore tensions especially between the public and private. Fragments of memories are woven into material enactments or even a chosen site. These frozen moments include instances of jeopardy, entrapment and concealment, undermined or overwhelmed in outcome.
One consistent theme is weight: both real and psychological. The weight of material relates to the body. I often characterize and animate selected materials into anthropomorphic or zoomorphic arrangements. In Tropic of Cancer, 2021 there is a pair of concrete cast boots, connected with a V-shape iron bar, like pin legs. One boot is straddled on top of the desk, and the other poised in step. The work feasibly portrays the conquering of an aftermath of a conquest or a subversive sexual act in an office.
The pieces evoke moments of explosive force, or kinds of resistance. I aim to create work that escapes control. In its precarious nature the work investigates the uncertainty of our age, the interior lives of others and makes plain inequalities – positing new worlds and forms of resistance. My concern with subverting power dynamics and structures, focuses on deconstructing feminine stereotypes. I reconfigure settings from the everyday, often drawing from domestic materials as a tool applied for corrupting systems. In doing this I consider notions of misuse, questioning our reading and framing of objects.

Accolades
Arts Council Award 2012-10 for MA Fine Art, Slade School of fine Art, University of the Arts London and won the Aesthetica Art Prize in 2013. Nominated for Adrian Carruthers Studio Award, 2012, and commended for SculptureShock, Royal British Sculptors, 2015. Selected group exhibitions include: ArtHouse Jersey, Skipton Big Ideas, Jersey, 2021; The Unfolding Terrace, Passengers, Brunswick Centre, London, 2021; Diviners, Dodo Projects, Phoenix Arts, Brighton; The Royal British Sculptors Summer Show, London, 2021; Invitational I – Unit 1 Gallery ; Wells Art Contemporary; Conscious Isolation, 2020; Middlesbrough Art Weekender 2019, AUTO//FICTION, Royal College of Art, London, 2019; Mimesis; Narrative; Against hegemony! (an exhibition celebrating 10 years of Peer Sessions), APT Gallery, London, 2019; Radical Residency III, Unit1 Gallery, 2019; Recreational Grounds V DATEABLE ART, 2019; Near Thing, APT Gallery, London, 2018; Little Clown, My Heart, Arthouse1, London, 2018; Creekside Open, APT Gallery, selected by Jordan Baseman and Alison Wilding,
London, 2017; I Really Miss You Until You're Here, White Conduit Projects, London, 2017; Secret Agent, Guest Projects, 2016; A Woman's Place, Sluice Art Fair, London, 2015; Hix Awards Finalists, Cock'n'Bull Gallery, 2014; Hankering for Classification, Federation house in collaboration with Castlefield Gallery, Manchester, 2014; Academy Now, Bologna, Italy, 2014; Collyer Bristow Gallery, 2013; Exchange Project, funded by Arts Council A.P.T, London, 2013; Limoncello Gallery Stand, London Art Fair, 2013.