The Spring Auction 2020
28 MARCH 2020
Candid Arts, 3 Torrens St, London EC1V 1NQ
Live Streamed Auction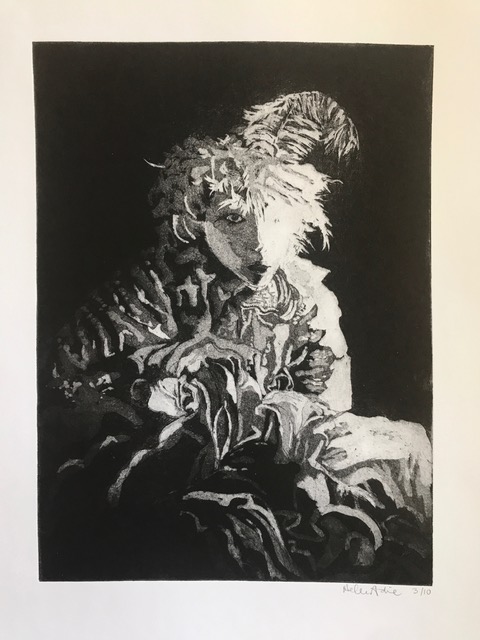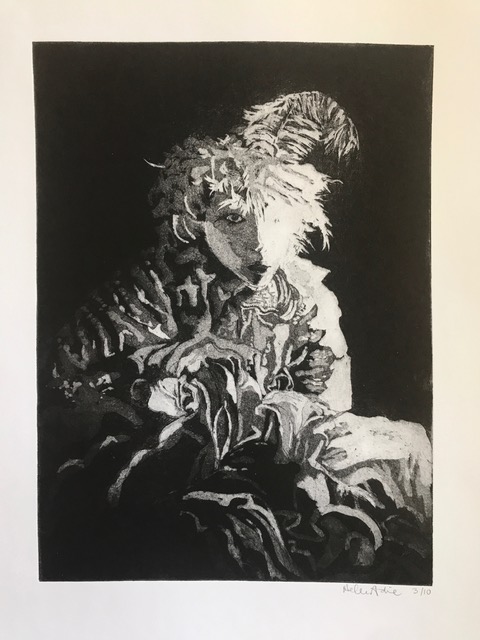 Add to wishlist
22. Helen Adie
Feather Girl
Signed and dated
Etching and aquatint
40 x 50 cm.
Created in 2017
This artwork is number 3 from an edition of 10.
ESTIMATE
---
£250 - 350
View shipping costs
Notes
---
With an education in the performing arts, Helen Adie was inspired by a production she directed at the Edinburgh festival in 2002
"I find the clown-like, Pierrot figure very mysterious - somewhat child-like, and both nervous and daring at the same time. In this piece, I am playing with the contrasts in lighting that theatre offers, and the intrigue of a figure not fully revealed to the audience."
Helen's desire to explore dramatic tension offers viewers striking contrasts and experimentations with light and dark, angle and focus, specific to that of a theatre practitioner.
Accolades
BA (Hons), Royal Holloway, London.
MA with Distinction, Royal Holloway, London. 2012.
PGCE, Central School of Speech and Drama, London.
Selected Exhibitions: Time, Highgate Literary and Scientific Institution, London, 2020. Print Prize, The Lovely Gallery, London, 2019. Memory, Royal Overseas League, London, 2018. Master's Etching, curated by Norman Ackroyd, Bankside Gallery, London, 2016. Chelsea Arts Show, London, 2016. Gallery 54, London. 2018
llustrations for John Boyne's novel; Traveller Through The Gates Of Wisdom, London 2020. Artist in residence for Can I Help You? by Philip Osment, Clapham Omnibus, March 2020.