Author:

The Auction Collective
Published: 11 Nov 2021
Kit Boyd follows in the British romantic tradition of Samuel Palmer and the later neo-romantics of the 1940s. His work is shown widely at galleries across the UK, and he is represented by print dealer Elizabeth Harvey-Lee at the London Original Print Fair and Works on Paper Fair. He is known for etchings and linocuts which explore landscape and our relationship with nature. His studio overlooks the Thames Barrier in London, while his inspiration still comes from mid-Wales where he studied Visual Art at Aberystwyth University in the late 80s. We spoke to Kit about his art, achievements and influences. Kit's work is available in the Art UK Print Collection here.
How would you describe your art in one sentence?

Romantic landscapes with a surreal edge


What inspires and influences you?

Particular places, the hills and lanes of mid Wales especially.

Are there any recurring themes in your work that are vital to your practice?

Leading the viewer away from reality into a strange but womb-like landscape.

Can you describe your studio setup and your approach to creating?

My studio overlooks the Thames Barrier and has my Hunter Penrose Littlejohn etching press at it's centre. I usually create an original painting or drawing that later becomes an etching or linocut.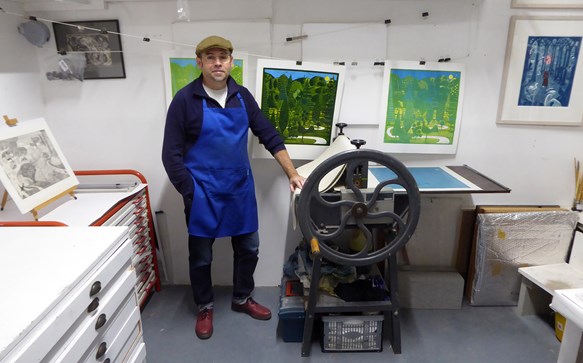 Kit Boyd in the studio.

What has been your proudest achievement to date?

I'm currently creating posters for train stations in the Darent Valley - I'm a big fan of Samuel Palmer and creating the painting for Shoreham where he lived and worked in his visionary period has been a professional highlight.

What are you currently working on?

I'm currently creating a poster for Sevenoaks station.


What is next for you and how can people follow what you are up to?

You can follow my creative process on Instagram and my website. I have a solo show at the White Box Gallery in Blackheath in spring 2022.


Which living artists do you most admire?

Flora McLachlan, Jonny and Sharon Hannah, Garrick Palmer, George Tute.
If you could get a studio tour from any artist throughout history, who would it be?

Samuel Palmer - I'd like to see all the unusual things his son destroyed when Palmer died.


What work of art, from either a public or private collection, would you love to have in your life?

Early Morning by Palmer from the Ashmolean.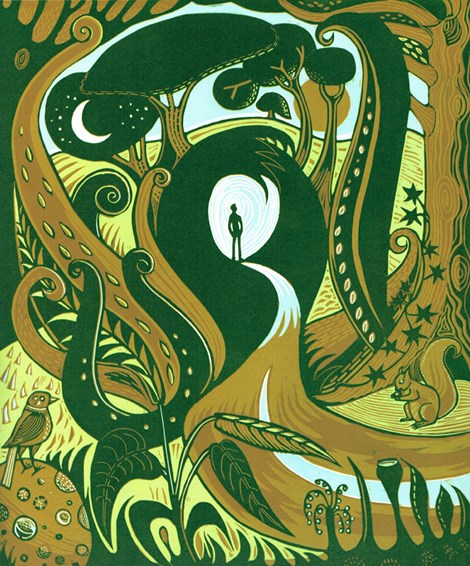 Kit Boyd, Nature Boy, 2021
Available to buy now in The Art UK, Print Collection.