Published: 15 Jun 2021
Ahead of our first in-person exhibition in just over a year, we sat down with London Art Critic Tabish Khan, one of the six contributing members of the selection panel in our auction The Top 100.
Tabish Khan is an art critic specialising in London's art scene and he believes passionately in making art accessible to everyone. He visits and writes about hundreds of exhibitions a year covering everything from the major blockbusters to the emerging art scene.
Tabish has been visual arts editor for Londonist since 2013 and he is also a regular contributor for FAD with a weekly top exhibitions to see in London and a column called 'What's wrong with art'.
Tabish is a trustee of ArtCan, a non-profit arts organisation that supports artists through profile raising activities and exhibitions.
What did you look for when creating your selection to 'The Top 100'?
I want to support artists whose work I admire and that's the key driver behind my selection. However, I'm also aware that most viewers will see the work online so I also want to pick artists whose work will have that immediate impact on first viewing.
What's your favourite piece in the show?
The ones I've selected of course and choosing between them is tricky as I love them all. I would like to draw attention to the work of Douglas White as many may see it as simply an abstract work and not appreciate it's been created by applying 10,000 volts to wood to create an organic branching artwork.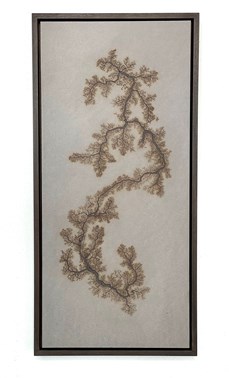 Douglas White
Lichtenberg Drawing
Electricity on Board, 36 x 72 x 8 cm.
Estimate:£1,200 - 2,000
What advice can you give new collectors or first time buyers when looking for art?
It's a cliche but you should buy what you love. If it goes up in value that's great but it's a work you'll have to live with and the primary reason for buying art should be because you love it and want to have it in your home. I would also suggest buying from emerging artists as it makes such a difference to them, far more than it would for more established artists.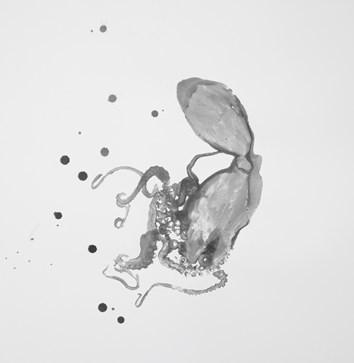 Douglas White
Octopus Drawing
Octopus ink on paper, 70 x 80 x 8 cm.
Estimate:£1,000 - 1,800
As one of London's leading art critics, what shows should we be looking forward to this summer?
There's so much fantastic art to see at all times in a city like London and it's been great to see galleries and museums spring to life as London has opened up again. One of my favourites is the Ryoji Ikeda show at 180 The Strand, he's a fantastic artists and it's a challenging assault on the senses. I'm on this year's selection committee for the public artworks for Kensington and Chelsea Art Week and I'm looking forward to seeing them in the flesh.
How can people hear about your latest reviews?
People can read about my articles on both Londonist.com and Fadmagazine.com. They may also follow me on Twitter and Instagram - both handles are @LondonArtCritic. All my information is on my website www.tabish-khan.com where there's also a link to subscribe to my newsletter 'Keeping Tabs'.