Published: 15 Jun 2021
As an artist gallerist and writer, Benjamin Murphy has his finger firmly on the pulse on the incredible breadth of emerging artistic talent working today. For The Top 100, we asked him to pick some of his favourites. 
Benjamin is a visual artist and writer based in London. 
Born in West Yorkshire in 1988, Benjamin now exhibits globally. He holds both a Bachelors degree and a Masters degree, specialising in Contemporary Fine Art.
His current work explores themes of polarity, time, memory, and contrast – often rendered in charcoal on raw canvas.
He is the co-founder and co-director of Delphian Gallery, and is an associate lecturer at the University of the Arts London.
He enjoys reading, skateboarding, and talking about himself in the third person.
1. You put forward a range of artists, what do you look for when making your selection?

I was sat on top of a Finnish mountain when I made my selection. I scrolled through Instagram with a hot cup of tea (sadly not Yorkshire tea - they only have Liptons over there and it's an outrage) and I made a list of artists whose work I had been wanting to bring together for a while. It was difficult to narrow this list down to just 10 but with the help of the Finnish Viking gods I somehow managed it.
Ant Hamlyn
MONSTERA
PVC, plywood and acrylic, 40 x 60 x 10 cm.
Estimate:£1,000 - 2,500
2. For those not in your selection, which artists in 'The Top 100' have caught your eye?
There are numerous artists in the show whose work I have admired for a long time, including but not limited to: Ant Hamlyn, Olly Fathers, Rose Electra Harris, Julie Ann-Simpson, Nettle Grellier, and Shaquelle Whyte.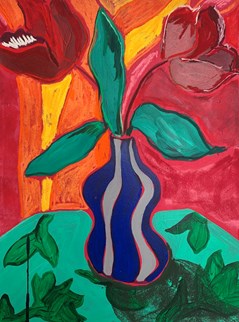 Rose Electra Harris
Parrot Tulips are my Favourite
Work on Paper, 35.5 x 44 cm.
Estimate:£400 - 600
3. Whose work do you most admire in the show and why?
That's very difficult to say, but by doing so I'm not discounting every other artist involved. At the moment I'm loving the works of Nadia Jaber, Una Ursprung, and Alexis Soul-Gray especially.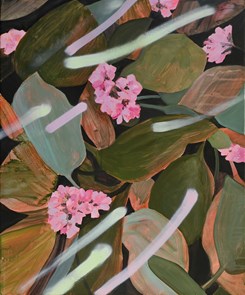 Una Ursprung
A warm day, Flowering plant#13
Oil on canvas, 60 x 70 x 3 cm.
Estimate:£1,300 - 1,800
4. As an established artist, what advice can you give to artists at the start of their career?
Not sure I'm happy accepting the 'established' moniker but here it is - work hard, be nice.
It can be tempting for an early-career artist to think they have to act aloof and distant (I've probably been guilty of this earlier on in my career too) so as to not appear inexperienced. Of all the artists I've worked with it's always the more experienced ones that are the most pleasant to work with. Being easy to work with goes a very long way in this world.
5. You have some exciting projects at the moment, what are they and how can readers stay up to date with what you are up to?
Personally I have a show at The Saatchi Gallery which I curated with my Delphian hombre Nick still on, as well as shows with NBB Gallery in Berlin and Gobstopper Gallery who are from my favourite US state of Philly. Further in the future I have another solo with the most serene of galleries Lychee One early next year.
Delphianwise we've just opened a semi-permanent space on Henrietta Street in Covent Garden which will host a continuous programme of consecutive shows for the next 6 months. As well as that we are doing off-site shows with the amazing Unit 1 Gallery in August, and an as-yet secret thing in a crazy location with lots of other galleries during Frieze week. It's going to be a busy year.
To stay up to date with my goings on simply say my name three times into a mirror at midnight and I will contact you in your dreams.