Listen
01 JUNE 2022 - 14 JUNE 2022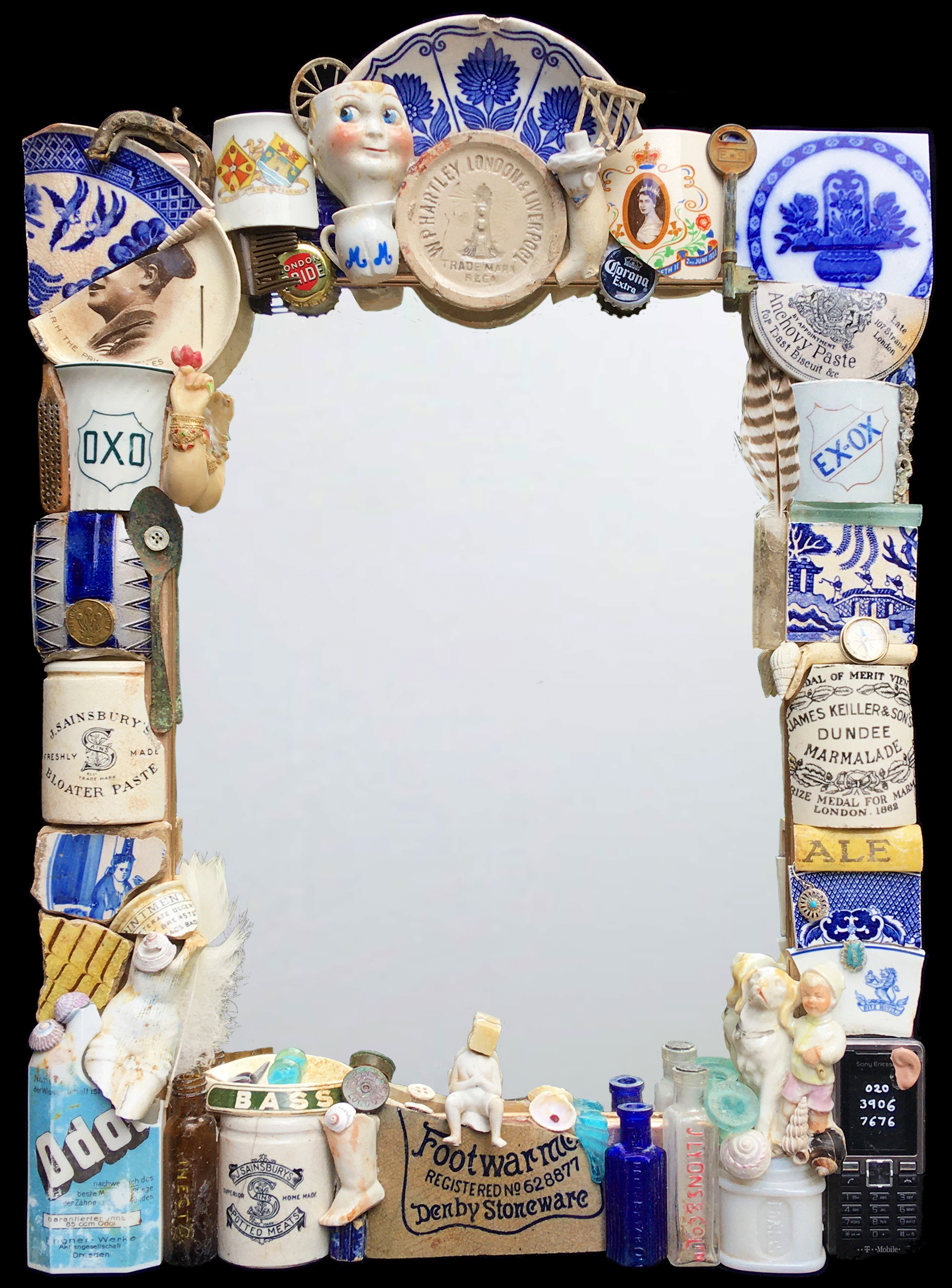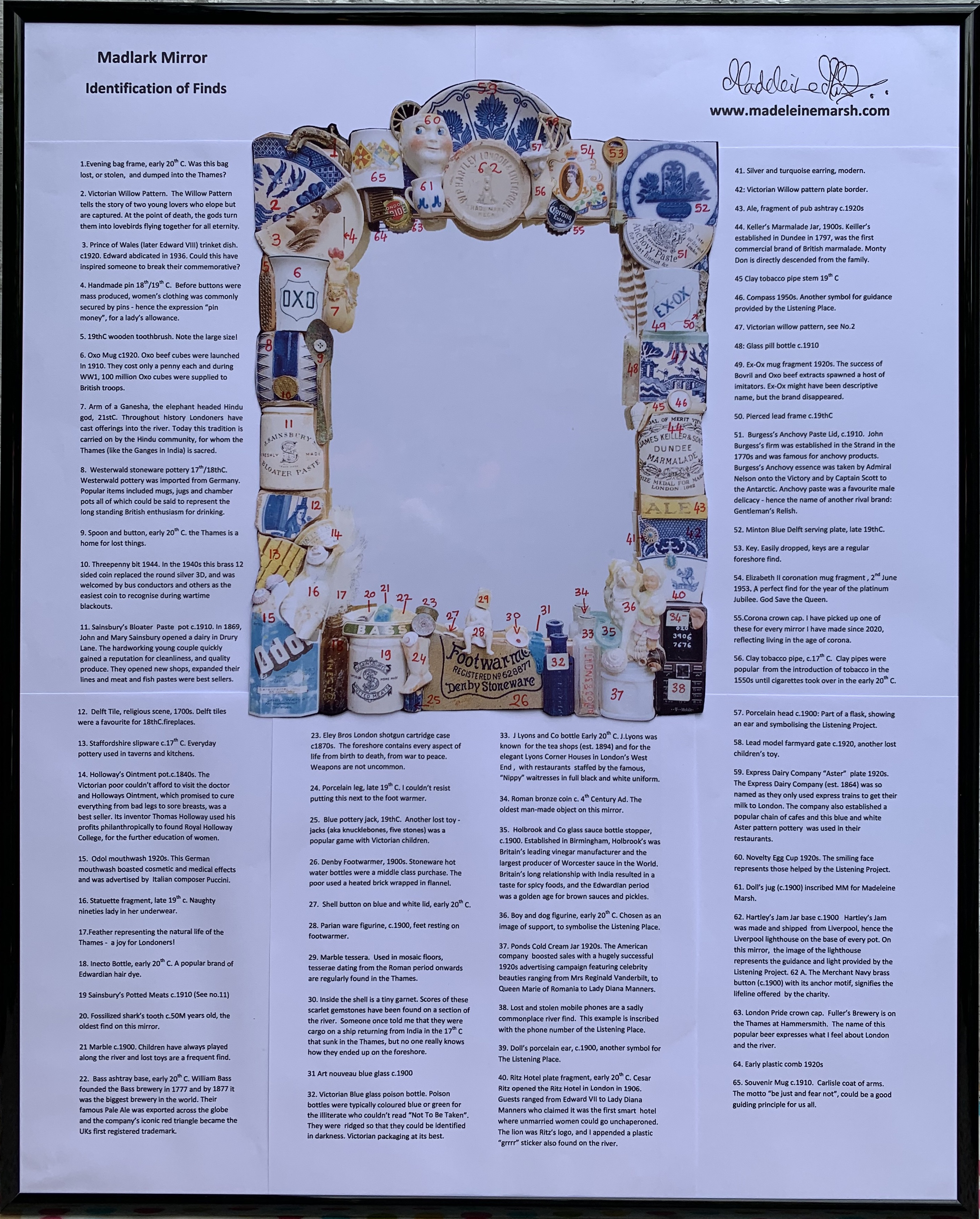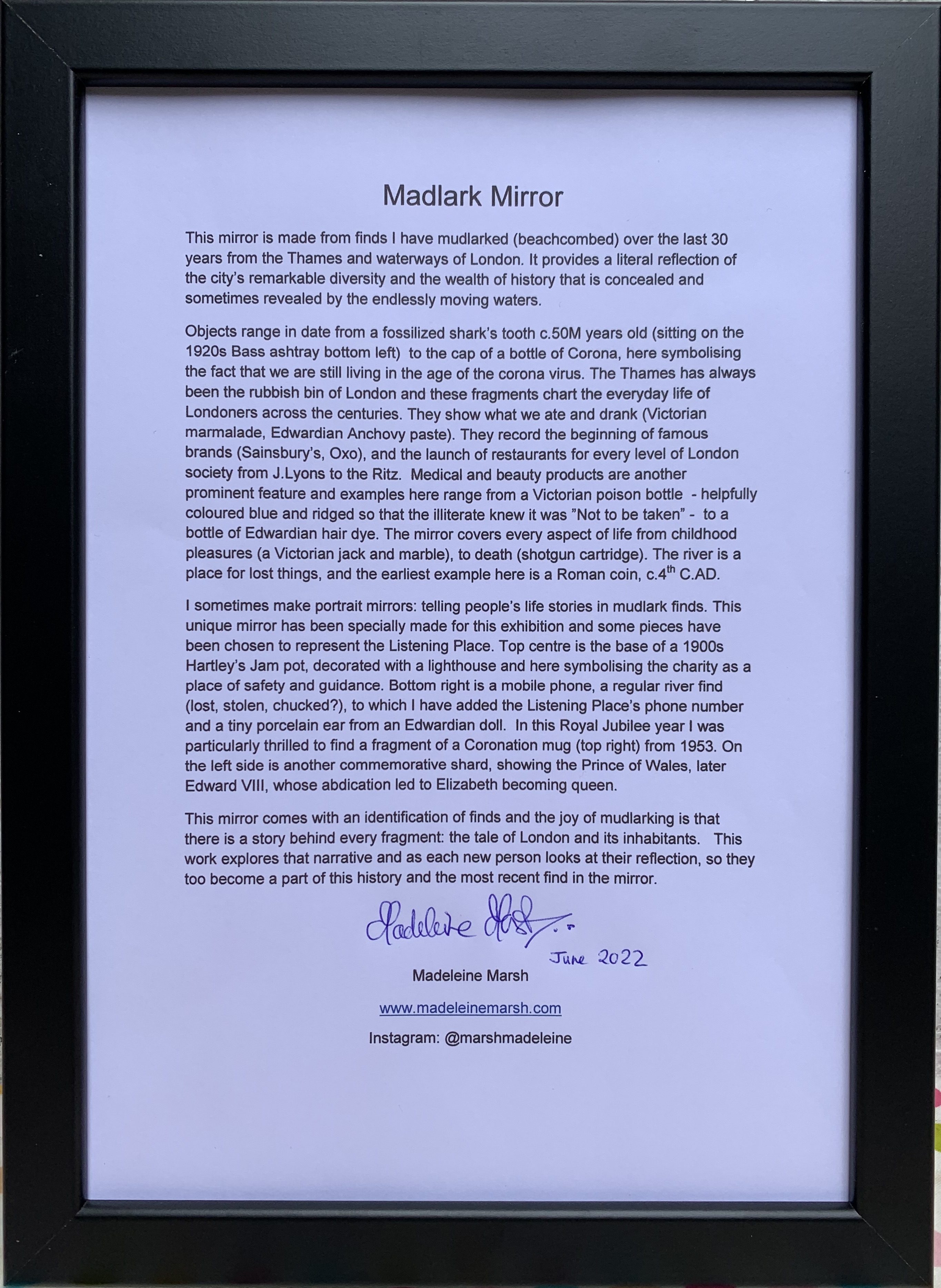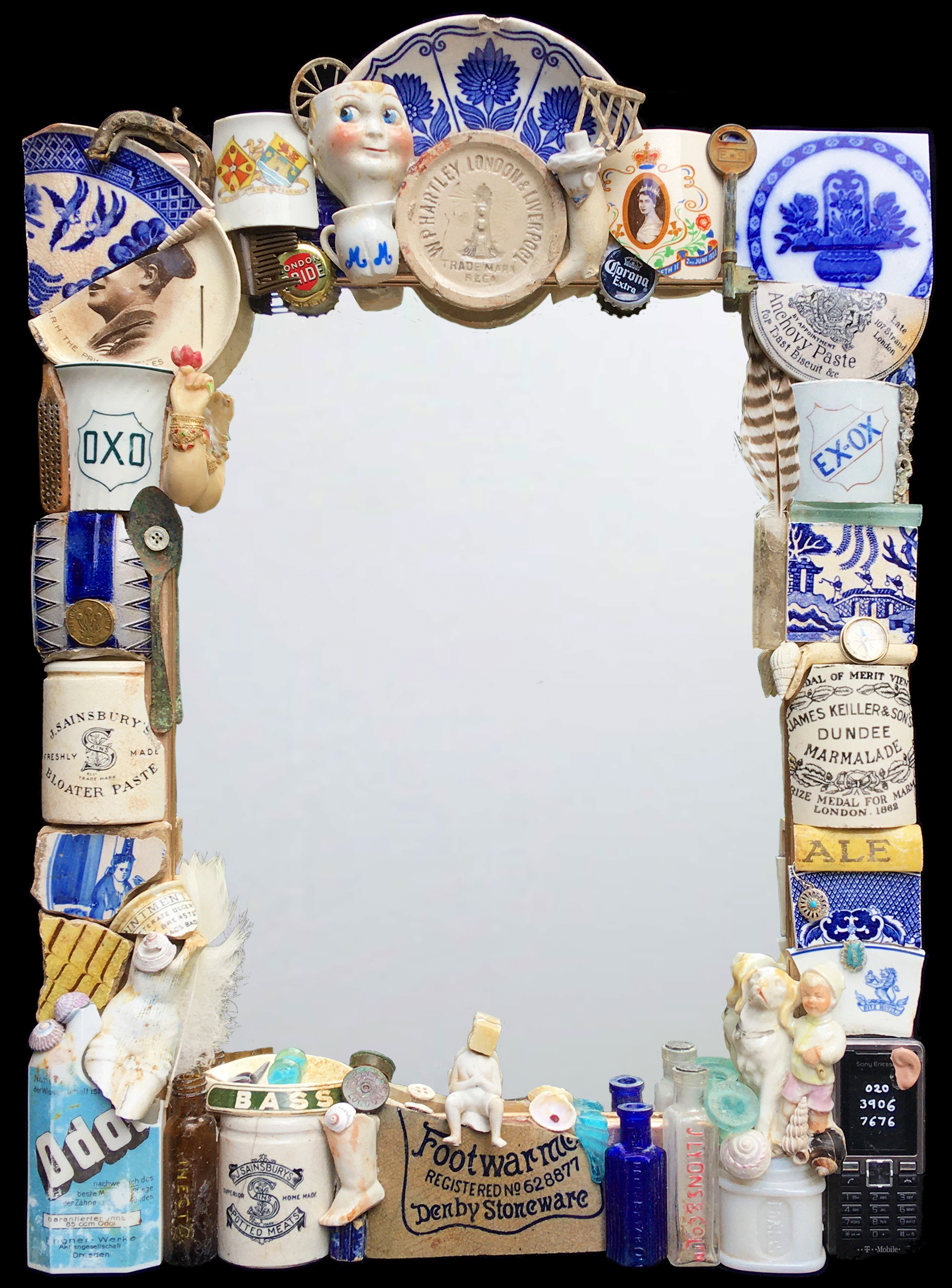 Add to wishlist
33. Madeleine Marsh
Madlark Mirror

Mudlarked pieces
40 x 56 cm.

Mirror comes with a framed identification of all of the fragments (A3 size) and a framed general description (A4 size).

This mirror is made from finds mudlarked (beachcombed) by artist Madeleine Marsh over the last 30 years from the Thames and waterways of London. It provides a literal reflection of the city's remarkable diversity and the wealth of history that is concealed and sometimes revealed by the endlessly moving waters.
Objects shown here range in date from a fossilized shark's tooth c.50M years old, to the cap of a bottle of Corona, reflecting the current pandemic. The Thames has always been the rubbish bin of London and these fragments chart the everyday life of Londoners across the centuries. They show what we ate and drank (Victorian marmalade, Edwardian Anchovy paste). They record the beginning of famous brands (Sainsbury's, Oxo), and the launch of restaurants for every level of London society from J.Lyons to the Ritz. Medical and beauty products are another prominent feature and examples here range from a Victorian poison bottle, to a 1900s mouthwash to 1920s face cream. The mirror covers every aspect of life from childhood pleasures (a Victorian jack and a marble), to war (WWII bullet). The river is a place for lost things, and included here are a 1940s threepenny bit and a Roman coin, c.4thc.AD. You never know what you are going discover when mudlarking, and this mirror comes with a framed identification (where possible) of every fragment.
This unique mirror has been specially made for this exhibition and some finds have been chosen to represent the Listening Place. Top centre is the base of a 1900s Hartley's Jam pot, decorated with a lighthouse and here symbolising the charity as a place of safety and guidance. Bottom right is a mobile phone, a regular river find (lost, stolen, chucked?), to which I have added the Listening Place's phone number and a tiny porcelain ear from an Edwardian doll.
The joy of mudlarking is that there is a story behind every fragment - the history of London and its inhabitants. This Madlark mirror tells some of that continuing narrative and as each new person looks at their reflection, so they too become a part of this story and the most recent object in the mirror.

ESTIMATE
---
£1,200 - 2,000
This auction has now ended
Notes
---
Madeleine Marsh is an artist, writer and broadcaster.
She was educated at the Lycee Francais de Londres and at Trinity College Cambridge, where she prepared for her future career by dressing up in vintage clothes and shopping for antiques in Cambridge market. She then took a diploma in the fine and decorative arts and set up her own company Provenance, researching paintings and antiques for an international clientele of dealers, collectors and auction houses.
Madeleine produced catalogues on everything from Sevres snuff jars to jewellery belonging to royal mistresses, and her first book: Art detective: How to research your Paintings, Antiques and Collectables, was published by Pelham Books in 1993. Between 1993-97 she edited Miller's Picture Price Guide and in 1995 she was appointed General Editor of Miller's Collectables Price Guide, the annual 'bible' for collectors, a post she held for many years. Madeleine is a specialist in post war collectables and is the author of Miller's Collecting the 1950s and Miller's Collecting the 1960s and Modern Retro Table Top (Ryland, Peters and Small). Madeleine's particular interests include vintage fashion and women's history and she is also author of Miller's Collecting Perfume Bottles and of Compacts and Cosmetics- Beauty from Victorian Times to the Present Day – Pen and Sword – a social history of make up and beauty practices. Madeleine has worked an expert on the BBC Antiques Roadshow and has appeared on and presented for a wide range of television programmes including the Antiques Show (BBC2), This Morning (ITV), Car Boot Challenge, Great Food Live and numerous documentaries and historical programmes. She appears regularly on radio and has contributed to a wide range of magazines and newspapers. She also lectures.
Today Madeleine works as an artist specialising in sculpture and jewellery. Her creations draw on her previous experience as a writer. Be it a necklace or a sculpture, her works typically tell a story and often draw their inspiration from the history of painting, antiques and vintage fashion. Madeleine lives in London and for many years has mudlarked (beachcombed) the Thames which has provided another major source of inspiration both for jewellery and other pieces. Madeleine uses mixed media and objects trouves. Her designs have a narrative and a sense of fun. Each piece is handmade by the artist and entirely individual. Madeleine also produces commissions for those who want jewellery or sculpture as a unique gift or personalised work of art, and her work can be found in private collections in Britain and North America. Madeleine lives with her husband and son in London in a happy house filled with a million objects.