Listen
01 JUNE 2022 - 14 JUNE 2022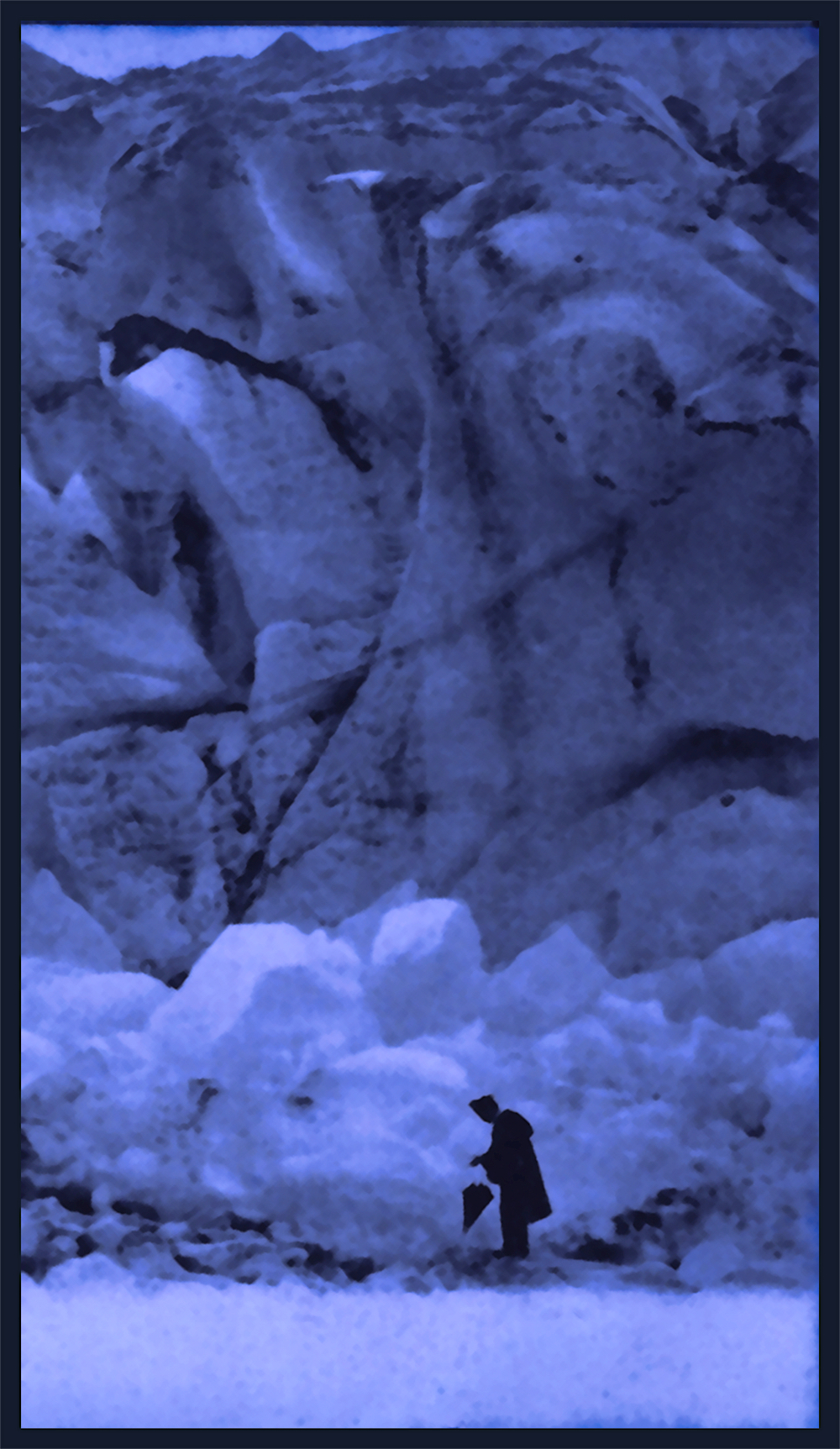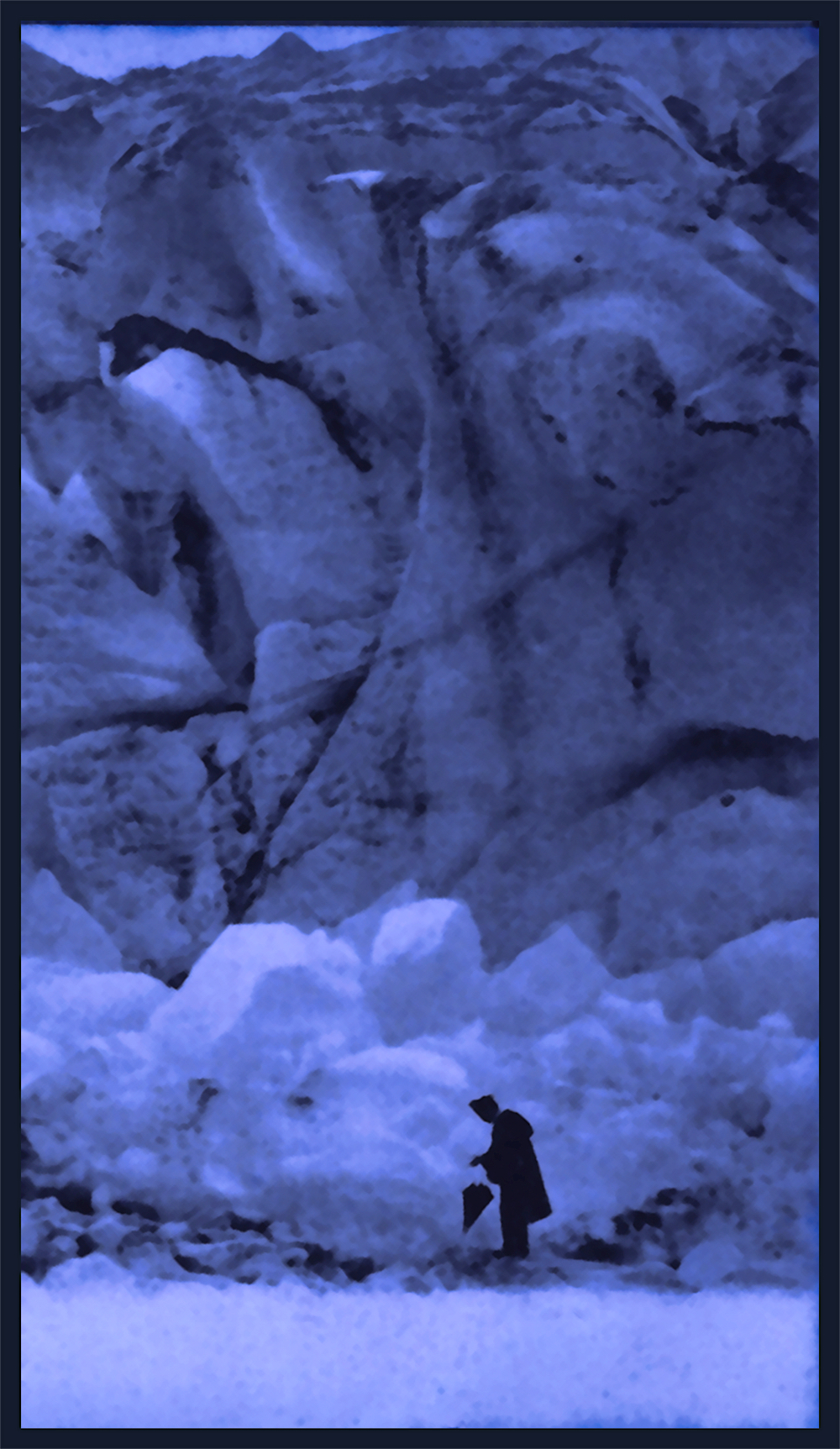 Add to wishlist
22. Michèle Noach
Magnetic North
2009
Lenticular (3D optical phtographic print)
Seven from edition of ten
38 x 23 x 6 cm.

From the ten-year, sixteen-piece series Through the Ice, Darkly about retreating glaciers, part funded by the Norwegian Embassy. The complete series just ended a seven-year exhibition tour of science and natural history museums in USA.
ESTIMATE
---
£1,700 - 2,200
This auction has now ended
Notes
---
Michèle Noach was born in Australia and lived in The Netherlands & USA before her family settled in London in the last hours of the 1960s. She kept pet mice, listened to the Velvet Underground and The Damned and gazed at a lot of George Herriman, Jean Dubuffet, André François and Ronald Searle. Keen on code-breaking, she has been a cryptic crossword compiler, sign language interpreter and arts writer. Whilst travelling around the States and Australia (where she was bitten by a spider) in the '80s, she wrote for various publications (incl. NME, i-D, Event, Seattle's The Rocket, Boston Rock, Sydney's Stiletto, Amnesty Magazine). She trained in print-making in the late '80s and has worked as an artist since then, specialising in lenticulars (optical 3D images). Her first solo exhibition was Night Trick Acid at the Almeida Theatre in 1993. She was artist-in-residence at Liberty's of London in 1994.
Her 2005 show Nø-âch's Ârc-tìc at the Curwen Gallery reflected her expedition to Svalbard with Cape Farewell (science & art-based environmental organisation), when she sailed as far North as it is possible to do, on a 1909 Dutch schooner. In the same year her series of lenticular 'measuring devices', The Arctic Feel-O-Graphs was shown at The Natural History Museum in London. A second Arctic voyage to Greenland in 2008 on a research vessel also left its polar mark: she has been archiving, with comparative lenticulars, the retreating glaciers of the Far North in an ongoing series Through The Ice, Darkly, the product of physically tracking glaciers in and below the Arctic Circle. This series has been exhibited at the Museum of Contemporary Photography in Chicago, Kings' Place in London, Parsons in New York, Beijing at The Central Academy of Fine Arts, The University of Applied Arts in Vienna and in 2016 in its updated entirety, The Chicago Academy of Sciences. The project was part-funded by the Royal Norwegian Embassy.
From 2009 Michèle was artist-in-residence at the Eden Project in a 3-year collaboration, studying with horticulturist Dr. Ian Martin the adaptive behaviour of Arctic poppies. This was the subject of The Arctic Poppy Chronicles, her 2012 show at Eden and Poppyflakes, a book about art/science collaborations. This show travelled to the University of Oxford Botanic Garden in spring 2013. In 2008, also in Cornwall, she exhibited her lenticular installation The Glasshouse Men in the greenhouses of The Lost Gardens of Heligan, celebrating the lives of the gardeners who were lost in WW1.
Defying the odds, in 2009 she was bitten by a spider again.
In 2015 she was invited for a month's artist residency to Vadsø in Finnmark, inside the Arctic Circle. As part of the residency she organised a tiny music festival, Ice Station Vadsø which sold out in ten minutes. She took part in a Finnmark group show Ice Art and had a solo show Vadsø: Twenty Skies, featuring monoprints she completed while there.
The festival has since become a regular feature, with Sun Station Vadsø in 2017 and Snow Station Vadsø scheduled for 2022, after its pandemic pause. The festival, though still small, has expanded to encompass art, science, film and literature, with a gentle climate theme running through it. In 2017 Michèle took a smaller version of the festival, Ice Station Japan to Kyoto and Tokyo, and had a solo art show in Shibuya's Tambourin Gallery.
In 2017 she won the Norwegian Kulturpris for services to Finnmark.
In 2018 Arktictology: The Guovdageaidnu Series, an exhibition celebrating Arctic spring was held in Finnmark. She produced a documentary about the Vadsø festival with film-makers Colin Izod and Duncan Harris.
She produced two videos for The Dream Syndicate, Filter Me Through You (2017) and How Did I Find Myself Here? (2018) both filmed in the Arctic with Nick Edwards and Jamie Quantrill.
Michèle is currently directing Moose Latitudes, an artist's documentary about life in Finnmark, This film takes an unapologetically subjective look at the effects of an increasingly chaotic climate on Sami communities and Norwegian Arctic life in general. The film is due for release in 2022.
Between 2004 and 2011 she organised a series of gigs with landlord Deke Eichler at The 3 Kings pub in Clerkenwell, which raised over £45,000 for Médecins Sans Frontières. Deke now runs the superb Rose In June pub in Margate.
Michèle is still working on Compound, an advertising campaign directed at wealthy insects.