Objects of Art | The Skateboards
18 NOV 2020 7:00 PM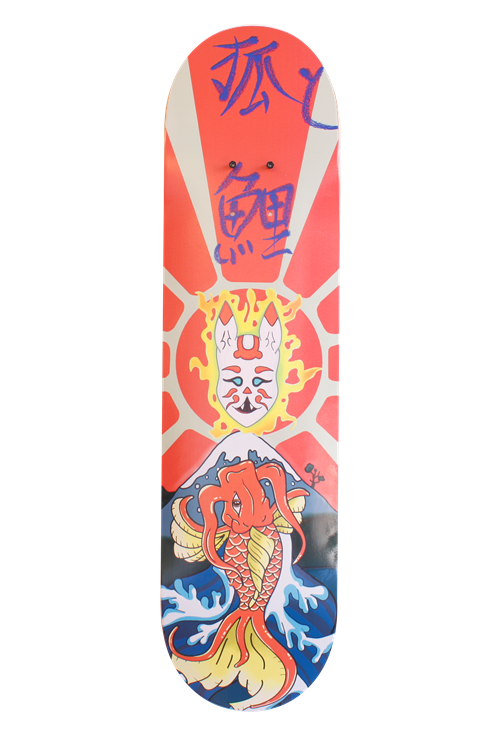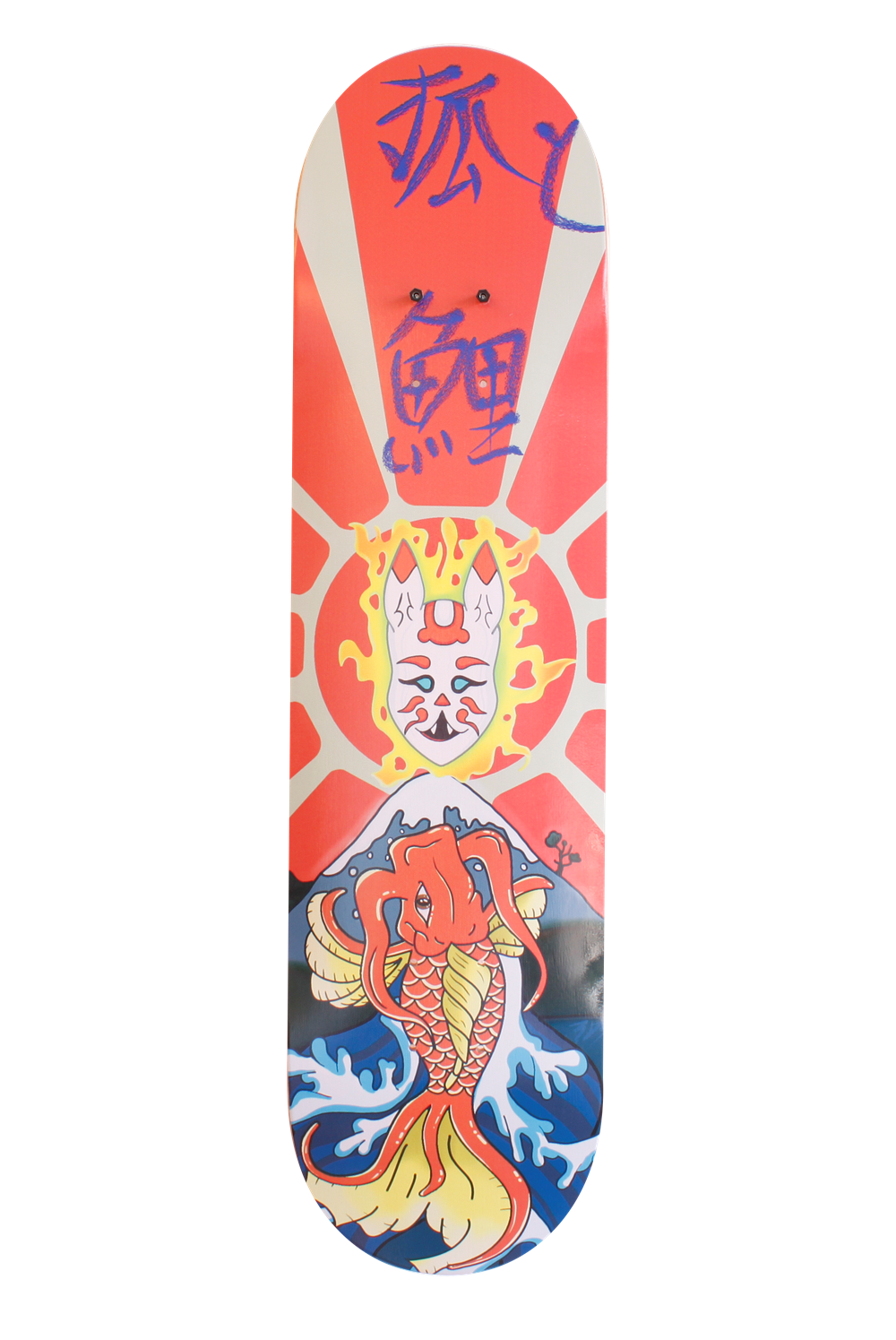 15. Lewis Adams
3dom.arts
Signed (on the front)
Printed vinyl on skate deck
81.5 x 20.5 x 5 cm.
Created in 2020
This artwork is unique.
This work is sold with a Sk8ology display stand.
Printed by Your Custom Skateboard.
ESTIMATE
£200 - 400
View shipping estimates
Notes
"Growing up in a different situation to everybody else has always been tough. With art and movies being my only two real escapes from life, I started my journey to becoming a more creative person early on. I was never really too in touch with my heritage until later around 16 years of age, where I began taking interest in my Japanese half. With this particular piece I had used the motifs of a kitsune, fox, and koi.
In Japan kitsune can be seen as rather divine with an entire celebration based on them. With some being on par with the gods themselves, hence the mask floating in front of the sun, shrouded in a golden glow. The rising sun over Mt Fuji sets the scene for a koi which is jumping out of the water (inspired by "The Great Wave of Nagasaki") towards the divine intervention witnessed in the sky above. It is said that in legend. A koi jumped over a waterfall and got turned into a dragon for it's perseverance. Koi symbolise good fortune, perseverance and courage amongst many other things. Whilst kitsune are seen for divinity wisdom and spirituality. This is why both are depicted in this scene deriving from multiple aspects of Japanese and Chinese mythology, where both actually intertwine into this cohesive piece." - Lewis Adams, 2020.
This skate deck was printed by Your Custom Skateboard.
From Centrepoint:
Lewis found it difficult growing up in foster care – describing the experience like having no voice and being in the dark with no agency over your life and decisions.
When leaving care at 18, he expressed an interest in semi-independent living and was offered a place at a Centrepoint hostel where he could be supported in his journey to independence.
Lewis is currently studying games design at a specialist university. He says that although his real passion is for film and acting, he wanted to develop the skills necessary to get a secure job that he can rely on.
"At the moment, the only realistic goal I have is to do games design or animation because I have the skill set to do something creative with technology. It'll be better if I get a solid job in one of these sectors rather than gambling everything to do acting," he says.
Lewis found that the House of Vans competition with Centrepoint gave him an opportunity to explore and feel proud of his cultural roots.
"Growing up, I'd always neglected that side of my culture and pushed it aside as people used to bully me because I was the only Asian in the class. Now it's about embracing it and showing a side of me that I'm happy to explore. I created the skateboard around Japanese mythology, legends and stories."
He adds that he was pleasantly surprised when they printed his exact design on the skateboard.
"I created this purely as a concept with the impression that it would end up redesigned by a professional or something, but it turns out it was seen as good enough to be a design on its own which was unexpected!"
For Lewis, the fact that his design was chosen is symbolic of his potential.
"I guess the board validates to myself that I actually do have the potential to do things like this professionally because a lot of the time I'm really harsh and critical of myself. Even while I was creating this I found a lot of flaws in my design and I wanted to change a lot of things but that's just always going through my mind."
We are all extremely proud of Lewis and hope that his confidence and self-belief continue to grow.
Recommended for You