The Autumn Auction 2020
10 DEC 2020 7:00 PM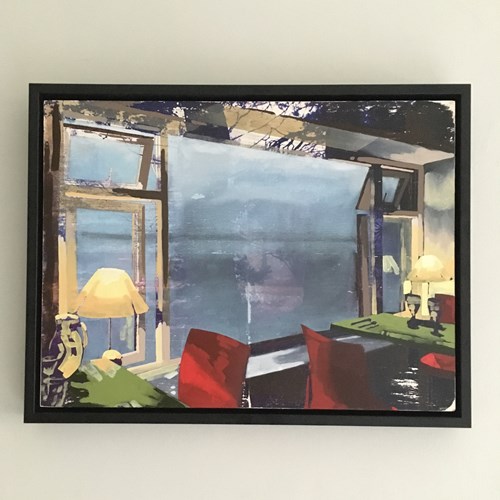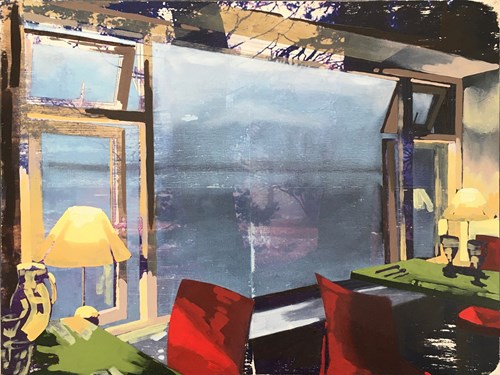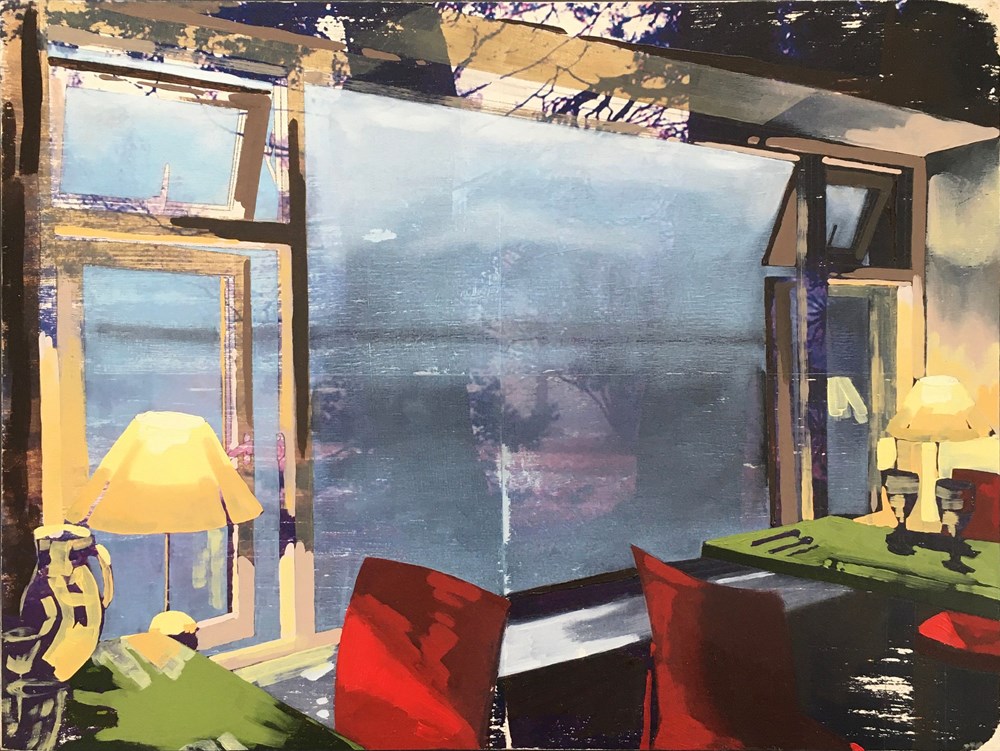 27. Olive Curran
Early Evening Dinner
Title, date and signature (on the reverse)
Photo transfer and Oil on Board
Artwork dimensions: 30 x 40 cm.
Framed dimensions: 33 x 43 cm.
Created in October 2019
ESTIMATE
£300 - 400
View shipping estimates
Notes
Early Evening Dinner is a work where any sense of time and place is blurred and we are left in a sort of suspended world, a cinematic moment frozen in time.

This painting is inspired by a photograph taken in a restaurant in St Ives. Olive manipulates colour and composition in order to give the image the same rich colours, dramatic lighting and evocative atmospheres found in her image archive of 70s and 80s film stills.
Creating a sort of suspended world, a moment frozen in time, the painting feels like a cinematic transition between two scenes, giving the impression that a moment has passed or is about to unfold at any moment.
Her work is strongly inspired by found imagery of melancholic and nondescript interiors, mainly stills from films made in the 70s and 80s, and dramas set in that period. "I start by combining the found image with my own photography of intriguing interiors, manipulating colour and composition so that the two images become indistinguishable from each other, using this as reference for my painting.
Olive Curran's paintings are created using a combination of textured brushstrokes, loose washes, photo transferred images and evocative colours, explore the mundane aspects of contemporary domestic life. "Only recently has my work involved the process of photo transfer, a technique in which I encourage flaws to be made, such as the misalignment of the grid of images or the rubbing off of the image in places. I use my own retro, grainy, colour-saturated photographs, produced using a Harinezumi camera, which when transferred, give the feel of a vintage photograph. I combine this technique with expressive gestures in oil paint exploring how the outside merges with the painted interior. Rather than being too explicit in the way the interior is portrayed, I want the viewer to begin questioning where the painting finishes and the photographed image begins, as the objects appear to be both in and outside the room."
By removing the figures as the focal point and directing our attention to the overlooked, you start to notice the fragments of narrative which are left behind, belongings abandoned in a hurry, objects out of their intended position, a tv left on standby. By creating the sense of activity that happened mere moments ago, Olive aims to invite the viewer to form their own narrative possibilities from the clues left behind.
"My intention is for these paintings to read like cinematic transitions, with the impression that the scene is in the midst of things, a moment has passed or is just about to happen."
Accolades
Education: BA (Hons) Fine Art: Painting, Wimbledon College of Arts, University of the Arts London. UAL Lvl 3 Foundation Diploma in Art & Design, Ravensbourne University London
Awards: HIGHLY COMMENDED: For an exceptional project proposal for the Prunella Clough Legacy Commission 2020
Exhibitions: UAL Online Graduate Showcase, July 2020. Penultimatum, Copeland Gallery, Peckham, London, March 2020. ING Discerning Eye Exhibition, Mall Galleries, St.James's, London, November 2019. Exhibition of work by Olive Curran, Nightingales Emporium, High Barnet, London, March 2019. Lazy Susan's Sizzling Prism, Safehouse 1, Peckham, London, February 2017. When Two Worlds Collide, Greyfriars Art Space, King's Lynn, Norfolk, September 2017.
Recommended for You