The Spring Auction 2020
28 MARCH 2020
Candid Arts, 3 Torrens St, London EC1V 1NQ
Live Streamed Auction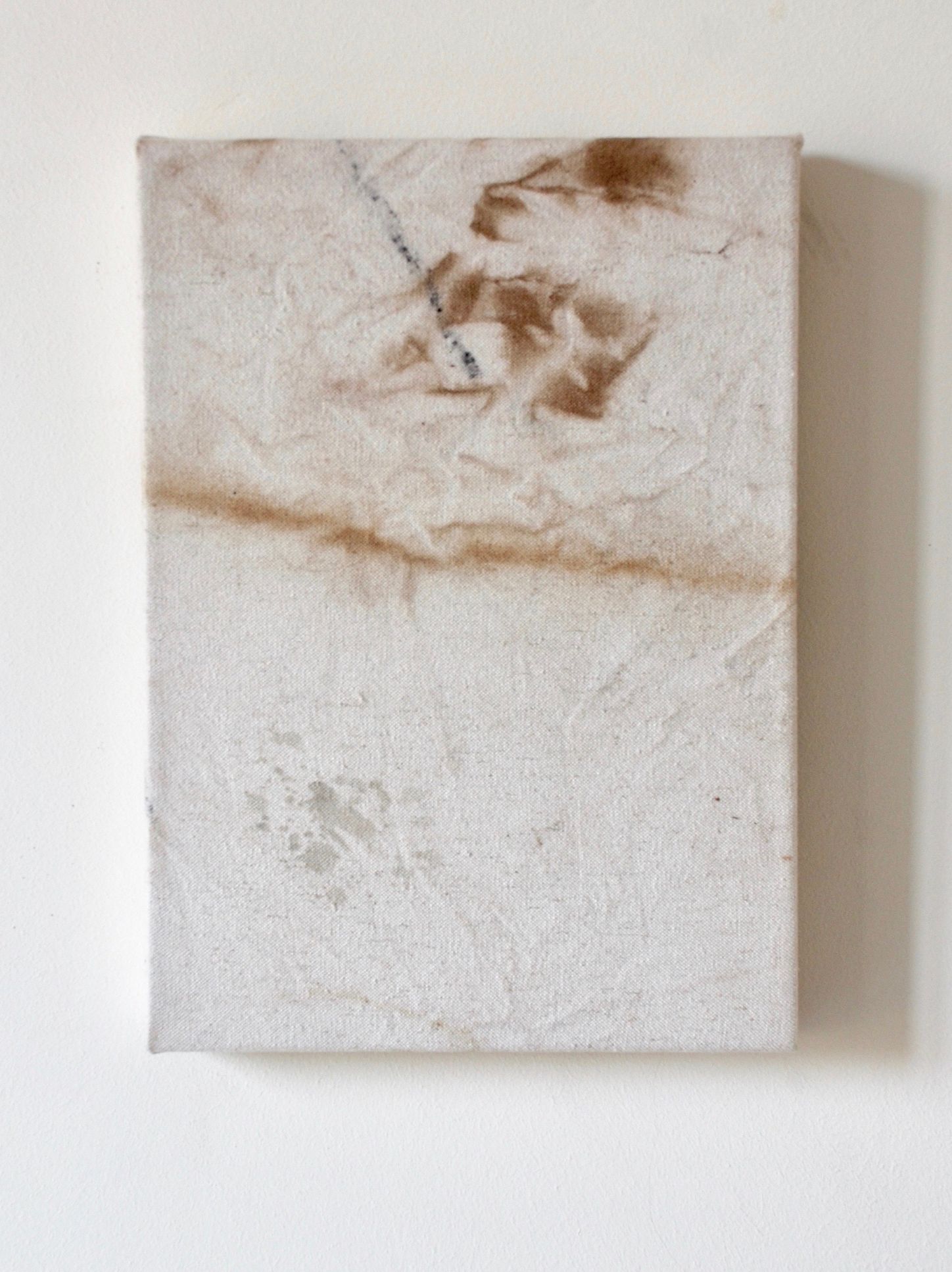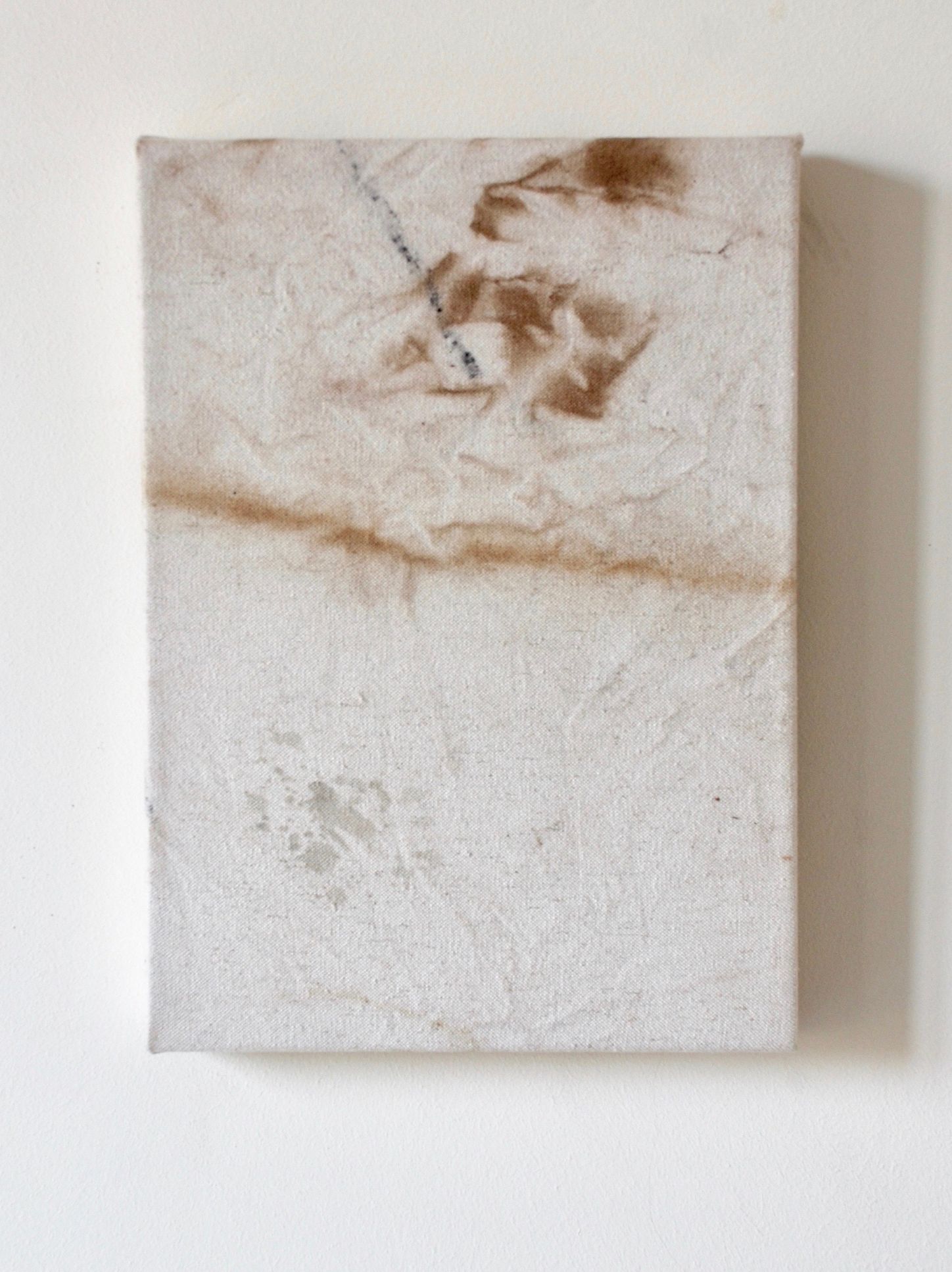 Add to wishlist
51. Sophie Mason
Barcelona, Winter and Spring
Avocado ink, walnut ink, rust, fire embers, olive oil, cherry blossom water, forest floor dust, Mediterranean sea water, sand, rain water, tramontana, rosemary water, lavender water on canvas.
35 x 25 cm.
Created in 2019
ESTIMATE
---
£520 - 780
View shipping costs
Notes
---

For this curated section of The Spring Auction 2020 we selected seven artists whose work is concerned with the environment and the impact of climate change (More details).
Sophie Mason's current body of work involves dyeing large rolls of canvas with plants from the local area.
Over a period of many months, Sophie uses the fabric of the canvas as an intermediary for actions within nature. Washing it in the sea, burying it in sand and soil, tying it to trees, rubbing herbs, ash and coal into it. She uses materials from the immediate surroundings to dictate the canvas's patina. The residual build up of stains that occur through these actions creates a map of the land and the physical body on the blanket.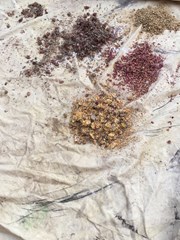 In this work Mason explores the idea that significance can be accumulated through time, wear and affection. Just as a well loved object deteriorates with lifelong love, these works hope to exhibit the residue of care built up over months of actions between artist and environment.
It is important for the buyer to note that these works are made with natural materials and as part of the work some of these materials may change over time.
Accolades
Group Exhibitions: Gossip, Take Courage Gallery 2019. Forage, Two woman show with Louise Hildreth,
The Rectory Projects, 2018. Rakes Progress, 2017-2018. A Home for All, Group installation with The
New Craftsmen and Selfridges 2017. Etchings, Group show, Brocket Gallery 2016. Construct the Future, Hoxton
Gallery 2016. Young Shoots, Hauser & Wirth, The Eden Project and Kew Gardens 2015-2016.
Solo Exhibitions: Blanket, Groc Projects 2019. Landscape (London, Autumn), May Project 2017. Weeds, Brocket Gallery 2015.
Projects: Edible Utopia, Participatory art project embedding a farm along with workshops and feasting
into Somerset House and Kings College. Soil Culture Residency, 2015-2017. Working with the CCANW (Centre for Contemporary Art and the Natural World) designing and building an edible roof garden on a primary school.