The Spring Auction 2020
28 MARCH 2020
Candid Arts, 3 Torrens St, London EC1V 1NQ
Live Streamed Auction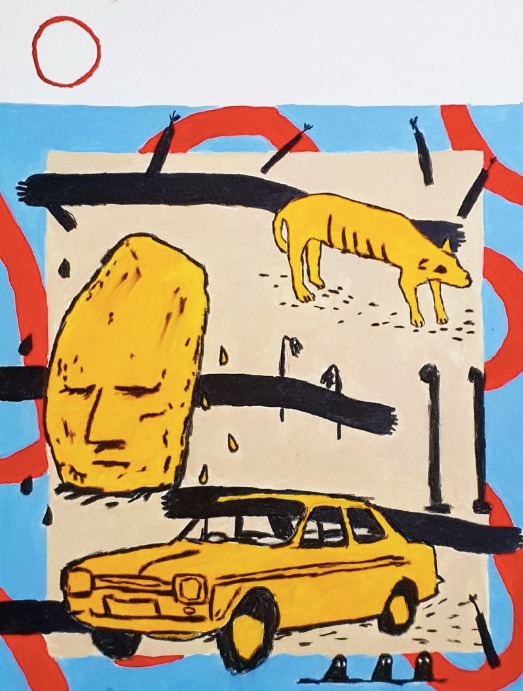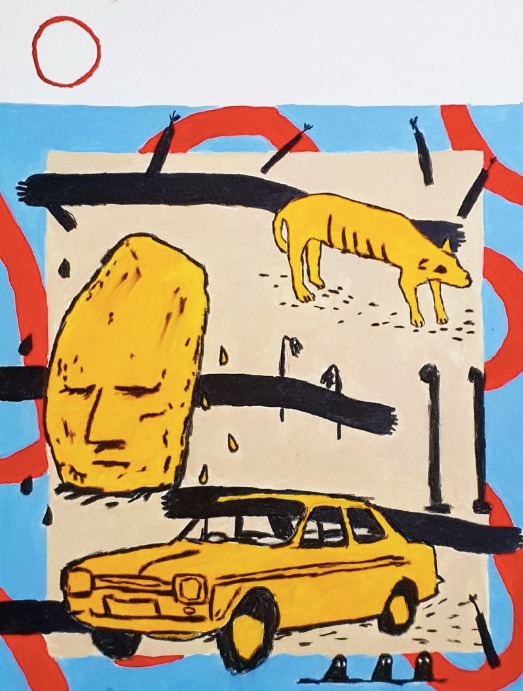 Add to wishlist
11. Billy Bagilhole
La Bamba
Signed and dated (on the reverse)
Acrylic on canvas
130 x 97 cm.
Painted in December 2019
ESTIMATE
---
£1,400 - 2,400
View shipping costs
Notes
---
An autobiographical painting by the award-winning Welsh artist Billy Bagilhole.
"This piece was created shortly after I had a switch in style and I starting taking very graphic elements from my paintings and simplifying them. The narrative in the work became clearer and people found it easier to digest the motives behind the work."
Titled La bamba, from the Mexican 'To stomp', this artwork is a statement for the new wave of imagery and ideas Billy had coming. The painting includes motifs frequently used by the artist - abandoned cars, a lost dog and a stone head. All these elements come together to create a collaborative narrative of their own.
"For me this piece signifies a few different parts of my own life, they all have their own significance but when brought together they create a new story, this is for the viewer to decant and decide."
Billy Bagilhole grew up in a household full of his father's paintings and prints, from a young age drawing Native Americans, animals, religious figures imitating those images created by his father upon the walls. They continue to be a fascination as his father passed away when he was 6 in the year of 2001.
Billy predominantly works with painting and filmmaking. Often covering canvases with salt and thick paint, his work is gestural, somewhat nostalgic and often abstracted. Billy deliberately obfuscates meaning and hides metaphor within his work. ​
Accolades
Chelsea College of Arts 2017, First Class Honours.
Awards: Winner of the Peter Pendergast Drawing Prize, 2014. Awarded 7th place in the WJEC Marking Regime for Foundation Diploma Courses across the UK. Finalist in the Galeri Caernarfon Open Exhibition, 2014. Selected for the Welsh Biennale Nova Art Prize 2017. Nominated for the Jonathan Harvey Studio Award, 2017. Three nominations for The Cellar Music Video Awards 2020.
Solo exhibitions: Juncture, Hoxton 253, 2019. Just William, Plas Glyn y Wedde Gallery, 2019.