50 x £50
09 DECEMBER 2020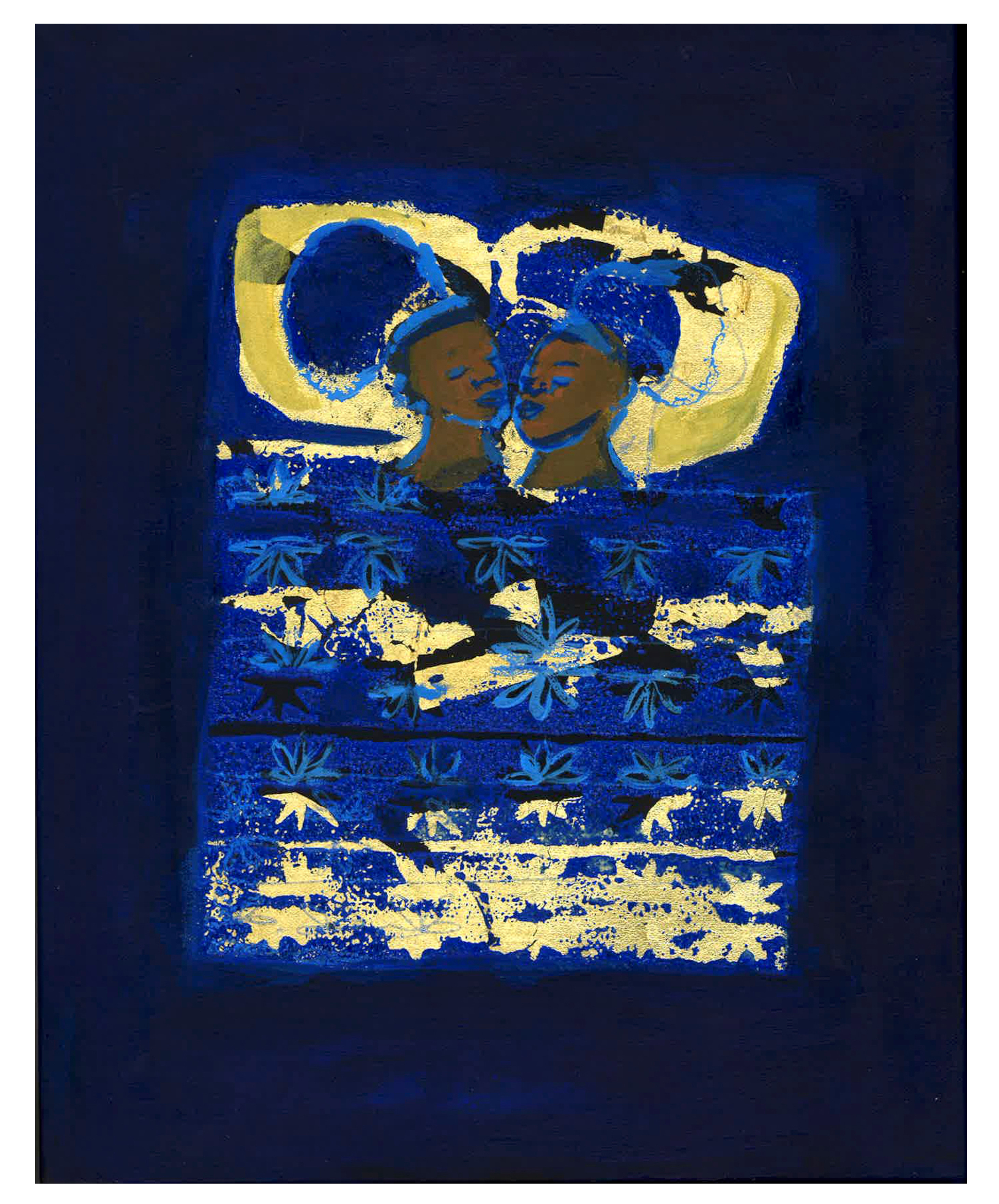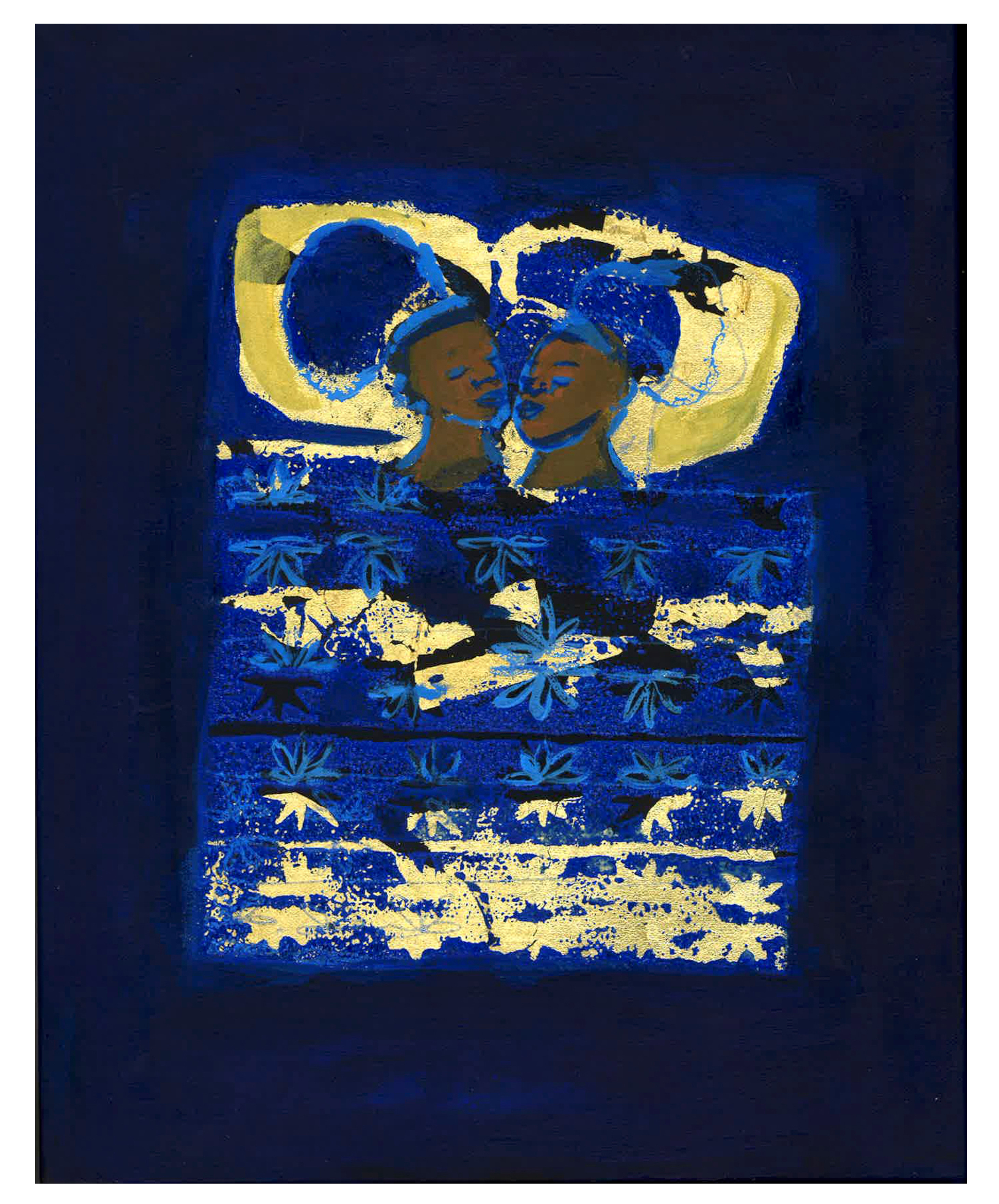 Add to wishlist
25. Sola Olulode
Fast Asleep
Signed and dated (on the reverse)
Monoprint, goldleaf, acrylic and marker pen on canvas
30 x 24 x 3.5 cm.
Painted in 2020.
ESTIMATE
---
£50 - 500
View shipping costs
Notes
---
Through colour and painterly brushwork Sola Olulode employs a wide range of media including indigo dye, wax, oil bar, and impasto lashings of paint construct a layered, complex image of my community.
Luscious blues and rich browns lend a glowing tonality to Sola's paintings and optical effects that emerge from the ground. Sola has worked on the process of hand dyeing her canvasses; her take on the Nigerian indigo dyed textile technique known as Adire. A literal and metaphorical soaking of heritage in her artworks.
Sola Olulode's dreamy queer visions explore embodiments of British Black Womxn and Non-Binary Folx. Working with various mediums of natural dyeing, batik, wax, ink, pastel, oil bar, and impasto she develops textural canvases that explore the fluidities of identities. Drawing inspiration from lived experience, friends, and cultural reference points to centre Black Queer Womxn, Olulode emphasises the integral need of representation and celebration of queer intimacies.
Her utopian scenes celebrate relationships that transcend crude notions of queer sexuality, her figures exemplify the warm embrace of queer love, a temporal space to bathe in memories of intimacies abundant with scenes of profoundly deep tender connections. Envisaging a world reflective of the celebration of her own identities Olulode brings to life representation and visibility of Black Queer lived experiences. Her figures represent multifaceted complex individuals and the energy they hold in their bodies, relishing in a boundless temporality of self-validation and joy.
Accolades
BA Fine Art Painting, University of Brighton, 2018
Foundation in Art & Design Diploma, University of the Arts London, 2015
Solo Exhibitions: Where the Ocean Meets the Beach, VO Curations 12th Floor, London 2020. Don't Let Go, Brixton Library, London 2019. Hold My Hand, Lewisham Art House, London 2019. Moving in the Bluish Light, von Goetz, London 2018. Colours, Brixton Library, London 2018.
Recent Group Exhibitions:
In Response, Blue Cottage Shop x The Viewing Room, London 2020. In Touch, Daniell Arnaud, Online 2020. Category Is..., Pop Fine Art, Online 2020. The Apocalypse Will Blossom, The Gallyry, Online 2020. Show of Support, Online 2020. When Shit Hits the Fan, Guts Gallery, Online 2020. Blacklisted: An Indefinite Revolution, Christie's Education, London 2020. Tender, Deptford Does Art Gallery, London 2020. Build Love, Break Walls, Bermondsey Project Space, London 2020.
Awards: Lewisham Arthouse Graduate Studio Bursary, 2018. Shortlisted for the Evening Standard Art Prize, 2018

Residencies: V.O. Curations 3 Months, London 2019. von Goetz Frieze Week Residency, London 2018.
You can see more of Sola Olulode's artwork at her website and Instagram.