Fair Art Fair x The Auction Collective
07 NOVEMBER 2022 - 28 NOVEMBER 2022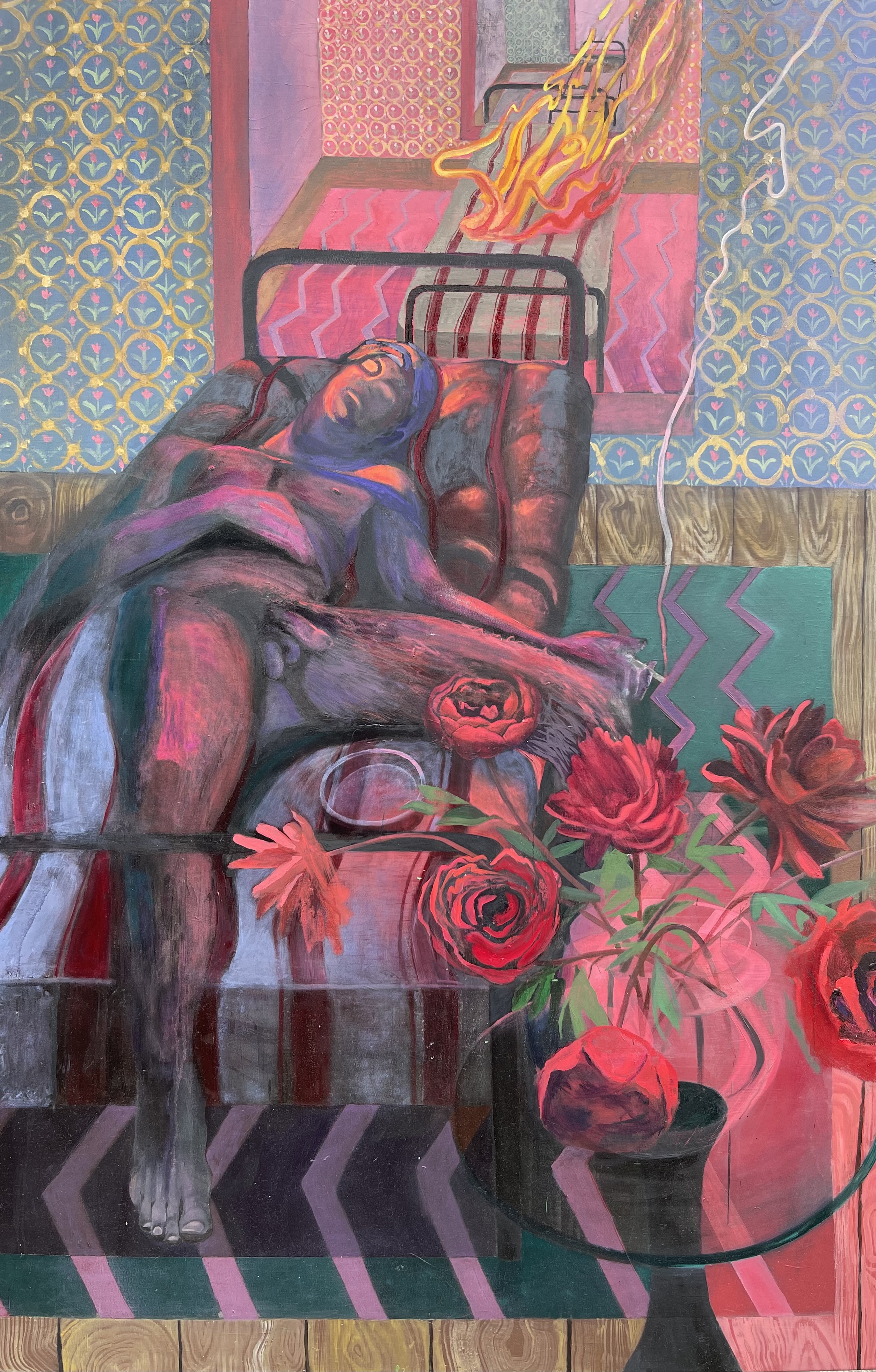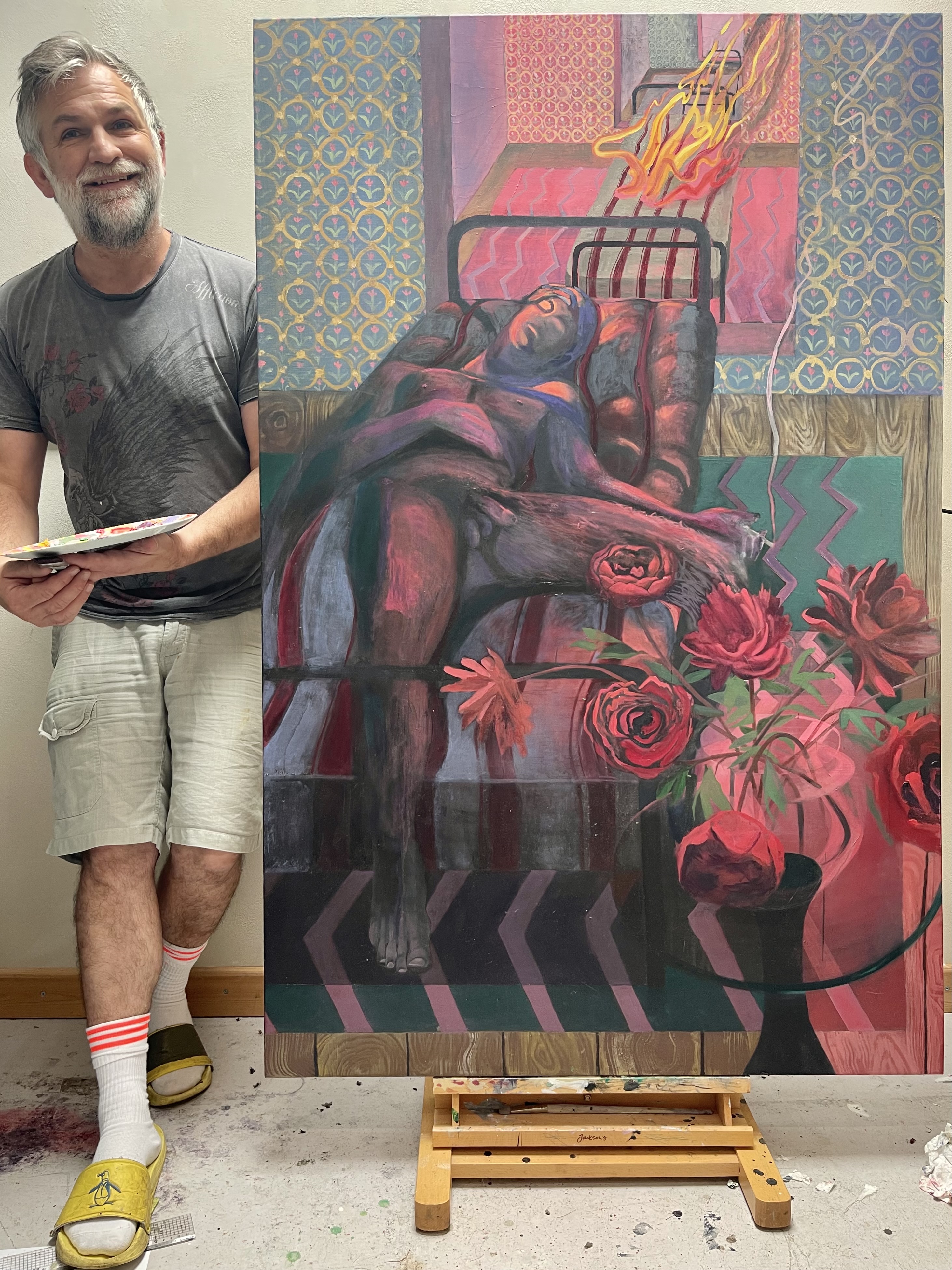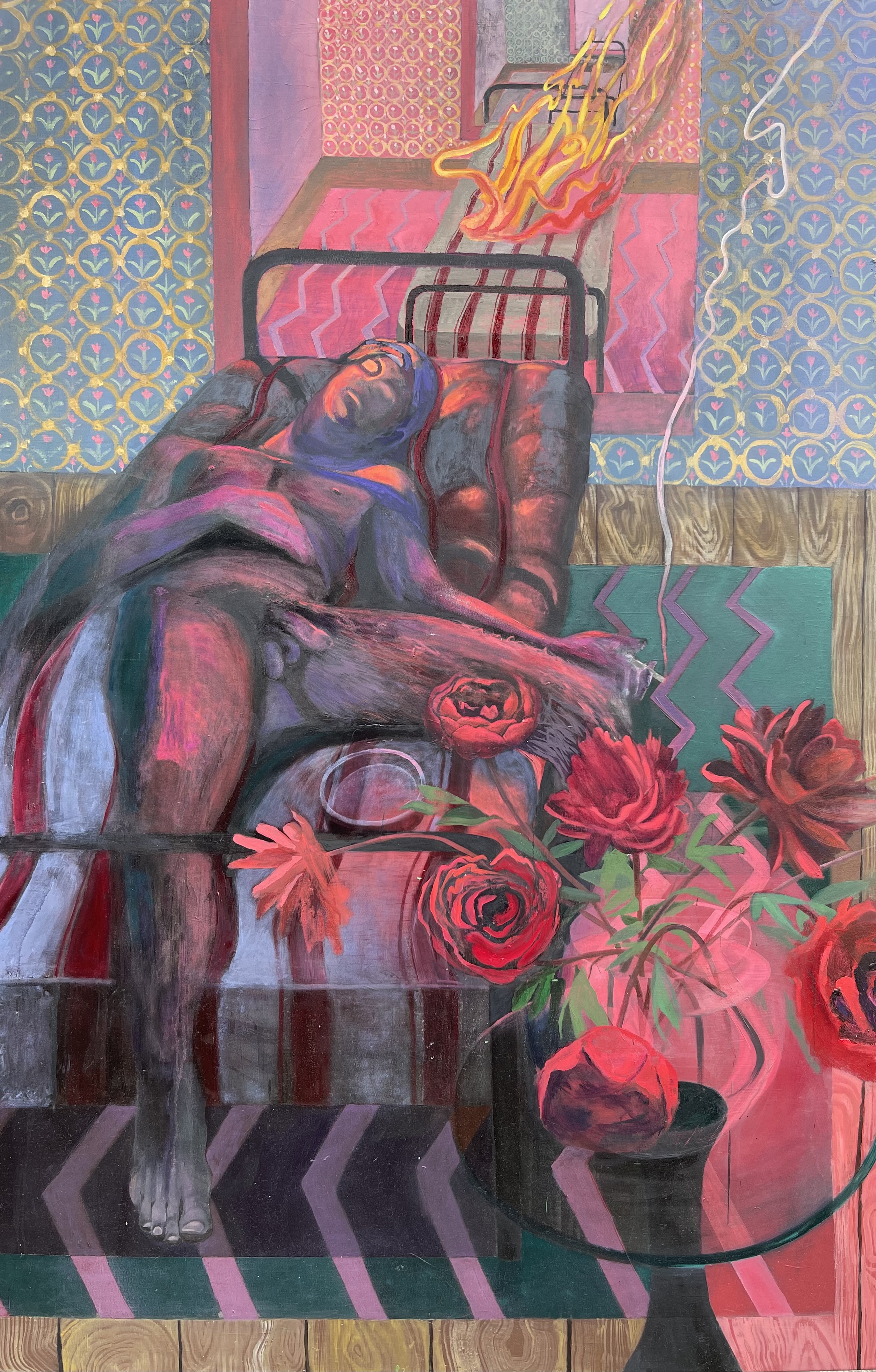 Add to wishlist
56. James Dearlove
Reclining Man with Peopnies
View on FAF App
Signed, titled and dated on the back of the painting
Oil and acrylic on canvas
150 x 100 x 2 cm.
Painted in 2021.
ESTIMATE
---
£2,000 - 2,200
This auction has now ended
Notes
---
I made this painting in my studio in Cornwall on the edge of Bodmin Moor. At the time I was thinking a lot about Edward Burra as I was reading a collection of his letters called "Well, Dearie!" so I think something of Edward Burra found its way into the piece. The Barbara Hepworth museum is an hours drive away from me and on a visit made while I was still working on the painting I had also been quite upset to discover that Barbara Hepworth had died by falling asleep with a cigarette and setting fire to her bed. Although I wasn't aware of it at the time I think this is why there is a bed going up in flames in a second room through the window in the painting. Perhaps the smoking figure is thinking about a burning bed or perhaps this second room is an image of what is about to happen.

My work presents a twilit, chimerical world haunted by figures, animals and hybrids. I am preoccupied with how humans leave a trace of their presence both as individuals and collectively on the world; the presence of a figure in a room, the trajectory of a cyclist across a park, or sometimes more destructive collisions of humanity with nature.
I am fascinated by how marks on a surface can both create and destroy and how those same marks can fetishise both the medium of paint and the subject I am painting equally.
Ultimately I seek in my paintings to explore both the beauty and the disquietude of the human experience through my own experience as a queer man living and working both in the heart of the city and more recently in rural isolation.

Accolades

James Dearlove s a graduate of The Slade School of Art (MA Fine Art) and UCL (BA English Literature) in London and also of the mentorship programme at Turps Banana Art School where he was mentored by Benjamin Senior, Anne Sassoon and Neal Tait.

In 2022 he was long listed for both the Jackson's Painting Prize and the Waverton Art Prize. In June 2022 he was selected for an Erasmus funded month long residency at The Cyprus College of Art. In September 2022 his work was shown by the Ingram Collection at the British Art Fair at The Saatchi Gallery in London.
James has featured in publications such as FAD Magazine, Hero Magazine, i-D Magazine, Richardson Magazine and most recently ArtMaze Magazine.