The Spring Auction 2020
28 MARCH 2020
Candid Arts, 3 Torrens St, London EC1V 1NQ
Live Streamed Auction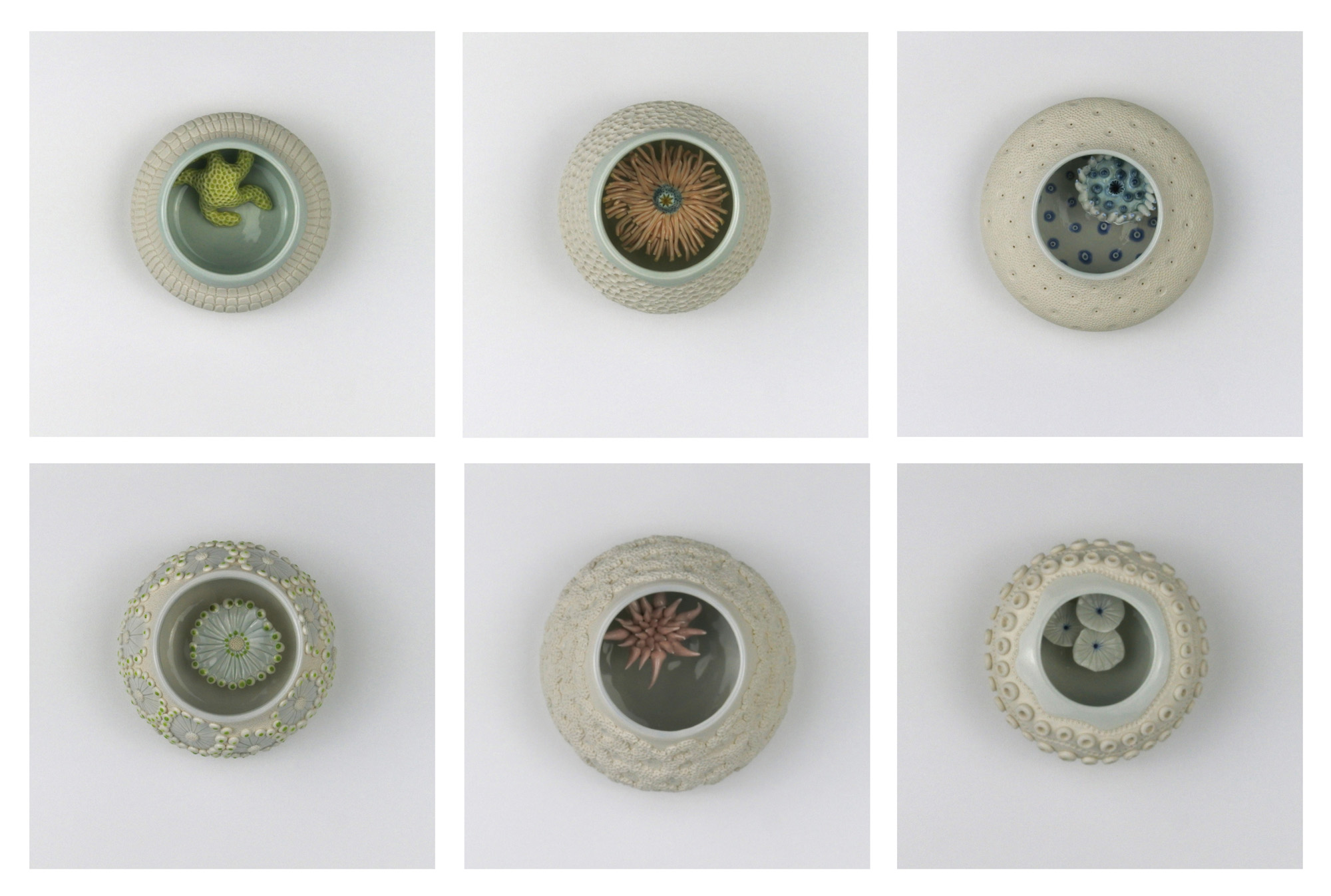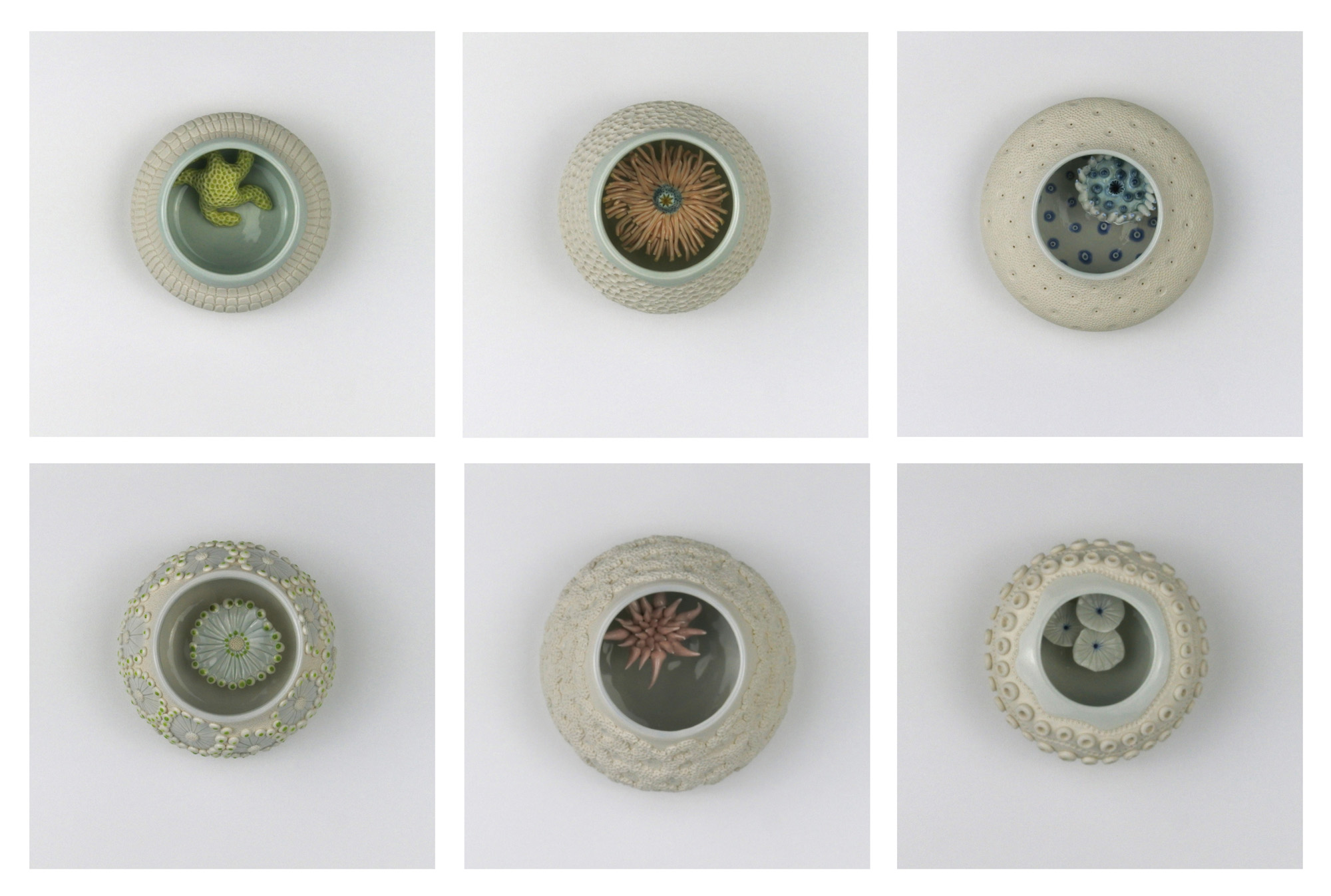 Add to wishlist
43. Hilde Lambrechts
ICUs (Intensive Care Units)
Signed 'H_' (underneath)
Six porcelain pots with celadon glaze
Dimensions variable, maximum: 10 x 15 cm.
Created in Spring 2019
Six unique pots from an installation of 30.
ESTIMATE
---
£600 - 900
View shipping costs
Notes
---

For this curated section of The Spring Auction 2020 we selected seven artists whose work is concerned with the environment and the impact of climate change (More details).
Canadian artist, Hilde Lambrechts, created ICUs (Intensive Care Units) as an empathetic gesture towards one of the most beautiful and threatened ecosystems on the planet, the coral reefs.
"When I read about coral farming, a method to raise coral in protected nurseries in order to repopulate a degrading reef, I envisioned rows of intensive care units, wherein a fragile reef creature could be nurtured."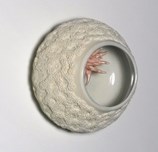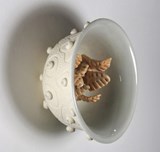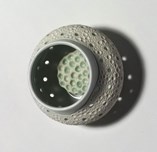 ICUs are about the much needed protection of coral reefs, which host 25% of all marine life. These wall-hanging pieces are largely unglazed on the outside mimicking bleached coral, to which new life can attach. The glazed micro-environment on the inside holds a coloured creature, a sparkle of life. The re-growth of corals in environmentally controlled capsules is a method that is tried today in an attempt to repopulate dead reefs.
All pots are turned on the potters wheel, meticulously embellished by hand using instruments such as needles and are fired to maturity at cone 6. They were all made, glazed and fired in Hilde's Ottawan studio, Canada.
Former biologist Hilde's work is concerned with climate change and the human footprint on our environment. She is influenced by her scientific background, researching her subject in depth before communicating her ideas in a visual manifestation. "Through beauty I lure the viewer to open their mind to the serious environmental and socio-economic issues that mankind is facing today and aim to increase their empathy for life in all its forms, and their willingness to act."
"I often feel helpless about the destruction of our ecosystems. I protest through my art."
Accolades
PhD in Biology, University of Utrecht, The Netherlands, 1993.
Figure Drawing and Painting and Ceramic Sculpture, Ottawa School of Art.
Awards: Purchase award from the International Orton Cone Box Collection. Finalist of the RBC/CAO emerging artist award, 2012.
Secretary of Ottawa Guild of Potters, 2016 - 2018 and Outdoor installations: Populace 2017, in celebration of Canada's 150th birthday at The Canadian Museum of Nature, and Compass 2018 at the Royal Canadian Geographical Society in Ottawa.
Group exhibitions: New York Art Expo and the Canadian Gallery of Clay and Glass in Waterloo, Ontario.
Hilde Lambrechts work is in private collections in Belgium, The Netherlands, United Kingdom and Canada, as well as in the collection of Global Affairs Canada. The Bark Archive is on permanent display at the Canadian Embassy in Brussels.